Ali Shaheed Muhammad & Adrian Younge Share New CeeLo Green Single + Debut Album THE MIDNIGHT HOUR Out June 8th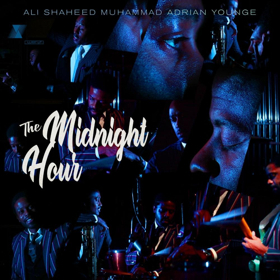 When two of hip-hop's most accomplished composers get together to make an album you know the results are going to be special. Ali Shaheed Muhammed (of A Tribe Called Quest) & Adrian Younge began their work together in 2013 on the critically acclaimed Souls of Mischief album There Is Only Now and their partnership cemented on their score work for Marvel's Luke Cage. Today, they are proud to announce the forthcoming release of their carefully constructed and masterful The Midnight Hour. It is the duo's long awaited debut album and it showcases their songwriting ability like never before.
Lead track and first single "Questions" featuring CeeLo Green is out today and has an unlikely origin story that CeeLo, Adrian and Ali originally explained to Pitchfork back in 2016, when a demo version of the song appeared as a sample on "untitled 06 | 06.30.2014." off of Kendrick Lamar's untitled unmastered. project.
Stream The Midnight Hour ft. CeeLo "Questions" now on Spotify & Apple Music
The Midnight Hour is black excellence: an ode to the cultural sophistication that the Harlem Renaissance established for its people. The Midnight Hour is comprised of Ali Shaheed Muhammad and Adrian Younge, alongside a tight rhythm section and a full orchestra. The album has features from some of the most celebrated names in contemporary hip-hop and R&B including CeeLo Green, Raphael Saadiq, Marsha Ambrosius, Bilal, Eryn Allen Kane, Karolina, Questlove and more.
Adrian and Ali began working on this album back in 2013, but put the project aside as they would score the hit Netflix series Marvel's Luke Cage. The Midnight Hour is a soul/jazz/hip-hop album which continues the conversations started by yesterday's jazz and funk pioneers; those that created the bedrock of samples for hip-hop producers in the 80s/90s. The Midnight Hour is sophisticated hip-hop that fans will enjoy, capturing their jazz rhythm section, and a full orchestra, to analog tape.
One of the seminal compositions, "Questions," originally began as an unfinished Midnight Hour demo with CeeLo Green. However, Kendrick Lamar heard the track and wanted to sample portions of it for his GRAMMY-winning album To Pimp a Butterfly (the song ultimately made it to Kendrick's 2016 compilation untitled unmastered. as "untitled 06 | 06.30.2014."). The full, completed version of "Questions" is now the lead single on The Midnight Hour.
"So Amazing" is a reimagining of Luther Vandross' 1986 single. Ali and Adrian took Luther's original vocal stems and composed new music, as if Luther was in the room with them. This transcendental recording is something that really makes The Midnight Hour special.
The June 8 drop for the album couldn't come at a better time. Luke Cage's Season 2 comes out on June 22 on Netflix and The MidnightHour have a lot of special surprises in store for both the original score and the original music that they have created for the show.
The 20 track, full length double album, will be released on Linear Labs and distributed digitally by INgrooves and vinyl will be distributed by Traffic Entertainment, world wide on June 8, 2018. For more information, please visit www.linearlabsmusic.com.