JEFF RUBY'S STEAKHOUSE Announces Grand Opening in Columbus, 12/1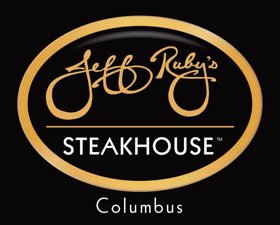 It's the most wonderful time of the year! One of the Midwest's most popular fine dining eateries will open just in time for holiday celebrations close to the corner of High St. and Nationwide Blvd. in downtown Columbus. Jeff Ruby's Steakhouse (JeffRuby.com), known for its award-winning steaks, seafood, popularity with celebrities, and its bigger-than-life namesake, will open on Friday, Dec. 1 at 89 E. Nationwide Blvd.
Jeff Ruby's Steakhouse, Columbus will feature U.S.D.A. Prime Steaks, Fresh Seafood, Sushi, and Live Entertainment as well as an extensive wine list. Ruby's sister locations in Cincinnati, Louisville and Nashville are winners of numerous awards including Wine Spectator's Exclusive Best Of Award Of Excellence, OpenTable.com's prestigious Top 100 Steakhouses in America list and Food Network (Most Magnificent Side Dishes). Other recent national recognition for the restaurant group includes honors from Gayot/USA Today (Top 10 American Steakhouses) and Travel & Leisure (Best American Steakhouses).
With three other steakhouses in Ohio, Ruby has deep roots in the Midwest and expanding within his home state seems a natural fit for both him and the company.
"I've always loved this part of the state and the kind people in Columbus have always made me feel right at home here," said Jeff Ruby. "We're excited to have the opportunity to join such a great community - the food, fashion, art - and of course, sports...We're on our third generation of die-hard Buckeye fans... we love so much about this city."
Ruby defines his brand - in part - as the sum total of nationally-acclaimed food, impeccable service and a passionate attention to detail known as The Jeff Ruby Experience. It has propelled his other steakhouses to overall Zagat ratings higher than those in New York, Chicago and elsewhere.
"Opening in Columbus is a perfect opportunity for our brand," said Britney Ruby Miller, President of Jeff Ruby Culinary Entertainment. "We have already been given such a warm welcome from Central Ohioans who have dined at our other locations and are familiar with The Jeff Ruby Experience. We believe dining at one of our steakhouses is much more than just enjoying a delicious meal, it is a total dining experience from start to finish, delivered by the finest professionals in the business, all in a stunning environment."
Jeff Ruby's Steakhouse will occupy the 10,000-square foot completely renovated space that formerly held 89 Fish & Grill. The new steakhouse features 2 levels of sumptuous, art deco-inspired interiors illuminated by antique crystal chandeliers. Private rooms like The Jeff Ruby Room and The Cellar (inspired by a family trip to Châteauneuf-du-Pape and the wine caves of Europe) add space for Private Events while the special Buckeye Room proudly displays memorabilia and a custom light fixture made from an actual OSU Marching Band Sousaphone mounted among more than 130 Swarovsky crystals.
Total seating will top out at 230 guests. Jeff Ruby's Steakhouse will be open Monday through Saturday for dinner (Monday-Thursday, 5-10 p.m. and Friday and Saturday, 5-11 p.m.)
About Jeff Ruby's Steakhouses
Jeff Ruby's Steakhouses have earned an extraordinary national reputation for delivering impeccable total dining experiences. Including Jeff Ruby's Steakhouses in Cincinnati, Louisville, Nashville & Columbus, and Carlo & Johnny and The Precinct in Cincinnati, OH. Ruby's iconic eateries have earned national accolades recognizing not only their popularity, but consistently high standards and incomparable service. Recent awards include recognition by Wine Spectator, USAToday, Travel + Leisure, OpenTable and many others. New locations in Lexington, KY and Indianapolis, IN are currently in the planning stages.