Murphy's Celtic Legacy To Bring Irish Dance To A New Level At Kean Stage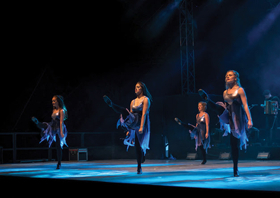 Murphy's Celtic Legacy will be performed at Kean Stage's Wilkins Theatre at 7:30 p.m. on Saturday, March 16. But this is no ordinary Irish dance performance. Along with a live orchestra and original music, it tells a story of hope and despair while incorporating dark, cinematic undertones.
"The story is very powerful," said lead dancer and show creator Chris Hannon, a veteran of Lord of the Dance. "It's a theatrical show rather than full-on Irish dance."
The once peaceful Eire has descended into a corrupt territory where tyrants rely on fear and intimidation to force people into submission. The Murphys flee in hopes of finding a better future. While crossing the Atlantic Ocean, their ship is met with a violent storm, which washes them onto the tranquil island of Ishan. Little did they know that a dark queen and her soulless king rule the island. Have they replaced one hell for another that is more terrifying and savage?
Hannon began Irish dancing at the age of 8 under the direction of his mother and grandmother at their internationally recognized Hannon Murphy School of Irish Dancing, which he now co-owns. At age 16, after competing around the world, he joined the tour of Michael Flatley's Lord of the Dance. By age 20, Hannon was performing the lead roles in both Lord of the Dance and Feet of Flames, one of only five principal dancers to have performed this role alongside Flatley.
"I absolutely loved Lord of the Dance," said Hannon. "Dancing on stage with Michael Flatley was really something else."
For 14 years, he performed with Flatley around the world, from Dubai to Russia and back to London, where he entertained the Prince of Wales at Buckingham Palace. After producing four successful pilot shows for Lord of the Dance, Hannon decided to launch his own company in 2015.
"Having original music, for me, is extremely important," said Hannon. "My grandmother was a grand Irish musician. She played the accordion piano. We used one of her original compositions called From Darkness Comes Light. It's as if this was all meant to be."
Wilkins Theatre is located at 1000 Morris Ave. Union, NJ, on Kean University's main campus. Tickets for Murphy's Celtic Legacy are $25 to $45 and can be purchased at the Kean Stage Box Office in Wilkins Theatre, by phone at (908) 737-7469 or online at www.keanstage.com.
Related Articles View More Dance

Stories
More Hot Stories For You