INSITU Site-Specific Dance Festival 2018 to be Presented On The Western Queens Waterfront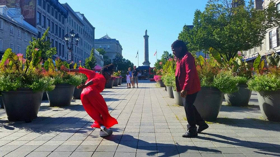 INSITU Site-Specific Dance Festival, a New York Times Top Pick of "24 Outdoor Performances to See in the Summer in NYC" in 2017, is a unique event presented in four public parks along the East River waterfront in Queens. For two days in August, neighborhood residents and visitors are invited to discover LIC through cutting edge site-specific contemporary and urban dance.
Now in its second year, INSITU 2018 will transforms the Western Queens waterfront into one giant stage on August 4 & 5 from 1 pm to 8pm daily. Twenty new commissioned works by regional, national and international choreographers selected from over 200 applications will be presented in Hunters Point South Park, Gantry Plaza State Park, Queensbridge Park and Socrates Sculpture Park, including new site-specifics works by Douglas Dunn (NYC), Chantal Caron/Fleuve Espace danse (Canada), Sarah Elgart/Arrogant Elbow (Los Angeles) and Alice Gosti (Seattle). One hundred and sixty performances representing 32 hours of dance will be organized into 4 performance rounds per park per day, each lasting approximately 90 minutes and all starting at the same time in each park at 1 PM, 3 PM, 5 PM and 7 PM. Additionally, INSITU 2018 will offer audiences the opportunity to interact directly with several choreographers from last year's festival in a 20-minute workshop presented after the first three performance rounds. The four choreographers will be announced in May.
Another important element of INSITU 2018 will be the Community Dance Workshop, hosted by Jacob A. Riis Neighborhood Settlement and facilitated by a socially engaged choreographer over four weeks in June, culminating with a performance at the Festival in August. INSITU is free and open to the public, offering an exciting way to experience dance in unusual public spaces. Inspired by natural and urban landscapes of the public parks, the diverse line-up of 20 contemporary and urban dance companies will maneuver through playgrounds, partner with benches, appear in hidden corners and dance on piers, staircases and shorelines. Other sites within the parks include a beach, historic railway ties, piers, promenades, lounge chairs, thicket of trees, a stone platform, and more. Audiences will be led through continuous dance performances several times throughout the day, setting up a chain of dynamic and immersive performances throughout the four parks.
A festival map, with performance schedule and locations, will be available at each park as well as available on the INSITU 2018 website, insitudancefestival.com.
INSITU's mission is to activate public spaces through dance, spark dialogue and create community through the arts. It's an initiative that aims to strengthen, bridge and celebrate the diverse communities living along the Long Island City waterfront by using dance as a tool for deeper community engagement. INSITU aspires to make dance accessible, connect artists with audiences, and raise awareness of the power of movement by bringing it into public spaces of our community. INSITU is a supportive platform for artists to develop new work and strives to increase the visibility of the arts in Queens.
ABOUT THE PRODUCERS
Svea Schneider, INSITU's Artistic Director and Co-Producer, was born and raised in Germany. As a NYC- and Berlin-based dance artist, choreographer, dance teacher and activist, she has performed and taught throughout the U.S., Canada, Peru, India and Dubai. Svea holds a degree in dance anthropology from NYU and is current an MA candidate in choreography at the University of the Arts in Berlin, Germany. She is the founder of KINEMATIK Dance Theater and INSITU Site-Specific Dance Festival.
KINEMATIK Dance Theater, founded in 2010, is a NYC-based urban-contemporary dance company that creates, performs and produces large scale site-specific performances, evening length dance theater works, dance installations, multi-disciplinary performances, dance films, and facilitates dance education and outreach programs. KINEMATIK's mission is to engage and empower people through dance, to build community, raise awareness about important social issues, and use dance as a tool for social justice through performances, dance education and outreach programs. KINEMATIK has created, performed and produced work nationally and internationally throughout NYC, Peru, India and Europe. Presenters include Jönköping Läns Museum, Tribeca Film Festival, Hollywood Fringe Festival, Andanzas Int'l Dance Festival, ICPNA Centro Cultural de Lima, New York International Fringe Festival, DUMBO Dance Festival, Dixon Place, Flushing Town Hall, Wave Rising Series, Triskelion Arts, WestFest Dance Festival, Grounds for Sculpture, and Performance Project@University Settlement, among many others. For more info, visit www.kinematikdance.com.
Karen Kitchen is an innovative producer with a focus on cultural programs for non-traditional venues, development and execution of large-scale and site-specific projects, and strategic and organizational planning. Until 2017, she was the V.P. and Senior Producing Director of Arts Brookfield, a corporately funded national arts program responsible for producing performing and visual art projects, installation and events for public spaces in New York, Los Angeles and Houston.
An important goal of INSITU is to bridge the gap between two disparate LIC communities that are physically and often psychologically separated by the Queensboro Bridge, new developments like Hunter's Point and Court Square on the south side of the bridge, and Queensbridge Houses, the largest public housing community in North America, on the north side of the bridge. Through INSITU we strive to inspire dialogue, engage both communities to dance together, explore their neighborhood through an artistic lens, and find a creative common language. -Svea Schneider INSITU cultivates a supportive platform for artists to develop new work. Artists' voices are important in shaping society and public spaces are places for creative and free expression.