Brick by Brick Dance and Georgina Bates Present SOMEHOW WE END UP HERE, AGAIN
Choreographer/Director Georgina Bates collaborates with journalist Jihii Jolly, documentarian Diana Diroy, and others to create a timely mixed-media dance theater work exploring life under the radar, colored by the immigrant, refugee, and outcast perspectives. Art meets journalism to build an immersive, powerful voice through the interplay of film, dance, and live sound. This conversation between media and movement centers on the pressing issues of belonging: being home in a community that is not one's own, but that can perhaps offer a fresh start.
An evening-length suite of mixed-media dance theater gives voice to the unheard - a moving exploration of life under the radar.
Where is home? Did you get to say goodbye? Are you happy to be here?
Somehow We End Up Here, Again is inspired by and dedicated to the countless individuals who endure tumultuous conditions, nurture hope, and strive earnestly for better opportunities. Our country is born from and made of immigrants. The heart of America beats in diversity, humanity, compassion, and acceptance.
Somehow We End Up Here, Again takes place on August 24, 25, and 26 at 8:30pm.
Show Trailer
Tickets to the August production are on sale. HERE is located at 145 6th Ave. For $15 tickets & information, visit here.org or call 212-352-3101. This production is a part of SubletSeries@HERE: Co-op, HERE's curated summer rental program, which provides artists with subsidized space and equipment, as well as technical support.
HERE Show Page: http://here.org/shows/detail/1921/ HERE - Mainstage Theatre
145 6th Ave. (Enter on Dominick, 1 Block South of Spring)
About
Georgina Bates is a choreographer/director based in New York. She recently choreographed the award winning "Cloud Kumo" and "The (Last) Station." She began her choreographic quest exploring subjects such as human trafficking, immigration, and the effects of nuclear violence. After developing her first piece about journeys of undocumented immigrants, titled "Stay Where You Are (we'll love you from here)," she continued to develop her voice to make work based in human stories relating to social justice, politics, and equal rights. She presented "Somehow We End Up Here" at Triskelion Arts in collaboration with Jihii Jolly and Diana Diroy. Expanding upon this work, which is rooted in journalism, documentary film, live sound, dance and theater, we present the new evening-length work "Somehow We End Up Here, Again."
Brick by Brick Dance: http://gypsyplum.wixsite.com/brickbybrickdance
Diana Diroy is a documentary filmmaker and editor, photographer, and a video production youth educator. Diroy's interests are in telling stories about climate change, social justice and women's issues. She currently works at CNN, and teaches multi-media to youth at the Educational Video Center. She is also the co-founder of Her Girl Friday, a Brooklyn- based group dedicated to empowering women in journalism and film. Diroy's passion for visual storytelling is grounded in her drive to connect with people.
Jihii Jolly is community editor of Women & Girls at News Deeply, a network of single-subject information hubs, where she focuses on issues affecting women and girls in the developing world. A multimedia journalist with a varied background production and research, she specializes in media, culture and religion, she has written and produced content for the Columbia Journalism Review, The Atlantic and Narratively, among others. She was previously an Innovation Fellow at EdLab Studios, a research, media design lab at Teachers College, Columbia University. In addition to producing her own work, she has taught pre-college journalism at the School of the New York Times and community engagement at Stony Brook University's Journalism School. She's originally from India, and grew up in New York.
Concept & Direction by Georgina Bates
Media Collaborators: Diana Diroy, Jihii Jolly
Choreography: Georgina Bates, in collaboration with dancers
Dancers: Rohan Bhargava, Bonnie Bushnell, Kristi Cole, Nimisha Mahiyaria, Alexandra Montalbano, Kendra Samson, Hala Shah
Lighting/Technical Designer: Giovanni Villari Stage Manager: Shannon Lyver
Music: The Jews of Malta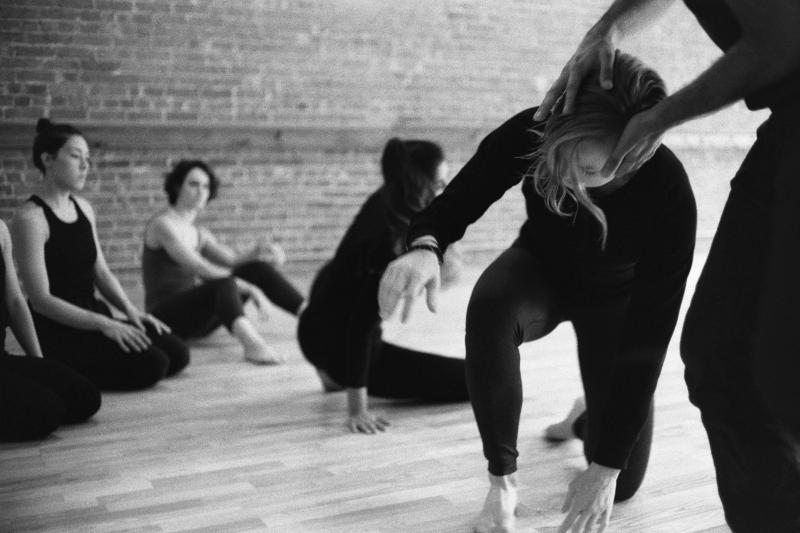 Related Articles View More Dance

Stories
More Hot Stories For You