Click Here for More Articles on Ballet!
BWW Review: LES BALLETS TROCKADERO DE MONTE CARLO Returns to Ruffle Feathers at The Joyce Theater This Holiday Season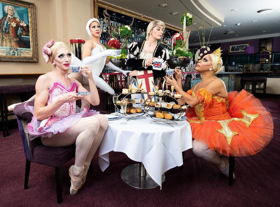 Ah, classical ballet -- an art form reserved for the elite, the upper-crust, the sophisticates of society where princes fall in love with fine-feathered friends, pirate girls perform to Verdi and dances under the sea are not only meant for Disney's favorite redheaded mermaid. Dashing men in dance belts hoist high in the air delicate ladies with their tutus and...Adam's apples?
While stuffy prudes and purists may scoff and all others may rejoice, no one can deny that Les Ballets Trockadero de Monte Carlo has returned to NYC for the company's biennial engagement and holiday treat (with a few tricks) at the Joyce Theater for a three-week run of two distinctive programs on alternating nights that include audience favorites and special Joyce premieres -- just in time to take a different sort of crack at Tchaikovsky's nut and ruffle a few feathers (and fins) along the way.
The "Trocks," as they are affectionately known, are a tradition for those who prefer their flawless technique with a heaping dose of humor. Though the all-male troupe en travesti sport makeup evocative of Bianca del Rio, the Trocks have a history far predating RuPaul's Drag Race. They began humbly as a collective of classical ballet enthusiasts and raucous rebels who formed the company in the creative hotbed heyday of Off-Off Broadway in the early-mid 1970s. It didn't take too long for the critical voices to sing their praises, but who might have guessed that such playful parodies en pointe would catapult the Trocks to such international acclaim on the world's stage for over forty years? They have dazzled everyone they've encountered from their stage show attendees to television and film viewers and even members of the British royal family with their appearances in over 35 countries and 600 cities since their founding in 1974. It is clear that the company will, as they have done for decades, "Keep on Trockin'". But at risk of sounding obnoxiously cliche, their singular brand of enchantment and charm is sorely needed -- now more than ever. This is not because the company represents or advocated for some oppressed group (though in truth, they have and do) but that right now joy and playfulness are as necessary as oxygen.
But there is much more to the Trocks than merriment -- the talent of the company and creative team is utterly undeniable. The dancers perform en pointe as gracefully and technically sharp as any prima ballerina. Though feminists rightfully claim that women can and should be able to do anything that men can, these astounding performers prove that the reverse is also equally true, even in the most unexpected outlets. Though there is a plentiful parody and jovial joy to be had at a Les Ballets Trockadero de Monte Carlo show, there is also exquisite perfection of form -- so much so that at times one almost forgets (or cannot believe) that men are performing the moves -- that is, until one of them purposely steps out of line and shatters the illusion of delicate, feminine grace.
In an era of more attention and awareness to gender nonconformity as well as equality, diversity and inclusion, the Trocks have always been ahead of the curve. Here the little boy who dreamed of being a ballerina actually can be one -- and earn respect and acclaim for it. Even more impressive is the level that they have been accepted and embraced around the world for decades, including in countries and cultures not typically renowned for being as open to such gender-bending expressions. I remember when an associate -- Peter Klein, who is an international producer -- recounted a story about when he took Les Ballets Trockadero de Monte Carlo on tour to Israel for the first time. The Orthodox and conservative Rabbis got wind of this unconventional troupe blowing into town and warned the public not to attend such an "aberration". This resulted in a sell-out of the entire engagement.
The Trocks' penchant for parody begins before a single toe is pointed -- their character names are based on puns for Russian ballerinas. Each one, such as Nina Immobilashvili, Helen Highwaters or Ludmila Beaulemova has their own lore with the current dancers stepping into their towering size-twelve shoes as a footnote in the program. Before the show at the Joyce commenced, it was announced that Natasha Natgoodenoff would not be able to participate. If this doesn't prepare one this kind of adventure, what can?
The opening piece for Program A was Le Lac Des Cygnes (aka Swan Lake, Act II). All of the performers beautifully brought the enchanted and absurd fairy tale and classical ballet standard to life but the evening's Odette aka "Queen of the Swans" played by Nina Enimenimynimova (actually performed by the exquisite, entrancing Long Zou) was one of the best I have ever seen from Moscow to Rome to NYC. Her (his) excellent portrayal was only all the more enhanced by the charming and comedic accoutrements from the remainder of the company from the principals of the performance to the scene-stealing swan ensemble. (Note: Do not be in a piece with the comedian/dance diva Olga Supphozova aka Robert Carter -- you will be upstaged time and again).
The second divertissement of the evening was a Marius Petipa choreography, Paquita Pas de Trois -- a trio in red tutus leaping and twirling with panache. One dancer contained such brazen confidence that when her wig flew off she cast it aside and returned for the next part as a peroxide blonde.
The third number immediately preceding it was inspired by La Trovatiara Pas De Cinq, a more modern interpretation of Verdi's opera La Trovatiara (The Foundling Queen). In this context it appeared to be a triumphant exploration of strong, defiant young women, even though the piece is so deeply rooted in classical form. These pirate girls brandish swords, compete with each other for attention and dance divinely before the two men on dockside scene in Tripoli. The company felt fortunate to have uncovered this precious exotic jewel from a misplaced Verdi opera.
Scene-stealing performer Robert Carter as Olga Supphozova found plenty of opportunity to ham it up and showcase his/her ability in the solo Dying Swan with flying feathers and magnificent melodrama before the second intermission.
But the coup de grace is Les Ballets Trockadero de Monte Carlo's final divertissement for this season's engagement at the Joyce Theater: The underwater scene from The Little Humpbacked Horse. The ballet in full was an instant and enduring success with audiences in Imperial Russia so it is well-suited to the Trocks' Eastern European aesthetics and classic choreography by Alexander Gorsky and Marius Petipa, and the under the sea theme allows for a lot of fun and fantasy in terms of costuming (delightfully colorful concoctions by Kenneth Busbin), decor (by John Claason) and lush, fluid lighting (by Bob Bursey). Starfish, a Goldfish, Corals and Medusas prance and preen then launch into whirlpools of furious fouettés, impressive allegros, powerful jetés and pretty pirouettes. Once again, while all of the dancers are extraordinary, there were a few notable standouts: the Genie of the Underwater performed with elegance and grace by Haojun Xie acting under the character Nicholas Khachafallenjar; the Corals, Nina Immobilashvili (Alberto Pretto) and Sonia Leftova (Boysie Dikobe) who whipped around countless turns with breakneck speed; but the spotlights shone the brightest yet again on the tremendous talents of Nina Enimenimynimova (Long Zou) as the Goldfish and the Dying Swan of the previous piece who returned from the grave to trade feathers for fins as the Queen of the Underwater, portrayed by the incomparably comedic and charismatic Robert Carter as Olga Supphozova.
The only part of the production not pulling their weight that evening was the audience. At the sold-out opening night of the beloved biennial holiday engagement for such an globally-adored company, one would expect a bit more enthusiasm. Though the Joyce is primarily a contemporary dance theater and patrons might be used to more reserved and serious dancers, the Trocks command and bit more attention and engagement that the performers not only merit, but require to keep up such energetic expressions. Fitting somewhere between American Ballet Theatre and a drag show, Les Ballets Trockadero de Monte Carlo offers audiences the opportunity to lighten up without sacrificing any of the glorious styles and standards that have made classical ballet such a timeless treasure across many nations and cultures. Poking fun at the stuffiness and seriousness often associated with traditional artists and audiences of the art form is precisely the point of their parodies. It would behoove attendees to enjoy and engage in all of their clever revelries and comedic charm. Bawdy guffaws and spontaneous applause are most welcome.
For tickets and more information:
The Joyce Theater Foundation presents a three-week engagement of Les Ballets Trockadero de Monte Carlo from December 11-30, 2018. The performance schedule is as follows: Tuesday & Wednesday at 7:30pm; Thursday & Friday at 8pm; Saturday at 3pm & 8pm; Sunday at 3pm. There will be no performance on Tuesday, December 25. Tickets are $45-$65 and can be arranged by calling JoyceCharge at 212-242-0800 or online at www.joyce.org. A Curtain Chat, a free post-performance talkback with members of the company, will take place on Wednesday, December 12. This enlightening discussion is open to all patrons attending that evening's performance. The Joyce Theater is located at 175 Eighth Avenue at 19th Street. For more info, please visit www.Joyce.org.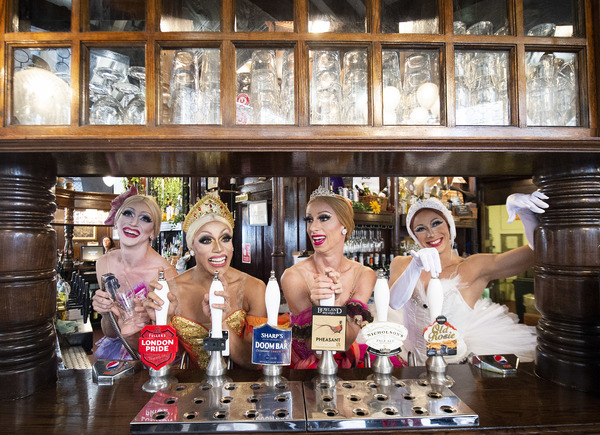 The "Trocks" go bar-hopping. Eugenia Repelskii (Joshua Thake), Olga Supphozova (RoBert Carter), Nina Immobilashvili (Alberto Pretto), Alla Snizova (Carlos Hopuy) Photo by Elliott Franks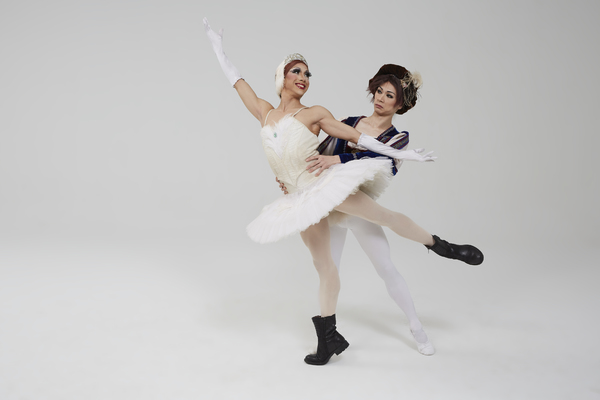 Les Ballets Trockadero de Monte Carlo, photo by Zoran Jelenic. Pictured (L to R) Carlos Hopuy (aka Alla Snizova) and Long Zou (aka Ketevan Iosifidi).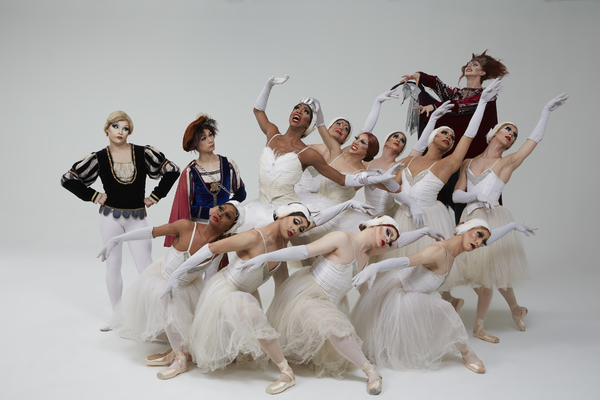 Les Ballets Trockadero de Monte Carlo, photo by Zoran Jelenic.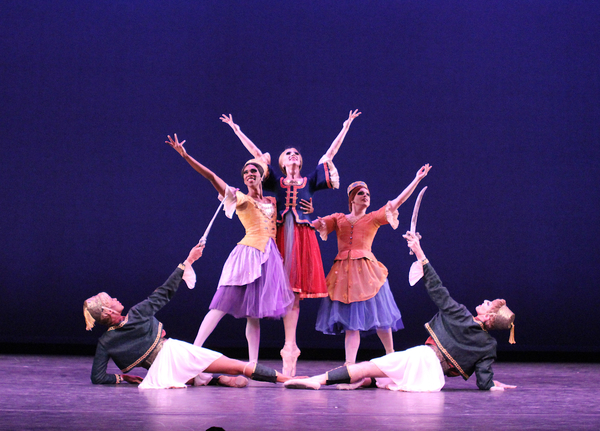 Photo by Costas Cacaroukas. Pictured L to R: Andrei Leftov (Boysie Dikobe), Helen Higwaters (Duane Gosa), Eugenia Repelski (Joshua Thake), Guzella Verbitskaya (Jack Furlong, Jr,), and Sergey Legupski (Kevin Garcia) in Trovatiara.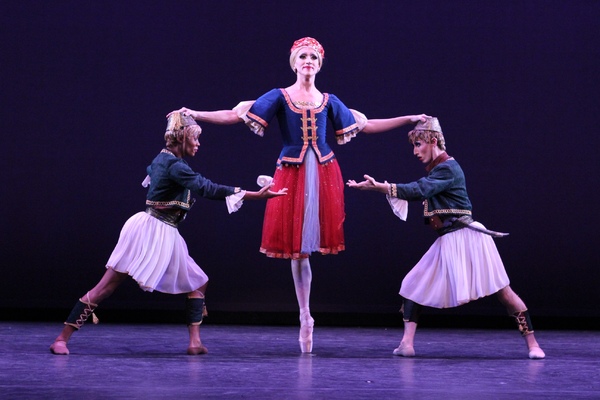 Photo by Costas Cacaroukas. Pictured L to R: Andrei Leftov (Boysie Dikobe), Eugenia Repelski (Joshua Thake), and Sergey Legupski (Kevin Garcia) in Trovatiara.