BWW Review: The Joyce Theater Foundation Presents the Sarasota Ballet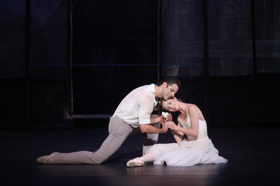 On Saturday, August 18, 2018, I attended the 8pm performance, Program B, of the Sarasota Ballet, at The Joyce Theater. Iain Webb, former dancer with both the Sadler's Wells and the Royal Ballet of London, dancing lead roles, took over the directorship of the Sarasota Ballet in July 2007. This program included pieces by Christopher Wheeldon and Sir Frederick Ashton.
First, the last piece on the program, the final pas de deux from Act 2 from Ashton's The Two Pigeons, to music by Andre Messager, Les Deux Pigeons, was danced by guest artist Marcelo Gomes. Many in the audience had come particularly to see him dance. It was a pleasure to see this brilliant, confident, seasoned professional again as he partnered principal dancer Victoria Hulland. Hulland, dressed in white, began alone on stage until Gomes arrived, wearing khaki and white, with a well-behaved white pigeon on his shoulder (remarkable). His partnering was gallant, gracious, and uplifting for his partner and for the audience. At the end of the pas de deux they were joined by a second white pigeon. It was amazing that the birds appeared so well-rehearsed and well-behaved.
Christopher Wheeldon's There Where She Loved, to music by Frederic Chopin and Kurt Weill was first on the program. The music, played live by marvelous musicians, exceptional pianist Cameron Grant joined by Sopranos Michelle Giglio and Stella Zamballis were a welcome addition to the work. The ballet featured dancers in a variety of relationships, in several different groupings. The company revealed itself to be young and fresh, with room for some maturing in their future. I'd like to see them expressing feeling more than thinking.
This was followed by Ashton's Monotones 1 & 2, to the hypnotic music of Eric Satie, again played by Grant. Recently, American Ballet Theatre has included these works in its performances. Costumes for the two females and one male dancer for Monotones 1 are yellowish unitards with matching oversized skullcaps. Monotones 2 displayed the same costumes in white for two males and a one female. The technique required for these ballets is exacting. When presenting such work it is best to have precision to rise above the Monotones.
Short pieces of Ashton followed. La Chatte (metamorphose en femme) to music by Jacques Offenbach, played by pianist Grant, was danced by Kate Honea. She began sprawled on a chaise longue in a white, fur (boa) trimmed dress. Her portrayal was cute. Les Patineurs (Pas de Trois) to music by Giacomo Meyerbeer was another lighthearted offering, danced by Asia But, Ivan Duarte, and Samantha Benoit. Another pas de deux, rich and poetic, Meditation from Thais, to music by Jules Massenet was danced by Katlyn May and her attentive partner, Ricardo Rhodes, dancing with fluidity.
This is an ambitious company open to growth in their future.
Photo credit: Frank Atura
Related Articles
View More Dance

Stories