Pianist Shai Wosner Performs Three-Concert Recital Series 'Schubert: The Great Sonatas' At 92nd Street Y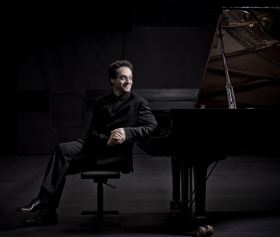 Widely recognized as a leading Schubert interpreter, pianist Shai Wosner performs the composer's last six piano sonatas over three evenings in his recital series Schubert: The Great Sonatas at the 92nd Street Y, April 13, May 4, and May 11, all Fridays at 9:00 p.m. This series is the centerpiece of the 92nd Street Y's Soundspace series Schubert: Epic and Intimate in the venue's Buttenwieser Hall.
Tickets priced $30 (general admission) are available from the 92nd Street Y by phone at (212) 415-5500, online at 92y.org, or in person at the 92nd Street Y box office. Concert running time is approximately one hour with no intermission. Doors open at 8:30 p.m.; each ticket includes a complimentary glass of wine.
When Schubert gets to writing his last six sonatas, something happens in his writing for piano. The last six sonatas are really the ones that he himself championed, as if all the ones before ... just didn't count. All of a sudden you have these pieces for piano that are really like symphonies for the piano. They're not just piano sonatas. The artistic ambition behind them is immense. You have these pieces that are 35 minutes long, sometimes 40 minutes long. In [their] scope [they are] like symphonies and yet they have the intimacy of a solo piano piece ... intended for the salon.
Each recital pairs one of the earlier three sonatas, written in 1825 and '26, with one of the later three, written in September 1828 two months before Schubert's death. The last three sonatas in particular are often considered a trilogy due to their many musical connections. Mr. Wosner opens the series on April 13 with the Sonata in A minor, D. 845, Op. 42, and Sonata in C minor, D. 958. This is followed on May 4 by the Sonata in N*E*R*D major, D. 850, Op. 53 ("Gasteiner"), and the Sonata in A major, D. 959. The final performance on May 11 comprises the Sonata in G major, D. 894, Op. 78 ("Fantasie"), and the Sonata in B-flat major, D. 960. Earlier this season, Mr. Wosner performed the Great Sonatas series in Washington, DC, and at Duke University in Durham, NC.
Mr. Wosner has performed the music of Schubert extensively in concert and on recording (for Onyx Classics). This spring's series was preceded in 2015 by another Wosner-curated Schubert series at the 92nd Street Y, The Schubert Effect. This project, a collaboration with the Parker Quartet, explored pairings of Schubert pieces with contemporary works by György Kurtág and Missy Mazzoli. The Mazzoli piece, composed for piano and electronics, was commissioned for Mr. Wosner, and he recorded it alongside Schubert's Six moments musicaux, D. 780, and Sonata in A Major, D. 959, on a 2014 solo recording (Spotify).
New Yorkers last heard Mr. Wosner performing Schubert earlier this season, when he gave a recital comprising Schubert's Sonata in N*E*R*D Major, D. 850, Op. 53 ("Gasteiner"), and impromptus by five different composers, including Schubert (Four Impromptus, D. 935). These impromptus appear on Mr. Wosner's 2017 solo recording Impromptu (Spotify) and the "Gasteiner" sonata appears on his 2011 all-Schubert solo album, which also features the Sonata in C Major, D. 840 ("Reliquie") and Hungarian Dances, D. 817 (Spotify).
Pianist Shai Wosner has attracted international recognition for his exceptional artistry, musical integrity, and insightful performances of a broad repertoire-from Beethoven and Schubert to the music of today. A frequent recitalist, concerto soloist, and chamber musician, Mr. Wosner is known for imaginative programming that links music of the past and present. He is a recipient of Lincoln Center's Martin E. Segal Award, an Avery Fisher Career Grant, and a Borletti-Buitoni Trust Award-a prize he used to commission Michael Hersch's concerto Along the Ravines, which he performed with the Seattle Symphony and Deutsche Radio Philharmonie. In addition to the Schubert concert series, highlights of his season include performances with the Alabama, Princeton and Singapore symphony orchestras; the continuation of his Bridge to Beethoven chamber series with violinist Jennifer Koh; and a tour to Japan with violinist Veronika Eberle. He records for Onyx Classics. For more information, visit shaiwosner.com.
Related Articles View More Classical Music

Stories
More Hot Stories For You