Applications Now Open for the 33nd Annual Irving M. Klein International String Competition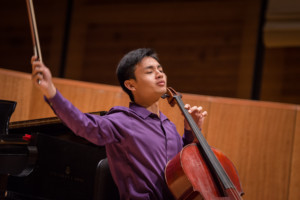 Applications are now open for The Irving M. Klein International String Competition, presented by the California Music Center and the San Francisco Conservatory of Music. Violinists, violists, cellists and bassists age 15 to 23 of any nationality not currently under professional management are eligible to compete June 2-3, 2018 in San Francisco at the Conservatory. For more details on prizes, repertoire and to submit and an online application, visit kleincompetition.org. Applications to be received by Saturday, February 3, 2018.
For the past 32 years, the Klein has attracted some of the world's finest young string players to San Francisco each June to compete for cash and performance prizes. The Klein Competition has achieved international recognition as one of the most prestigious classical music competitions, recognized for the high caliber of the contestants; its unique, nurturing environment; and its commitment to the commissioning of new works. We're pleased to announce that the Commissioned Works for this year's Klein Competition will be written by David Froom. The competition is named for the late cellist and master teacher who devoted himself untiringly to the development of young artists.
Its award carries the distinction that has helped many top soloists gain prominence in the competitive world of classical music, including Jennifer Koh, Mark Kosower, Vadim Gluzman, Jennifer Frautschi, Alban Gerhardt, Frank Huang and Robert deMaine; up and coming players David Requiro (2006), Tessa Lark (2008) and Nikki Chooi (2009); and principal chairs in many of the finest U.S. orchestras, including the Philadelphia and Cleveland Orchestras, the New York Philharmonic, and the Boston Symphony.
About the California Music Center
CMC was founded in 1974 by Irving M. Klein, a virtuoso chamber musician and master cello teacher, as the sponsoring organization for a summer music institute and chamber music series for young artists. Following Mr. Klein's passing in 1985, CMC inaugurated the Irving M. Klein International String Competition ("the Klein") in 1986; since then, the Klein has become one of the most prestigious events of its kind, attracting ever-increasing numbers of entries annually from throughout the world and helping to enhance the developing careers of players who have gone on to become renowned soloists, chamber musicians, teachers, and prominent members of the world's finest orchestras. Learn more: californiamusiccenter.org.
photo of 2017 1st Prize winner Jeremy Tai by Carlin Ma