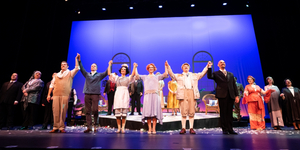 Review: LA RONDINE at Winter Opera
Winter Opera has presented a truly gorgeous production of Puccini's La Rondine (The Swallow). Puccini is the supreme master of romantic melody, and in Rondine he outdoes himself. I love this opera, my heart having been beguiled early by one lilting, gently syncopated romantic waltz refrain that recurs again and again like the memory of a distant sweet infatuation.
Bloomingdale School Of Music To Present Free Faculty Concert VIRTUOSIC VIOLIN-PIANO COLLABORATION: TWO SONATAS AND A BALLET
Bloomingdale School of Music announces December programming for its 2022/23 Free Faculty Concert Series at the David Greer Concert Hall, 323 W. 108th Street, NYC.
AROUND THE BROADWAY WORLD