WCPE FM Honors Women's Equality Day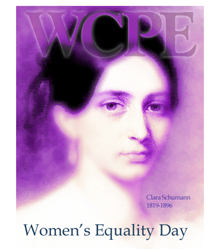 For Immediate Release
Media Contact:
Curtis Brothers
919.556.5178
curtis(at)TheClassicalStation(dot)org
WCPE FM Honors Women's Equality Day
TheClassicalStation.org Features Classical Females
WCPE's Music Director William Woltz announces a celebration of Women's Equality Day, August 26, 2017. The event honors female composers, conductors and performers commemorating the passage of the 19th Amendment giving women the right to vote.
"The day actually commemorates the passage of voting rights for women, but it's a great occasion for us to feature women in Classical music," says Woltz. "This year it falls on the Saturday Evening Request Program. You're invited to request something written by Clara Schumann, Fanny Mendelssohn, Jennifer Higdon, Joan Tower or your favorite female composer."
26 Saturday
9:00 a.m. Chaminade: "Carnival Waltz"
11:00 a.M. Price: Symphony in E Minor
1:00 p.m. C. Schumann: Piano Concerto in A Minor
3:00 p.m. Mendelssohn-Hensel: Piano Sonata in C Minor
4:00 p.m. Beach: "From Blackbird Hills"
5:00 p.m. Tower: Made in America
"An enthusiastic "Thank you to The Classical Station" for featuring a celebration of women creators present and past," offers Composer Barbara Harbach. "Also for fostering an appreciation for the accomplishments of women throughout history while encouraging interest and research on women artists."
WCPE's 24/7 live broadcast of Great Classical Music, 24 Hours A Day can be accessed around the globe in several ways; on-line streaming in multiple formats, including IPv6, small dish home satellite reception, local cable television systems and traditional radio broadcasting. A complete list of the ways WCPE is available with instructions for cable and satellite reception can be found at: http://theclassicalstation.org/listen.shtml.
About WCPE:
With a 39 plus year history, WCPE 89.7 FM is a non-commercial, 100 percent listener-supported, independent station dedicated to excellence in Great Classical Music broadcasting. Community-minded business underwriters and foundations are among the 150,000 listeners in the North Carolina broadcast area. General Manager Deborah S. Proctor's leadership has enabled the WCPE community to include national and worldwide listeners. Big and small dish home satellite transmissions serve North America. Other radio stations and cable television systems use these services to rebroadcast Great Classical Music, 24 Hours A Day. WCPE is one of the first public broadcasters to stream on the Internet. WCPE is heard worldwide on the Internet in multiple formats, including the next generation IPv6. Because WCPE receives no tax-derived support, the station conducts two on-air fundraising campaigns and two major mail-out campaigns per year to raise needed operating funds. For more information, visit http://www.TheClassicalStation.org or call 919-556-5178.
Related Articles View More Books

Stories
More Hot Stories For You