V.E. Schwab and Tor Books Sign $1 Million SFF Deal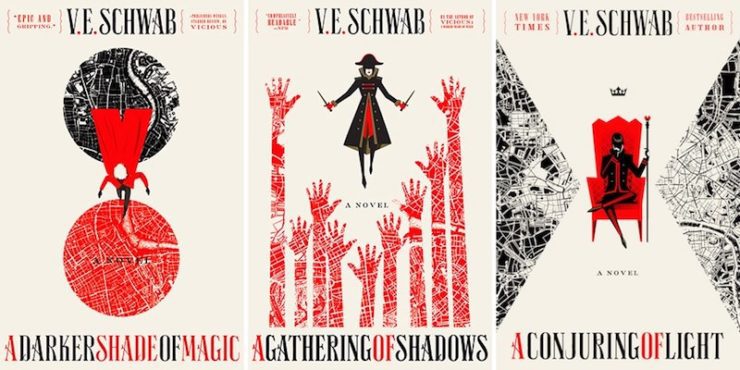 New York Times Best Selling Author V.E. Schwab just signed a deal with publisher Tor Books to release four more books through 2024. The deal, worth a million dollars, will see the release of three new books related to Schwab's best selling A Darker Shade of Magic trilogy that will be entitled the Threads of Power trilogy. Schwab will also release a stand-alone novel with the publisher about a female assassin living in a futuristic New York City.
Schwab also publishes books for teens and children under the name "Victoria Schwab." She has released two books so far in 2017 that have both hit the New York Times Best Sellers List, YA hit OUR DARK DUET, the second book in her Monsters of Verity duology, and A CONJURING OF LIGHT, the final book in her highly lauded A Darker Shade of Magic trilogy.
Next year, Schwab will publish VENGEFUL, the hotly anticipated sequel to VICIOUS, her debut adult novel that helped her burst onto the adult SFF scene, and 2019's THE INVISIBLE LIFE OF ADDIE LA RUE, about a girl who makes a deal with the devil to live forever cursed to be forgotten by anyone who ever meets her.
A Darker Shade of Magic centers around Kell, an Antari able to travel betwen parallel versions of London, which very few people know is possible. The new trilogy will return to this world, and in yesterday's press release, Schwab told Entertainment Weekly, "Tor's dedication has been unwavering, and, alongside my formidable editor, I can't wait to introduce new leads, explore uncharted ground, and revisit old friends."
Schwab also posted a link on Twitter to https://veschwab.wordpress.com/2016/07/15/on-the-slow-pursuit-of-overnight-success/ talking about the slow road to success, even as others might say "overnight sensation."
Related Articles View More Books

Stories
Bonnie Lynn Wagner has been a reader for as long as she can remember. Friends frequently come to her for book recommendations, and eventually, she (read more...)