Top Camping Spots for Enjoying Nature in the Tennessee River Valley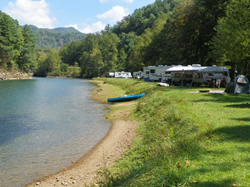 The
Tennessee River Valley
welcomes millions of visitors each year and while many come for the endless opportunities of outdoor recreation, many come to get away from the hustle and bustle of today's world. Guests to the region are treated to fresh air, beautiful scenery and a variety of landscapes, abundance of wildlife, pristine waters and majestic mountains. For those who want to experience Mother Nature up close, the Tennessee River Valley Stewardship Council has come up with seven camping spots camping enthusiasts should check out this year.
"Camping in the Tennessee River Valley region offers the perfect setting for families to connect with each other and with nature. Visitors will have tons of acres to explore during the day while nights are spent gazing at millions of stars," said Julie Graham, spokesperson for the Tennessee River Valley Stewardship Council.
Bald Mountain Camping Resort, Hiawassee, Ga.
Visits in the spring, summer or fall are all ideal times to get away to the Bald Mountain Camping Resort in northeast Georgia. The mountains provide a beautiful backdrop and plenty activities are available within a short drive. Open from April 1 to October 31, the resort is located two hours northeast of metro Atlanta and day trips can be made to Alpine Helen, a Bavarian Village, The Appalachian Trail, Brasstown Bald (highest peak in Georgia), the Georgia Mountain Fairgrounds, beautiful Lake Chatuge, and the Cabbage Patch Kids Babyland.
Big Bear Resort Campground, Benton, Ky.
Located on one of the biggest man-made lakes in the world, Big Bear Resort Campground has been a popular camping spot for families for over 60 years. Surrounded by the pristine waters of Kentucky Lake, Big Bear encompasses 52 acres of rolling woodlands and campers may camp right on the water's edge. Whether it is crappie, bass, bluegill or catfish, Kentucky Lake is one of the best lakes for sport fishing in the country and is also home to outstanding recreational boating, from jet skis to ski boats to pleasure boating. Water equipment is available for rent and after a day on the water, enjoy roasting marshmallows and a peaceful sunset.
Piney Campground at Land Between the Lakes, Dover, Tenn.
Piney Campground is part of Land Between the Lakes National Recreation Area, a 170,000-acre playground nestled between Kentucky Lake and Lake Barkley. Land Between the Lakes offers 300 miles of undeveloped shoreline for paddlers, boaters, fishermen and campers. Hundreds of miles of trails are dedicated to outdoor enthusiasts who enjoy hiking, backpacking, hunting and riding horses, mountain bikes and ATVs. Opened from March 1 through November 30, Piney Campground offers 384 lake front and wooded sites and campers have access to modern facilities, including a swimming beach area, archery range, ball field, bike trails, a campfire theater, hiking trails, two boat ramps and a fishing pier. Piney Campground connects to the Fort Henry Trail System where Civil War soldiers traveled to protect Fort Henry, Fort Heiman and Fort Donelson. The summer season offers daily recreation programs for all ages. In mid-September Piney holds its popular Camper's Fair with a variety of activities including a campers' flea market and dealer showcase of new RVs, fifth wheels and motor homes.
Mountain Glen RV Park and Campground, Pikeville, Tenn.
Mountain Glen RV Park and Campground is located in southeastern Tennessee on the scenic Cumberland Plateau in Pikeville, Tenn. Just fifteen minutes from beautiful Fall Creek Falls State Park and centrally located between Knoxville, Nashville and Chattanooga, the campground offers plenty to see and do nearby such as breathtaking waterfalls, cave tours, golf courses, orchards, scenic train rides, miles of challenging hiking trails and many events and festivals throughout the year.
Watauga Dam Campground, Elizabethton, Tenn.
A TVA campground, the Watauga Dam Campground is located on the banks of the peaceful Watauga River in eastern Tennessee. Beautiful scenery can be seen in all directions and the calming waters of the river provide an ideal setting for a relaxing getaway. Currently the campground has no tent sites, but has 29 RV sites, many of which are right on the river. Nearby hiking excursions can begin with TVA's Overlook Trail, which leads to spectacular views of the Cherokee National Forest and Watauga Dam and its unique spillway. The Appalachian Trail intersects with trails here, making for some truly world-class hiking. The campground is open from March 15 to November 15, 2019.
Big Ridge State Park, Maynardville, Tenn.
Bounded on three sides by Norris Lake, Big Ridge State Park was one of the five demonstration parks developed by the TVA in cooperation with the National Park Service and Civilian Conservation Corps. The heavily forested park offers both lakeside campsites and wooded campsites and is home to a variety of activities. More than 15 miles of hiking trails criss-cross and connect all sections of the park while taking visitors along dry ridges, lush hollows, old roadbeds, lakeshores and beside cemeteries and remnants of early settlements. The Norton Gristmill is the park's most prominent historical feature. Built in 1825, the attraction is now mostly a replica but the original mill race and millstones remain. Other historical features include Indian Rock where a plaque marks the site of the 1794 ambush of Peter Graves; a small monument at Lon Sharp Cemetery recalls the 18th-century Sharp's Station believed to have been located near the cemetery; and the Norton Cemetery which houses the grave of Maston Hutcheson (1826–1910), who according to local lore is responsible for hauntings in the area.
Tishomingo State Park Campground, Tishomingo, Miss.
Located in the foothills of the Appalachian Mountains, Tishomingo State Park is steeped in history and scenic beauty. Archeological excavations confirm the presence of Paleo Indians in the area now encompassed by the park as early as 7000 B.C. The famous Natchez Parkway, the premier highway of the early 1800s and a National Scenic Byway and All-American Road,, runs directly through the park. Tishomingo and the surrounding area offer a unique landscape of massive rock formations and fern-filled crevices found nowhere else in Mississippi. Campers can spend hours exploring the many hiking trails and natural sites within the Park. Noted attractions worth checking out are the Swinging Bridge over Bear Creek (dates back to the 1930s) and a restored log cabin situated along the creek.
For more information or to discover additional camping spots in the Tennessee River Valley, visit http://www.exploreTRV.com.
About the Tennessee River Valley
Beginning in the southwest corner of Virginia, the Tennessee River Valley region cuts through the mountainous areas of Tennessee, North Carolina, and Northern Georgia, into the rolling hills and bottomlands of northern Alabama and Mississippi and then north through the marshes and wetlands of middle-west Tennessee and ending in western Kentucky. The Tennessee River Valley offers a compelling story, captivating visitors with its little unknown facts, pristine, untouched areas and rich, authentic experiences. Save trip ideas and plan a trip easily with the Tennessee River Valley Geotourism MapGuide, an online guide of authentic places and adventures that have been recommended by locals.