Andrew Gerle Releases 'Music Essentials For Singers And Actors: Fundamentals Of Notation, Sight Singing, And Music Theory'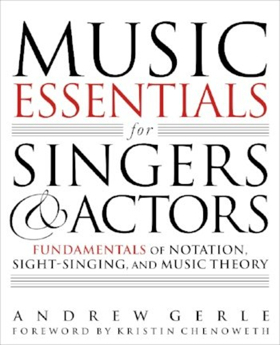 In today's theater, singers and actors are called upon to learn music quickly and accurately, and fluency in the written language of music is an enormous advantage in their always-competitive field. In MUSIC ESSENTIALS FOR SINGERS AND ACTORS: FUNDAMENTALS OF NOTATION, SIGHT SINGING, AND MUSIC THEORY (Hal Leonard Books; September 5, 2018; $34.99), award-winning composer and music director Andrew Gerle offers a music theory text focused exclusively on topics and techniques of practical and artistic value for singers. Drawing on his years of experience, Gerle shows readers how to use music theory to think like a composer, analyzing musical choices for dramatic clues to inspire more detailed and powerful performances.
A comprehensive but unintimidating presentation, MUSIC ESSENTIALS FOR SINGERS AND ACTORS explores every facet of written music to render abstract ideas eminently accessible. It delves deep into each concept, working through its basis in theory before connecting it to the music that we hear and sing every day. Gerle's peerless 1-STARRT method for score analysis places particular emphasis on the visual nature of music notation, teaching singers to scan a new song for large-scale patterns and conceive it as a series of shapes and forms. This ingenious shift empowers a performer to coast past series of musical "words" rather than stumbling over rows of single notes, enabling confident sight singing of any score. The book's pedagogical innovations are rivaled only by their unique presentation, as the text features over 125 examples pulled directly from treasured Broadway scores. These actual musical theater numbers include popular songs from the likes of Rodgers and Hammerstein, Steven Sondheim, Benj Pasek and Justin Paul and countless other Broadway luminaries. Moreover, every chapter is accompanied by exclusive digital downloads. More than 100 audio extras and 125+ exercises hammer home each lesson in the book and ensure that novel concepts are retained. Animated, effective, and refreshingly modern, MUSIC ESSENTIALS FOR SINGERS AND ACTORS is the first instructional text of its kind, demystifying music theory's basic tenets to provide a streamlined, painless educational experience. An essential resource for aspirants and practicing performers alike, this monumental manual will undoubtedly serve as every zealous performer's go-to reference for years to come. ANDREW GERLE is an award-winning composer/lyricist, music director, arranger, and pianist. He has lived in New York City for over twenty years, working on dozens of Broadway, Off-Broadway, regional, and touring productions. He is the author of The Enraged Accompanist's Guide to the Perfect Audition, and teaches musical theater performance, theory, and composition at Yale University and the Manhattan School of Music.
Related Articles View More Books

Stories
More Hot Stories For You