KeyBank Rochester Fringe Expands Again In 2019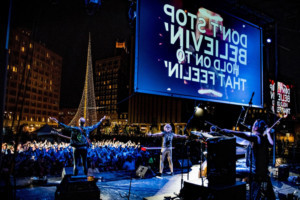 Organizers of the KeyBank Rochester Fringe Festival announce that the 2019 Fringe will open on Tuesday, September 10 and run through Saturday, September 21. This extends the annual multi-arts festival to 12 days, following 2018's extension from 10 to 11 days.
"We are thrilled to announce that 2019 will see a dozen days and nights of Fringe, which will benefit shows, venues, our production team, and - above all - audiences," explains Festival Producer Erica Fee.
The 2018 Fringe (Wednesday, September 12 - Saturday, September 22) offered 549 performances and events in 33 spaces at 23 venues in downtown Rochester. Now one of the top fringe festivals in the U.S. - and the largest multi-arts festivals in New York State - this year's edition broke previous ticket-sales records by more than 12%. Additionally, Rochester's seventh annual Fringe saw more than 120 sold-out performances and events* - its most ever.
"2018 was the best Fringe for us yet," reports Fringe Venue Manager/Arts Center Manager Adele Fico at School of the Arts (SOTA), the festival's largest independent venue boasting five spaces. "I also sensed a greater understanding on the part of the audience regarding just how special this festival is for our community."
"We are thrilled that so many came to visit us during Fringe 2018 at The Avyarium, our new performance space in the Village Gate," says WallByrd Artistic Director Virginia Monte. "Launching our venue during a festival that celebrates artistic freedom was a perfect fit."
"The Fringe is a great way to cultivate new audiences as it brings many people who have never been to our venue before," says MuCCC (Multi-use Community Cultural Center) Venue Manager Kevin Indovino. "We have audience members coming to MuCCC throughout the year because of their first visit during Fringe."
Another sign of growth was a 24% increase in out-of-town productions at independent venues, including: Woman Before a Glass; Truly Divine; Confessions of a Prairie B!*@H; Banachek's Telepathy; The Magic of David Anthony; Pinch and Squeal; Mo-to-the-Oncle; ENCORE; Good Catch; 2 Ruby Knockers, One Jaded Dick; Girl in the Band; Two Magicians Telling the Truth; I Know It Was the Blood: The Totally True Adventures of a New-Fangled Black Woman; and Jonathan Burns is (Extra) Ordinary.
"We had a fabulous run in Rochester, and were thrilled with the turnout and response," says Michael Marinaccio, producer of both the Orlando Fringe and Josephine, a burlesque cabaret dream play, which finished up a three-month tour of North America at School of the Arts following its limited, off-Broadway run.
In order to further support its independent venues and productions, Fringe will open its 2019 show submission period one month earlier than last year - on March 1 - and expand it from four to six weeks, ending April 15. Those FREE submissions are made via rochesterfringe.com directly to the venues, which book on a rolling admissions basis that favors earlier applications.
Free Fringe-curated performances and events were also very well-attended, despite a freak tornado on the second weekend that caused power outages, flooding, damages, closures, and low attendance on Gibbs Street and at One Fringe Place. Nevertheless, Pedestrian Drive-In, Kids Day, Fringe Street Beat, Gospel Sunday, and the North American premiere of Massaoke at Friday & Saturday on the Fringe at Parcel 5 all drew large and enthusiastic audiences. Many of the more than 150 free offerings took place at independent venues, especially: The Little's all-RIT lineup, Java's Café, SUNY Geneseo's free lineup at Lyric Theatre, and ArtAwake at First Federal Plaza's former Changing Scene restaurant (the first public event there since it closed in 1988).
"We are thrilled with the response to this year's Fringe - it was our best year yet - and we look forward to captivating Rochester once again in 2019," adds Fee.
*Sold-out performances included: Carrie: The Musical (Lyric Theatre), Eastman Percussion Ensemble: Steve Reich's DRUMMING (Eastman School of Music), Eddie Izzard (Kodak Hall), EstroFest Comedy: Celebrating 20 Years of Laughs (Geva Theatre Center), The Extraordinary Muffin Theatre Spectacular (The Avyarium), Spooky Stories in the Stacks (Central Library), This Year's Models and Drive-In Dramas (School of the Arts), Cirque du Fringe: SideShow, Disco Kids, Afternoon Tea, Shotspeare, and Silent Disco (Spiegeltent), and all five Bushwhacked Backyard events (BONFIRE, BBQ, BATHTUB, BURIAL and BETROTHAL), Dashboard Dramas, and the Immersive Igloo (Spiegelgarden).
From its five-day debut in 2012 to its 11 days in 2018 that drew more than 78,000 attendees, the KeyBank Rochester Fringe Festival has become one of the fastest-growing and most-attended fringe festivals in the U.S and the largest multi-genre arts festival in New York State. More than a quarter of the Fringe's 500+ performances in over 20 downtown Rochester venues are free. Renowned among the world's 200+ fringe festivals for its large-scale, outdoor, free-to-the-public performances - including 2018's North American debut of Massaoke - Rochester's Fringe was also the first fringe festival in North America to feature a Spiegeltent, which is now an annual attraction. From comedy to theatre, from music to dance, from visual art and film to spoken word, and from children's entertainment to multi-disciplinary collaborations, the festival's diversity also extends to venues that span the gamut from parked cars to grand theatres.
Rochester Fringe Festival connects and empowers artists, audiences, venues, educational institutions, and the community to celebrate, explore, and inspire creativity via an annual, multi-genre arts festival. The not-for-profit, 501(c)3 corporation was pioneered by several of Rochester's esteemed cultural institutions including Geva Theatre Center, the George Eastman House and Garth Fagan Dance; up-and-coming arts groups like PUSH Physical Theatre and Method Machine; and higher-education partners such as the University of Rochester and Rochester Institute of Technology. The organization's overarching mission is to make arts readily accessible to audiences, as well as to provide a platform for artists to share their ideas and develop their skills, while stimulating downtown Rochester both culturally and economically.
Related Articles View More Buffalo

Stories

Shows
More Hot Stories For You