BWW Review: BASKERVILLE at Shea's 710 Theatre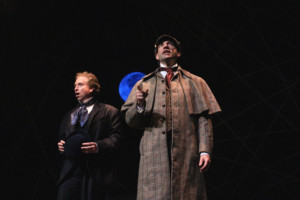 A modern take on an old classic can be risky business, and morphing a murder mystery into a comical farce sounds intriguing on the page. Micro sized casts have done wonders with Hitchcock's "The 39 Steps" and Charles Ludlam's "The Mystery of Irma Vep," so it is no surprise that comic playwright Ken Ludwig, known best for his brilliant "Lend Me A Tenor" should take a stab at the genre. His adaptation of the classic Sherlock Holmes mystery "The Hound of The Baskervilles" has been shortened to "BASKERVILLE" and opened last night at Shea's 710 Theatre. This production by MUSICALFARE unfortunately is high on hijinks and low on true comedy.
Ludwig has written for mere cast of 5 characters, which can lend it itself to breakneck role and costumes changes for 40 parts. Imagine the comedy that could ensue. In telling the story of a mysterious murder on the Moors, Sherlock Holmes and his side kick Dr. Watson encounter a fantastic trio of 3 that play all of the other roles. Mr. Ludwig has shown great aptitude in writing farce, but his script for BASKERVILLE falls flat with long stretches that appear as if a Monty Python Troupe has been engaged to retell Sir Arthur Conan Doyle's story, while incorporating as much of the Ministry of Silly Walks as possible.
The infamous duo include Todd Benzin as Holmes and Chris J. Handley as Dr. Watson. Both gentleman poured their hearts out and deserve a better script. Benzin, who has an uncanny resemblance to the famous film Sherlock Holmes, Basil Rathbone, is the ever calm detective who is always in control. Handley is giving much more comic leeway as the Doctor and handles the physical comedy well. His involvement with solving the mystery is even greater than Holmes' for some reason, but Mr. Handley persevered, complete with a silly knack of always heading in the wrong direction and mysterious crush on one of the other male characters.
The energetic trio of all the other parts include Maria Droz, Marc Sacco, and Patrick Cameron. Asked to don numerous costumes, wigs, accents, and postures sounds hilarious, but in reality the laughs were few and it was obvious that these talented actors were doing their best to create a true comedy. But for all their efforts, most of the evening felt contrived and forced for laughs. The reveal of the whodunnit was a relief moreso than an aha moment.
The serviceable set by Lynne Koscielniak provided multiple playing areas but it was puzzling why phrases written on each platform faced the ceiling instead of the audience, so unless you were seated in the last row, they were unreadable. Lighting and sound by Chris Cavanagh was effective and set the moor scenes well.
Co Directors Randall Kramer and Doug Weyand have crammed every stereotype into the 2 hour affair, and I can't blame them for attempting to milk some humor out of the vapid script. But with so many other choices, one wonders why this substandard piece was chosen. They did employ some clever staging using the walkways throughout the theatre, with an ingenious nod to the bad weather on the moors complete with wind and inverted umbrellas. The former Studio Arena fizzled with these types of lackluster plays and a rebirth at Shea's 710 Main deserves a little more care. There is obviously an audience out there who want to see this theatre succeed, based on a the large audience on opening night.
BASKERVILLE runs through May 19, 2018 at Shea's 710 Theatre. Contact sheas.org for more information.
Related Articles View More Buffalo

Stories

Shows