Alleyway Theatre Presents A VERY, VERY TRUMPY CHRISTMAS CAROL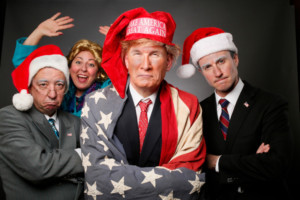 It's the Whitest Christmas Ever!
Alleyway Theatre proudly presents the world premiere of A VERY, VERY TRUMPY CHRISTMAS CAROL at Main Street Cabaret, December 7 to 23, 2018. Fridays & Saturdays at 8pm and Sundays (10/16 &10/23 only) at 7pm. The production will feature Stephanie Bax, Timothy Patrick Finnegan, A. Peter Snodgrass and Guy Tomassi. The production is redacted and directed by Todd Warfield.
Democracy Was Dead to Begin With...
Just when you thought you've seen every possible version of the classic 1843 novella by Charles Dickens, Director Todd Warfield brings you the campiest stage adaptation of A Christmas Carol yet! Join President Ebesneezer Trumpy, Sara Suckabee-Sanders, Hellary Clinton, Mike Dence and other well-known politicos on the President's nocturnal ghost ride.
A Lying, Cheating, Covetous Old Sinner!
Opening on a bleak Christmas Eve in the White House, President Trumpy meets the ghost of Hellary Clinton bound in chains of emails and Benghazi memos, the ghost warns him of the arrival of three spirits vying for his, and our, national redemption. Shifting from bright lights of Studio 54 in the 1970's to post-apocalyptic New Jersey, will the President learn the true meaning of America?
If They Would Rather Die... They Had Better Do It and Decrease the Entitlements!
Proclaimed by the Buffalo News as King of Camp, director and designer Todd Warfield tells us "This is something we just had to do in today's political circus, although hysterically current, the play stays true to hope and redemption, so important in the original A Christmas Carol novella." Warfield, Associate Director and Resident Designer at Alleyway Theatre has directed RABBIT HOLE, THE GRADUATE, HELL HOLE HONEYS, REEFER MADNESS and BUFFALO HELL HOUSE at Alleyway Theatre. He recently directed the sold-out productions of SILENCE THE MUSICAL as well as CLEOPATRA for Buffalo United Artists.
God Bless America and Everyone!
A VERY, VERY TRUMPY CHRISTMAS CAROL is playing a limited engagement at Main Street Cabaret, 672 Main Street, Buffalo, NY, December 7 to 23, 2018. Fridays & Saturdays at 8pm and Sundays (10/16 &10/23 only) at 7pm. Advance tickets are highly suggested. Tickets and more information can be found at 716-882-6500 or Alleyway.com.

Related Articles View More Buffalo

Stories

Shows
More Hot Stories For You