spit&vigor's Site-specific MAROONED! Play Series Premieres at Their Studio
Performances for this limited engagement series begin on Thursday, August 4th and run through Sunday, August 21st.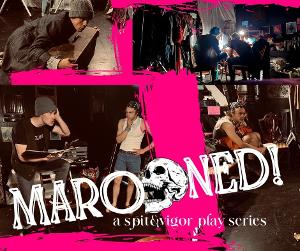 spit&vigor has announced the world premiere of MAROONED!, a bespoke series with plays by Sara Fellini, Camila Bravo Rivera, Connor Nelis Johnson, Peter Oliver, and Z. Quinn Reynolds, to be directed by Jillian Cicalese, Sara Fellini, Alexandra Harbold, and Z. Quinn Reynolds.
Performances for this limited engagement series begin on Thursday, August 4th and run through Sunday, August 21st. Press Opening is Saturday, August 6th at 7:30 PM. The performance schedule is Thursday - Sunday at 7:30 PM. This exciting, site-specific production takes place at spit&vigor's studio (58 Second Ave BROOKLYN, NY 11211, Studio 5818). Tickets are $40. Seating is extremely limited. For advance reservations, visit www.spitnvigor.com/marooned.
Acclaimed small theater company spit&vigor ("tenacity ground into every red velvet seat - in other words, I love it" - Vulture) has transformed their 16 x 16" rehearsal studio into a desert island this summer for their play series MAROONED! - featuring heartstopping plays by several up-and-coming and established playwrights, all about those times when we all can find ourselves marooned on a desert island. Some plays are darkly comic, like Peter Oliver's Jamaica, about vacationing yuppies who engage their baser animal instincts while watching an annual turtle race, or Z. Quinn Reynolds' Silver Blood(s), wherein a mystery person washes ashore and claims to be the infamous, marauding pirate, Silver Blood, to two marooned sailors - one of whom already happens to be the famed pirate Silver Blood. Some are deeply dramatic, like Camila Bravo Rivera's Gone Away, about a human woman who washes ashore on an island of ancient Greek femme fatales, the first woman they ever remember seeing - forcing the mythical Grecians to contemplate their own humanity (or lack thereof), or Connor Nelis Johnson's poetic The Wreck of the Queen Thomasina, with two rhyming pirates / who wake on an island / look for a lifeline / find the sublime (presented by spit&vigor and produced by up and coming theater company Footpath Theatre Co.). And one play is terribly brutal and campy, in the unique style of resident playwright Sara Fellini - who has written a world-expansion of her upcoming full-length play about the historical pirate Anne Bonny, called MAROONED! The Hazards of Love: wench pyrate, Anne Bonny, is marooned on an inhabitable island where she meets a ghost woman who promises to feed her - so long as Anne promises to eat every beast sent her way.
From the acclaimed site-specific company that brought In Vestments to West Park Presbyterian Church (called "wrenching and visually eloquent" by The New York Times), MAROONED! is a unique play experience where the audience is embedded in a desert island with our characters while sword fights, beheadings, turtle races, and true intimacy happen within inches. Live musician Z. Quinn Reynolds creates a haunting and otherworldly score, and the cast sing sea shanties -singalongs encouraged! - between plays, where in true pirate fashion, drinks are provided.
The cast features Caitlin Dullahan-Bates, Chloé Bell (Voyeur: The Windows of Toulouse Lautrec), Jillian Cicalese, Cassie De Almo, Ryan Desaulniers (Torn Out Theater), Sara Fellini (The Other Mozart, Voyeur), Connor Nelis Johnson, Hal Lind, Cait Murphy , Nicholas Thomas, Azumi Tsutsui, Perri Yaniv (The Blacklist), Morgan Zipf-Meister (The Moth Story Hour), Alexander Zuccaro.
The design team includes Sara Fellini (materials design - scenic, props, costumes), Adam Belvo (fight choreography) and Z. Quinn Reynolds (live music and sound design).