Paul Giamatti and Chinasa Ogbuagu Headline Anti-Gun Violence Project HERCULES IN BROOKLYN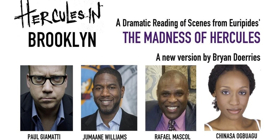 Theater of War Productions and New York City Public Artist in Residence (PAIR) Bryan Doerries present "Hercules in Brooklyn" on Saturday, October 7, 2017 from 5:00 - 7:00 P.M.
This interactive program features a dramatic reading from the classical Greek play The Madness of Hercules by acclaimed actors Paul Giamatti and Chinasa Ogbuagu alongside City Council Member Jumanne Williams and Commanding Officer of the 73rd Precinct Rafael Mascol.
The performance will ignite an audience-driven conversation on the impact of gun violence on individuals, families, and the Brownsville community at large, guided by Bryan Doerries, artistic director of Theater of War Productions.
Drawing from an updated translation of Euripides' seminal play about an unthinkable act of violence committed by a vengeful man with an invincible weapon, this project aims to generate powerful dialogue between community leaders, concerned citizens, members of the law enforcement community, victims and perpetrators of gun violence, and the general public. These candid conversations help foster compassion, understanding, awareness, and positive action.
Partners include NYC's Department of Veteran Services and Department of Cultural Affairs. The event is co-produced by the Brooklyn Public Library as part of its mission to serve as a community resource and safe haven for public discourse throughout Brooklyn and the City, and with the support of the Stavros Niarchos Foundation.
The event takes place on Saturday, October 7, 2017, 5:00 - 7:00 pm at the Van Dyke Amphitheater, 392 Blake Avenue, Brooklyn, NY 11212. Admission is free. To reserve seats, visit www.herculesinbrooklyn.eventbrite.com.
Theater of War Productions is a social impact company that uses theater as a catalyst for public conversations to help communities address pressing public health and social issues such as combat-related psychological injury, suicide, end of life care, prison reform, political violence, natural and manmade disaster, domestic violence, substance abuse and addiction. Theater of War Productions was co-founded in 2009 by Bryan Doerries and Phyllis Kaufman, who served as Producing Director from 2009 to 2016. Doerries currently serves as the company's Artistic Director. For more information, visit www.theaterofwar.com.
More Hot Stories For You