Experimental Bitch Launches 2020 Season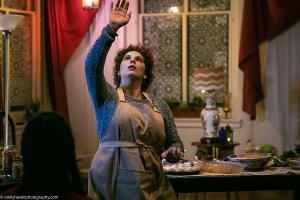 Experimental Bitch Presents (EBP) announces its 2020 season today to offer hope and galvanize our communities amidst loss and uncertainty due to the COVID-19 pandemic. The 2020 Season will feature a world premiere production and the company's first commission. This season's theme is InterGenz, exploring aspects of intergenerational legacy, culture and collaboration.
In the Kitchen is back for a world premiere production following a sold-out workshop production at Access Theater last Fall. In the Kitchen is a multi-disciplinary theatrical event with live cooking, dance, and original music that explores cross-generational Arab-Jewish womanhood. The piece is conceived and performed by Hannah Aliza Goldman (The Straight Man/PIT) and directed by Coral Cohen (Between the Threads: Jewish Women Project/HERE). The devised play mixes recorded interviews conducted by Goldman, original music by Enat Ventura (TSUMUD, Israel), live cooking and Moroccan chaabi, a high energy folk dance, all to create a rich tapestry of stories centered in the kitchen. "I was struck by the inherent theatricality of placing a domestic activity like cooking, one that is predominantly performed by women in private, on the stage," says EBP's Artistic Director, Tatiana Baccari. "By elevating the cultural labor of Arab-Jewish women in this way, Hannah is shedding light on the great value of this legacy, which deserves to be celebrated." In the Kitchen is supported, in part, by Brooklyn Art Council's Community Arts Grant and will premiere in Brooklyn in the Fall of 2020. More details will be announced soon.
Experimental Bitch embarks on its first play commission with award-winning playwright, Emma Goldman-Sherman for Tanya's LIT CLIT, a new play that explodes ancient myths about female bodies, laying bare the complexities of women's health in modern medicine. It's about Tanya, a ballerina with a burning in her clitoris, and Dr. Violet, a uro-gynecologist with her own set of problems. In a phantasmagoric journey through time, the lines between doctor and patient blur as Dr. Violet and Tanya embark on a wild investigation of the female body and the herstory of its treatment. The play is conceived with and directed by Baccari. "Emma writes feverish, 4th wall-busting stories of the female experience with acuteness and immediacy," says Baccari. "EBP is thrilled to be collaborating with her to develop this timely play." Sherman's plays include MAN & WIFE (Desert Ensemble Theatre), Abraham's Daughters (The Parsnip Ship, Wild Project/IHRAF), and PERFECT WOMEN (Jane Chambers Award), among others. She has been awarded the Normal Felton Fellowship and Richard Maibaum Award for plays addressing social justice. Tanya's LIT CLIT will receive a workshop production in Spring 2021. More details will be announced in the Fall.
EBP launches Bitchin' Collabs, a new development series hosted throughout the season with several partnering venues. Bitchin' Collabs will feature dynamic works-in-progress from interdisciplinary femmes of color. Submissions for EBP's 2020 Bitchin' Collabs series will open in April at www.ExperimentalBitchPresents.com.
A Brooklyn-based company, EBP was founded in 2015 by Wednesday Derrico and Shelby Brage. It has since grown into a producing arts company serving an audience of over 2,000 with credits on numerous events and theatrical productions in New York City venues including the Bushwick Starr, The Flea, Performance Project @ University Settlement, Joe's Pub, and the Connelly Theater.