THE BLACK BOX Announces Two 'Jazz in July' Concerts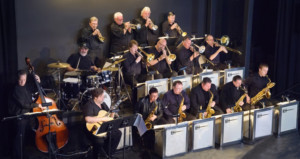 THE BLACK BOX third annual Summer Concert Series presents "Jazz in July," featuring Steven Kirby's "Illuminations" Project on Friday, July 20, followed by the Kenny Hadley Big Band on Friday, July 27. Both shows begin at 8 p.m. at the downtown Franklin theatre, music and event venue.
Steven Kirby is an award-winning guitarist/composer and an Associate Professor at Berklee College of Music. He has appeared on more than 25 released recordings and toured in the U.S., Canada, the U.K., the Caribbean, Europe, China and Africa. Kirby's music is most categorized as contemporary jazz, but it is influenced by a variety of genres. His compositions have won awards in the International Songwriting Competition, Billboard Song Contest and DownBeat, and his music has been played on over 100 radio stations in this country and internationally. The "Illuminations" Project is Kirby's newest compositional and performance endeavor. Described as "richly textured, multi-layered, ebullient and lyrical jazz," it showcases original compositions and arrangements, as well as some creative arrangements of standard tunes, using a quintet of instrumentalists and a singer performing both wordless and lyrical vocals. "Illuminations" was an Editor's Pick in the prestigious jazz publication, DownBeat.
The critically acclaimed 16-piece Kenny Hadley Big Band, led by drummer Kenny Hadley, boasts masterful musicians with performance ties to Big Band legends Woody Herman, Count Basie, Stan Kenton, Maynard Ferguson, Buddy Rich and more. The renowned ensemble has shared the stage with such notables as the Count Basie Orchestra and the Duke Ellington Orchestra and has hosted guest soloists including Clark Terry and Louie Bellson. Hadley was 14 when he first heard Buddy Rich's band play live. He caught Duke Ellington at The Boston Globe Jazz Festival and saw Basie, Kenton and Ferguson, among the greats, at the tail end of that era. Forming his own band at 23, Hadley has grown that ensemble to showcase a distinguished rotation of some 45 or 50 players. Now more than 30 years later, the Kenny Hadley Big Band continues to wow audiences and keep the Big Band tradition alive.
Tickets to each event are $20 for adults and $15 for students and seniors. THE BLACK BOX, home of the Franklin Performing Arts Company (FPAC), is located at 15 West Central Street in downtown Franklin. A cash bar is available. For tickets and more information, visit www.THEBLACKBOXonline.com or call (508) 528-3370.