Review Roundup: THE GLASS MENAGERIE at Barrington Stage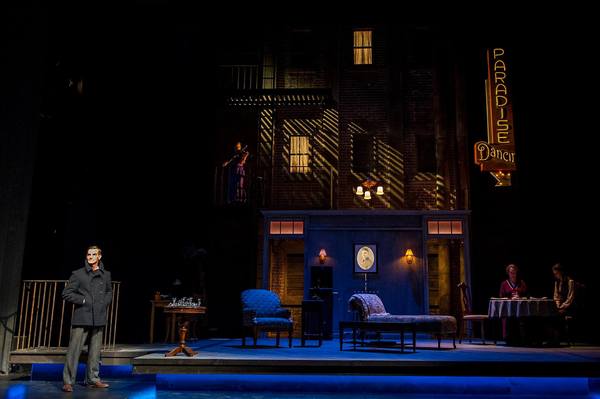 Barrington Stage Company's The Glass Menagerie is currently on stage through October 21 on the Boyd-Quinson Mainstage (30 Union Street).
Directed by Julianne Boyd (West Side Story), The Glass Menagerie stars Caitlin O'Connell (Broadway: The Heiress) as "Amanda," BSC Associate Artist Mark H. Dold (Breaking the Code, This) as "Tom," Angela Janas (The Acting Company) as "Laura," and Tyler Lansing Weaks (LCT: Macbeth) as "Jim."
Tennessee Williams' autobiographical memory play centers on frustrated writer Tom, his mother Amanda, who is fighting for her children's future while lost in memories of her Southern belle past, and his painfully shy sister Laura. Reality and illusion collide when a rare visit from a gentleman caller upsets the balance of the Wingfield family in one of the greatest American plays of the 20th century.
The Glass Menagerie has scenic design by Brian Prather, costume design by Elivia Bovenzi, lighting design by Matthew Richards, sound design by Joel Abbott. Original music by Alexander Sovronsky, played by Susan French on the viola. Casting by Pat McCorkle. Production Stage Manager: Patrick Egan.
The Glass Menagerie opened at the Playhouse Theatre March 31, 1945 and was awarded Best Play in 1945 by the New York Drama Critics' Circle, marking Williams' first Broadway success.
Two-time winner of the Pulitzer Prize (A Streetcar Named Desire, 1948 and Cat on a Hot Tin Roof, 1955), Tennessee Williams (1911 - 1983) is considered one of the greatest American Playwrights. In addition to his two Pulitzers, Williams was nominated four times for the Tony Award for Best Play, winning in 1951 for The Rose Tattoo. His other major plays include Summer and Smoke, Camino Real, Sweet Bird of Youth, Suddenly Last Summer and The Night of the Iguana.
Performances of The Glass Menagerie are as follows: Wednesday and Thursday at 7:00pm, Friday and Saturday at 8:00pm, Saturday at 2:00pm and Sunday at 3:00pm. Opening night October 7 at 3:00pm. Boyd-Quinson Mainstage (30 Union Street). Tickets: $15 - $49. Barrington Stage Box Office: (413) 236-8888 or online at www.barringtonstageco.org.
Let's see what the critics have to say!
Marg G. Auerbach, Westfield News: If the original Amanda, Laurette Taylor, according to theatre lore, is hard to surpass, as anyone trying to play Fanny Brice in the shadow of Barbra Streisand's Funny Girl, Barrington Stage's Amanda, Caitlin O'Connell gives a solid performance. This production puts Mark H. Dold's performance as Tom front and center. An extremely versatile actor and frquent artist at Barrington Stage, who was last seen as the sinister husband in Gaslight. Dold commands the attention of the audience, whether he's narrating his own story, participating in it, or observing from the sidelines. Angela Janas is appropriately fragile as Laura, and I liked Tyler Lansing Weeks as Laura's "Gentleman Caller".
Helen Epstein, Art Fuse: The traditional star turn in The Glass Menagerie is Amanda Wingfield, the domineering would-be southern belle of Blue Mountain, who runs her household with an iron hand, confiscates Tom's books, and orders her daughter to perform feats that Laura simply cannot. Catlin O'Connell does a good job of making us see that Amanda is not a monster, but a mother caught between maternal love and maternal fear, as well as fear for herself as a dependent woman. In one of the most affecting scenes of the play, as she is trying to sell magazine subscriptions over the telephone to supplement the household income, O'Connell lets us see her surprise, relief, and sense of solace when Amanda, so often portrayed as the DAR battleax she also can be, shows us her vulnerability.
Jeffrey Boark, Berkshire Eagle: The production is not helped by the periodic and intrusive presence of violist Susan French on a fire escape high above the Wingfield apartment performing an original score by Alexander Sovronsky that undermines, rather than enhances, the play's lyricism.
Marc Savitt, BroadwayWorld: Strong and convincing performances are delivered by the entire cast. Angela Janas portrays Laura with a sense of innocence and a level of awkwardness and anxiety that is palpable. Tyler Lansing Weaks as Jim is energetic, charming, and so comfortable in the character that he seems at great ease as he tries to convince Laura that while she feels she has no place to go, she must let herself go. Caitlin O'Connell is powerful as matriarch Amanda Wingfield. She manages to connect with the audience, so we feel and understand the desperation and dedication that drive her to overcome circumstances in order to be supportive and secure a future for Laura. Amanda and Laura's embrace on the balcony with the moonlight over their shoulders is an especially poignant moment. Mark H. Dold's portrayal of Tom is both dynamic and powerful particularly as he is called upon to serve as both the voice-of-reason balancing out his mother's distortion as well as our narrator and guide. Susan French supports the cast on Viola with an original score composed by Alexander Sovronsky giving this production a unique and unexpected element.