Provincetown Playwrights' Lab Announces 8th Annual 24 Hour Theater Festival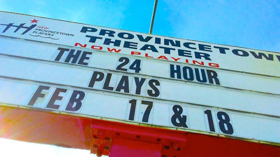 The Provincetown Theater and Artistic Director David Drake are proud to host the 8th annual "24 Hour Theater Festival," created and produced by the Provincetown Playwrights' Lab on President's Day weekend 2018, Saturday, February 17th at 7:30pm and a new "Encore Performance" on Sunday, February 18th at 2:00pm. Tickets are $15.
But in order to bring up the curtain, we need you -- actors, writers, and directors!
And here what you do:
A wonderfully fun and creative community event, those interested in participating simply need to show up at the kick-off meeting on Friday, February 16th from 5-8pm at the Provincetown Theater (238 Bradford Street). Then your assignment will be made into groups of 7 Playwrights, 7 Directors, and 25 (or more!) Actors. And 24 hours later... a fresh new 10-minute play will hit the Provincetown Theater stage.
Tickets for this perennially popular event are available in advance online at provincetowntheater.org via the "tickets" link, and also day of both performances at The Provincetown Theater's box office, 238 Bradford Street, Provincetown. For more info: 508-487-7487.
Following the Saturday night show there will be a Festival post-performance discussion with the audience, playwrights, directors, and actors.
More Hot Stories For You