Merriam-Webster Teams Up With Comedian ISMO To Cheer And Roast The English Language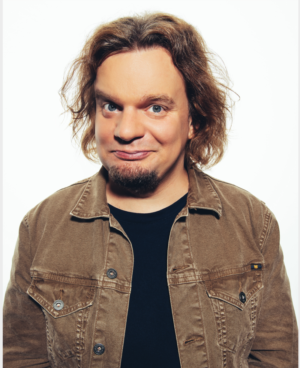 The charming quirks of the English language are on full display in a series of new videos performed by the Finnish comedian ISMO in cooperation with Merriam-Webster, a division of the Encyclopaedia Britannica Group and the dictionary publisher helping millions of people understand and use language better.
It is the latest in a series of Britannica initiatives inspiring curiosity and spreading the joy of learning.
In the videos, ISMO uses his unique perspective as a non-native speaker of English to point out the peculiarities of the English language and the hilarious implications when words have multiple meanings. The word "tip," for example, can mean a piece of advice, the gratuity left for a restaurant server, the end of a pointy object or, as a verb, to knock something over. While the different meanings may be kept straight in daily use, ISMO's art consists of deliberately and mischievously conflating them, with enormously entertaining results.
"I have been fascinated by languages, mainly English and Finnish, my whole life, and they have been a big and important inspiration for my comedy, too," said ISMO. "Merriam-Webster seeing my observations as something officially relevant and educational is truly a big honor."
The partnership with ISMO is a natural one for Merriam-Webster. America's most trusted authority on English for almost two centuries, the dictionary publisher frequently uses humor to foster appreciation for the language. "There's no avoiding the fact that English is illogical in many ways," says Lisa Schneider, the company's Chief Digital Officer and Publisher. "You can let it drive you crazy, or you can revel in its eccentricities. We prefer the latter, and consider it part of our mission to propagate our irrational love of and appreciation for the language-idiosyncrasies and all. ISMO's humor cuts right to the heart of our mission, highlighting the complex nature of English and the flexibility and creativity that complexity makes possible. We are so pleased to be partnering with him to open yet another window onto the beauty of English."
Merriam-Webster's efforts are part of the Britannica Group's broader set of initiatives aimed at inspiring curiosity and the joy of learning. The parent company just celebrated its 250th anniversary in December. Long known as the publisher of authoritative multivolume print encyclopedias, Britannica has been primarily online and digital for 25 years and today produces a wide range of products and features aimed at stimulating and satisfying curiosity in daily life while continuing to provide accurate and reliable information to people worldwide.
One recently launched initiative, for example, "Demystified," provides engaging and revealing answers to commonly asked questions such as: What's the difference between veins and arteries? How does the U.S. Electoral College work? Does listening to Mozart in the womb really make babies smarter?
With Britannica's Curiosity Compass, you can discover your curiosity type through a series of thought provoking and engaging questions and exercises.
"Our first edition stated 'utility' as the principal purpose of Britannica, and that has been our watchword since 1768," says Karthik Krishnan, Britannica's Global CEO. "Today, in the era of fake news and disinformation, that aspect of our mission is more important than ever."
For 180 years, in print and digital media, Merriam-Webster has been America's leading and most-trusted provider of language information. Each month, our websites and apps offer guidance to tens of millions of visitors. In print, our publications include Merriam-Webster's Collegiate Dictionary (among the best-selling books in American history) and newly published dictionaries for English-language learners. All Merriam-Webster products and services are backed by the largest team of professional dictionary editors and writers in America, and one of the largest in the world.

ISMO started his comedy career in 2002 in his home country of Finland; becoming one of the top performing comedians in the country today. There, ISMO wrote and starred in 2 seasons of his own sitcom, ISMO. He filmed four DVD specials from 2008 to 2016, and has sold-out numerous concert halls and theaters across the UK and Finland. The comedian has also performed to sold-out crowds across the world including: US, Canada, Australia, England, Scotland, Faroe Island, Denmark and Iceland. He has been gaining attention at the biggest comedy festivals around the world including: Just For Laughs in Montreal, Toronto, Sydney & Melbourne, Edinburgh Fringe and the New Zealand International Comedy Festival.

ISMO made his US debut in 2014 at the Laugh Factory in Hollywood where he won the title of "The Funniest Person in the World." In December 2015, he relocated to Los Angeles from Finland, and now performs regularly at the clubs in LA along with headlining across the US. He has appeared on national television; NBC's Last Call with Carson Daly, and just became the first Finnish Comedian to perform on Conan in 2018. Ismo's clip from Conan has been viewed 65+ million times. For more information, visit: http://www.ismo.fun/.
More Hot Stories For You