MRT Wins Four Major 2018 Irne Awards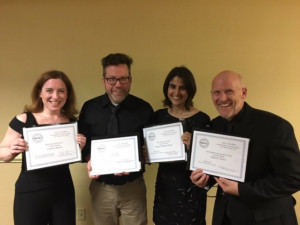 Merrimack Repertory Theatre (MRT) is proud to announce that it has won four 2018 Awards from the Independent Reviewers of New England (IRNE) in the large stage category:
Best Play
The Royale
Best Solo Performance
Charissa Bertels, My 80-Year-Old Boyfriend
Best Supporting Actor-Play
Mark W. Soucy, The Royale
Best Director-Play
Megan Sandberg-Zakian, The Royale
"Part of our long range goals for the past few years is to get more critics up to Lowell," said Artistic Director Sean Daniel, who accepted the award on behalf of MRT for Best Play for The Royale, "So, this past year, to have so many writers attend our plays, and to have been nominated for 15 awards and won four, it's a true compliment to our tireless staff and the artists who work on our stage."
MRT was nominated in 15 categories, including several for Silent Sky, My 80-Year-Old Boyfriend, and The Royale. The 22nd Annual IRNE Awards were announced at an event on Monday, April 23, 2018, in the Ballroom of the Holiday Inn Brookline/Boston. The IRNE Awards honor the best of the previous year's actors, directors, choreographers, designers and companies across the full spectrum of large, mid-size and fringe theater companies. A full list of IRNE nominations is online at www.theatermirror.net and the IRNE Awards facebook page.
About MRT's 2018 IRNE Award Nominations
My 80-Year-Old Boyfriend
Performance Dates: April 26 - May 21, 2017
Conceived and Performed by Charissa Bertels
Book and Lyrics by Christian Duhamel
Music and Lyrics by Edward Bell
Directed by Sean Daniels
Produced in association with Peilin Chou
Director Sean Daniels is joined by a creative team that includes Kevin David Thomas (Music Director), Neil Patel (Sets), Brian J. Lilienthal (Lighting), Gregory A. Poplyk (Costumes), and Daniel Erdberg (Sound).
The Royale
Performance Dates: Sep. 13 - Oct. 8, 2017
Directed by Megan Sandberg-Zakian
The five-person cast includes local actors Ramona Lisa Alexander (Nina) and Mark W. Soucy (Max), as well as Thomas Silcott (Jay), Jeorge Bennett Watson (Wynton), and Toran White (Fish). The creative team includes Lawrence Moten (Sets), Miranda Kau Giurleo (Costumes), Karen Perlow (Lighting), David Remedios (Sound), and Kyle Vincent Terry (Fight Choreographer).
Silent Sky
Performance Dates: Oct. 18 - Nov. 12, 2017
Directed by Sean Daniels
The five-person cast includes Alexis Bronkovic (Henrietta Leavitt), Julia Brothers (Williamina Fleming), Tom Coiner (Peter Shaw), Victoria Grace (Margaret Leavitt), and Polly Lee (Annie Cannon). The creative team headed by Director Sean Daniels (who also directed I and You) includes James J. Fenton (Sets), Anne Kennedy (Costumes), Brian J. Lilienthal (Lighting), and David Keeton (Original Composition and Sound).
Merrimack Repertory Theatre
Merrimack Repertory Theatre (MRT) has been Merrimack Valley's professional theatre company since 1979 and is an integral part of Lowell's identity as the cultural heart of the region. MRT's mission is to share theatrical stories of human understanding that reflect and engage our community. A seven-show season runs from September through May in the intimate 279-seat Nancy L. Donahue Theatre. The company is known as a leader in producing new plays, especially world and regional premieres. MRT is one of 72 theatres nationwide (one of three in Massachusetts) with membership in LORT (the League of Resident Theatres).
Merrimack Repertory Theatre is funded in part by the Massachusetts Cultural Council, a state agency.
Performance Space: The Nancy L. Donahue Theatre?
(In Liberty Hall, adjacent to Lowell Memorial Auditorium)
50 E. Merrimack Street
Lowell, MA 01852
Box Office: 978-654-4678
Read about MRT's 2018-19 Season, mrt.org/1819Season.