BWW Review: WE WILL NOT BE SILENT: A Rallying Cry For The Resistance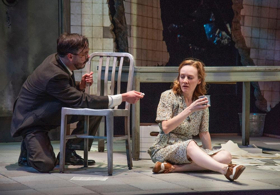 We Will Not Be Silent
Written by David Meyers, Directed by Jim Petosa; Scenic Designer, Ryan Bates; Costume Designer, Becca Jewett; Lighting Designer, Matthew Rodgers; Sound Designer, Dewey Dellay; Stage Manager, Brian Robillard
CAST (in alphabetical order): Sarah Oakes Muirhead, Conor Proft, Tim Spears
Performances through November 4 at New Repertory Theatre, Mosesian Center for the Arts, 321 Arsenal Street, Watertown, MA; Box Office 617-923-8487 or www.newrep.org
New Repertory Theatre's mission is "to produce plays that speak powerfully to the vital ideas of our time," a statement which they adhere to vigorously. In this season, under the theme of "Awakening," New Rep presents the New England premiere of We Will Not Be Silent, a docudrama by playwright David Meyers. Based on true events, the play focuses on one young German woman's resistance to Hitler and the Nazi party, her determination to maintain her principles and integrity in the face of grueling interrogation, and the price of her righteousness. Under the direction of Artistic Director Jim Petosa, with ever-increasing tension and drama, Sarah Oakes Muirhead and Tim Spears give riveting performances as the detainee and the detective who holds her destiny in his hands.
Sophie Scholl (Oakes Muirhead) and her older brother Hans (Conor Proft) were core members of the White Rose, a non-violent, intellectual resistance group in the Third Reich led by a group of students and a professor at the University of Munich. In the play, the two siblings have been held for questioning, under suspicion of treason, after they were discovered distributing leaflets at the University. Meyers puts Sophie front and center on the hot seat, with Hans not making an appearance until well into the days of her captivity. Kurt Grunwald (Spears) is a master of his craft, alternately playing both good cop and bad cop, as he tries to get Sophie to give up the names of her collaborators. He uses Hans as both a carrot and a stick to manipulate her, until she cannot be certain whether she is awake or dreaming of her brother's presence.
We Will Not Be Silent is a blow by blow battle of wills between Sophie and Grunwald, filled with political rhetoric as each of the combatants seeks the advantage, hoping to convince the other of the rightness of their position. It is amazing how much of the dialogue could be spoken about the present day; on many occasions, when Hitler's name is mentioned, one could easily substitute the name of Donald Trump without it sounding anachronistic. The philosophizing about mounting a resistance movement, and the difficulty of getting people to stand up and join in, resonates strongly with the current moment in our country. In fact, the more the conversation continued, the stronger my own discomfort (and, I suspect, that of many in the audience) grew.
However, it is not only the words, but the powerful and passionate delivery of them by both Oakes Muirhead and Spears, that are chilling. They share terrific chemistry and timing, enabling them to build the tension in a fully credible way. Although Grunwald is the interrogator and Sophie is the captive, emotional power seesaws back and forth, and Spears lets us see the impact that the young woman has on his character, even before Meyers allows him to admit it. Oakes Muirhead's portrayal is beautifully nuanced, as much of Sophie's processing of her situation is internal. She is a worthy heroine, even when she succumbs to doubt and fear, and represents goodness in a world gone bad, offering hope against all odds.
The design team (Ryan Bates, scenic; Matthew Rodgers, lighting; Dewey Dellay, sound; Becca Jewett, costume) puts the players in a stark, colorless interrogation room, with cold lighting, ominous music, and drab clothing. There is nothing warm or soft within the confines of the space. Even human touch is turned into a weapon when Grunwald occasionally places a hand on Sophie's shoulder, as if to calm her, but it is totally creepy. Only when Hans is allowed to visit does she have a connection that reminds her of her humanity and her purpose. Keep in mind that Sophie was an ordinary teenager, but, like the student survivors from Parkland High School, she exhibited the courage of her convictions to stand up and do the right thing. We Will Not Be Silent is provocative and discomfiting. Here's hoping that it may also be a rallying cry for resistance.
Photo credit: Andrew Brilliant/Brilliant Pictures (Tim Spears, Sarah Oakes Muirhead)