BWW Review: THE ROSENBERGS (AN OPERA) at Brandeis University Next Weekend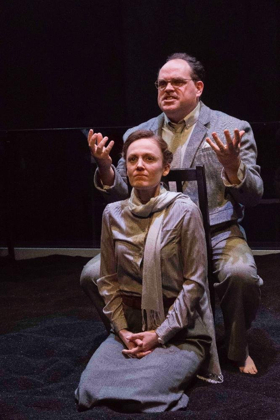 The Rosenbergs (an opera)
Music by Joachim Holbek, Libretto by Rhea Leman, Directed by Dmitry Troyanovsky, Musical Direction by Cristi Catt; Scenic Design, Cameron Anderson; Lighting Design, Christopher Ostrom; Costume Design, Rachel Padula Shufelt; Movement & Fight Choreographer, Susan Dibble; Stage Manager, Sarah Schneider; Dramaturg, Magda Romanska
CAST & MUSICIANS: Brian Church (Julius), Christie Lee Gibson (Ethel), Nathan Urdangen (Piano), Miriam Eckelhoefer (Cello), Abigale Reisman (Violin), Daniel Padgett (Substitute Pianist)
A North American premiere co-produced by Boston University and Brandeis University, presented by Boston Playwrights' Theatre; Performances at Boston Playwrights' Theatre, April 12-22, 2018; Performances April 27-29 at Spingold Theater Center, Brandeis University, Waltham, MA; Free to the Brandeis community and $30/$25 for the general public. To reserve free tickets, call Brandeis Tickets at 781-736-3400 or stop by the box office in the Shapiro Campus Center.
Over the past two weekends, Boston Playwrights' Theatre presented The Rosenbergs (an opera), its first production of the genre, and the show seemed right at home in the intimate setting. For those who may not be inclined to see an opera, my own response would have been the same, but for the subject matter. Composer Joachim Holbek and librettist Rhea Leman have crafted an extremely accessible telling of the story of the lives of Julius and Ethel Rosenberg, the couple executed for atomic espionage during the United States' Communist witch-hunt of the 1950s. Recognized as Denmark's Best Opera of 2015 by online journal Copenhagen Culture, The Rosenbergs posits their politics secondary to their relationship, focusing on their tragic love story without asserting an opinion as to whether they were heroes or traitors.
Director Dmitry Troyanovsky and musical director Cristi Catt have collaborated with their team of designers (Cameron Anderson, scenic; Christopher Ostrom, lighting; Rachel Padula Shufelt, costume) to stage a moving tableau, and the onstage musicians (Nathan Urdangen, piano; Miriam Eckelhoefer, cello; Abigale Reisman, violin) are an essential and vibrant component in the drama and beauty of the piece. Brian Church (Julius) and Christie Lee Gibson (Ethel) take us on an emotional journey with the depth of their characterizations and the virtuosity of their vocal performances. Adapted from the Rosenbergs' letters from jail, the libretto is very personal, and Church and Gibson breathe life into Julius and Ethel as real people, rather than inhuman (purported) spies.
The story of The Rosenbergs is especially timely as the whole Russian interference thing is in the forefront of our daily news and the term "witch hunt" is bandied about. However, the McCarthy era was a witch hunt on steroids and the Rosenbergs were caught up in that political maelstrom. It is an interesting moment to re-examine their story and what their politics were before they were arrested. They came of age at a time when Communism was not a dirty word and when Russia had actually been an ally of the United States. However, the Cold War came along, the rules changed, and they were collateral damage. There are many lessons to take away from revisiting their moment in history, but The Rosenbergs is, first and foremost, a deeply moving theatrical experience.
Photo credit: Kalman Zabarsky (Christie Lee Gibson, Brian Church)
Related Articles View More Boston

Stories

Shows