BWW Review: STEVE at Zeitgeist Stage Company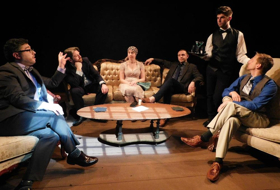 Steve
Written by Mark Gerrard, Direction & Scenic Design by David J. Miller; Costume Design, Elizabeth Cole Sheehan; Lighting Design, Michael Clark Wonson; Sound Design, Jay Mobley; Stage Manager, Kayla Morello
CAST (in order of appearance): Jenny Reagan, Alex Jacobs, Victor Shopov, Adam Boisselle, Mike Nilsson, Mikey DiLoreto
Performances through March 23 by Zeitgeist Stage Company at Plaza Black Box Theater, Boston Center for the Arts, 539 Tremont Street, Boston, MA; Box Office 617-933-8600 or www.BostonTheatreScene.com
Steve is a character-driven play in which not much happens, but it is a humorous treatise on the lives of a couple of middle-aged gay couples who are exploring ways to enliven their "post-passion" relationships. Right about now, we can all use a shot of humor, and whether one is gay or straight, there's much to recognize and connect with in the quotidian routines of these characters. In his first play, Mark Gerrard puts the spotlight on four good friends who face the challenges of kids, in-laws, boredom, infidelity, and mortality with various strategies and mixed results. These guys just happen to be gay, but in the age of marriage equality, the playwright normalizes their circumstances, enabling them to meld into the mainstream.
Zeitgeist Stage Company Artistic Director David J. Miller directs a cast of three ZSC veterans and three newbies, a recipe that produces a delectable outcome. Elliot Norton and IRNE Award-winning actor Victor Shopov is Steven, a former Broadway chorus boy cum stay-at-home dad, celebrating his birthday with his partner of 16 years, Stephen (Alex Jacobs), and their friends Matt (Mikey DiLoreto), Brian (Mike Nilsson), and Carrie (Jenny Reagan), a lesbian living with cancer. Over drinks, their conversation is witty, bitchy, and rapid-fire, in the way that long-time friends talk, and everyone takes an interest in the cute Latino waiter, Esteban (what else?), who serves as a plot device revisited numerous times during the play.
In the close quarters of the Plaza Black Box Theater, with the audience seated on opposite sides of the center stage, one is easily swept up in the little moments shared between couples, friends, and lovers. It feels like being on Facebook live as we spy and eavesdrop on private conversations that include flirtations, jealousy, anger, frustration, despair, and soul searching. Shopov's Steven is the fulcrum around whom everything revolves and he makes it look easy to, once again, play an s.o.b. However, he is not one-dimensional, showing a softer side with his dear friend Carrie, who he refuses to acknowledge is dying. Even in his most abrasive moments, Shopov shows Steven's pain and insecurity in his eyes and the slope of his shoulders, making him sympathetic, if not entirely likable.
As the other Stephen, Jacobs is the calmer, albeit restless, half of the duo. He does a great job with what may be the most annoying scene in Gerrard's play, when Stephen is juggling phone calls with his mother and his son, trying to find Steven via text, and sexting with a playful Brian, who Nilsson interprets as a bit of a narcissist. DiLoreto gives a strong performance as the wry, devoted friend to Steven and Carrie, and Reagan embodies the gal pal who is undoubtedly the strongest person in the group. Adam Boisselle (Esteban) is appropriately cheeky with a great come hither aura.
Wearing his director's hat, Miller establishes a steady pace, seamlessly interspersing bits of song as the characters frequently reference show tunes, and creating tension - sexual or otherwise - that flows between the couples. He enables the actors to capture the humor that arises naturally from the situations, and shifts gears easily into the more dramatic events. Miller's scenic design divides the stage into three areas for different locales and Michael Clark Wonson's lighting design focuses attention as each comes into play. Costume designer Elizabeth Cole Sheehan helps to differentiate when the action is taking place in Manhattan or on Fire Island. Jay Mobley (sound designer) perfectly syncs the swooping sounds of text messages and ringing phones, and provides the sound track of a variety of musical theater snippets.
Steve had its world premiere in 2015 off-Broadway in a production directed by Cynthia Nixon (Sex and the City) and featuring Mario Cantone and Malcolm Gets. Leave it to Miller to bring the play to Boston and put together an ensemble that could get it right. Steve is tailor made for Zeitgeist Stage Company. Next up: Terrence McNally's Love! Valour! Compassion! (April 27-May 19).
Photo credit: David J. Miller (Mikey DiLoreto, Alex Jacobs, Jenny Reagan, Victor Shopov, Adam Boisselle, Mike Nilsson)