BWW Review: A CHRISTMAS CAROL at North Shore Music Theatre
BWW Review: A Christmas Carol - North Shore Music Theatre
In the old days when you had worked anywhere for twenty-five years you were given a party, a gold watch, and shuffled off to retirement, ready or not. A Christmas Carol opened last night at North Shore Music Theatre, and the audience got the opportunity to celebrate the twenty-fifth year of David Coffee as Ebenezer Scrooge and Cheryl McMahon as (Mrs. Dilber/ Mrs. Fezziwig), and far from looking like a couple of old warhorses needing to be put out to pasture, this couple gave performances that were as fresh, engaging, and contemporary as if it was their very first production. Lucky for us, the twenty-five years of chemistry between the two made their performances even richer and more memorable, and in their final scene together very touching and real. Mr. Coffee's Scrooge is at once mean-spirited, and yet seconds later hilarious. He is outstanding, and quite literally makes the show complete. This production, brilliantly conceived by Jon Kimbell, and now directed and choreographed by Kevin P. Hill is better than ever in 2018, the stellar cast, the exceptional production values, and the period carols and music, give this production something special, and make it the best production of A Christmas Carol in Massachusetts by far. The special effects are truly amazing, and yet not overpowering. The intimacy achieved in this "theatre in the round production" where there is not a bad seat in the house, is like watching the story unfold right in your own living room. This is a holiday production that, if it is not already, should become an annual tradition for all Boston area families.
A Christmas Carol, premiered as a novella by Charles Dickens and was first published in London in 1843. It was written in six weeks under pressure, as Dickens was short of money after his previous novel Martin Chuzzlewit failed to gain the success he had hoped for. A Christmas Carol recounts the story of Ebenezer Scrooge, an elderly miser who is visited by the ghost of his former business partner Jacob Marley and the spirits of Christmas Past, Present and Yet to Come. After their visits, Scrooge is transformed into a kinder, gentler man.
The book has been called by some a "sledge hammer" against the ills of industrialism and consumerism. Dickens' own father had been sent to London's Marshalsea debtors' prison, and Charles Dickens himself bitterly remembered having to leave school, and work in a boot-blacking factory at the age of 12 near Convent Garden. He'd seen children working long hours in the tin mines and attending poor schools. He modeled the Bob Cratchit's lifestyle on his own experiences living in Camden Town, London. Dickens demonstrates that even in poverty, the winter holiday can inspire goodwill and generosity toward one's neighbors. He shows that the spirit of Christmas was not lost in the race to industrialize but can live on in our modern world.
The publishing of his book was immensely popular - its initial printing of 6,000 copies sold out in three days - and within six months it sold out its seventh edition. A Christmas Carol is generally associated with the Christian Winter holiday season, for it does contain references to Christ "who made lame beggars walk and blind men see." And so, at the end of the story, we see both lame and blind touched by the Spirit of Christmas. Nevertheless, its themes are not exclusive to Christianity, and it inspired a tradition for decades in Christmas books and Plays and later movies, that appealed to many non-Christians as well.
This production is very well cast, and other stand-outs were Russell Garrett (Bob Cratchit), Peter S. Adams (The Ghost of Christmas Present, Gentleman 1 ), AJ Scott (Tiny Tim), and a truly memorable and riveting performance by Joy Clark (Belle). The orchestra under the direction of Milton Granger was superb and the lighting by Jack Mehler, and the flying by ZFX was outstanding. Kudos to the costume, tech crew and Stage Management, for a flawless performance. This is a must see production this Holiday Season!!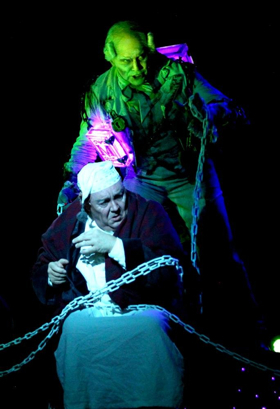 The cast of 27 actors also features many local young performers including Isabella Carroll (Belinda Cratchit), Jake Ryan Flynn (London Boy),Jospeh Flynn (London Boy), Asher Navisky (Peter Cratchit), Grace Olah (Fan), Cam Perrin (Ensemble), AJ Scott (Tiny Tim), and Nicole Talbot (Martha Cratchit), and Wade Gleeson Turner (Boy Scrooge).
The creative team for A CHRISTMAS CAROL includes Kevin P. Hill (Director and Choreographer), Milton Granger (Music Direction), Howard C. Jones (Original Scenic Design), Kelly Baker (Costume Coordinator and additional Costume Design), Jack Mehler (Lighting Design), Leon Rothenberg (Sound Design), Natalie A. Lynch (Production Stage Manager), Dakotah Wiley Horan (Assistant Stage Manager), and Robert L. Rucinski (Assistant Music Director). Flying effects are provided by ZFX, Inc. A CHRISTMAS CAROL is produced for North Shore Music Theatre byBill Hanney (Owner/Producer), Kevin P. Hill (Producing Artistic Director), and Matthew Chappell (Associate Producer, Casting Director).
**********************************************************************************
Throughout the run of A CHRISTMAS CAROL NSMT will be collecting toys in the lobby for Tiny Tim's Toy Drive. NSMT will be accepting unopened, unwrapped toys for boys and girls ages 2 - 12. All toys will be donated to Toys for Tots.
Tickets for A CHRISTMAS CAROL are priced from $64 to $79 - all tickets for children 18 and under are $35. Performances are December 7 - December 23, 2018 (Evening shows December 7, 8, 9, 14, 15, 16, 20, 21, and 22 at 7:30pm; Matinees December 8, 9, 15, 16, and 22 at 2pm). Tickets can be purchased by calling the North Shore Music Theatre Box Office at (978) 232-7200, via the website at www.nsmt.org or in person at 62 Dunham Road (Route 128, exit 19), Beverly, MA.
Additional Free Audience Enrichment events: OUT at the North Shore, an evening for the Gay and Lesbian Community with a post-show reception (sponsored in part by Ryan & Wood Inc. Distilleries) on December 14 after the 7:30 pm performance.