BWW REVIEW: JAGGED LITTLE PILL Is a Lot to Swallow at A.R.T.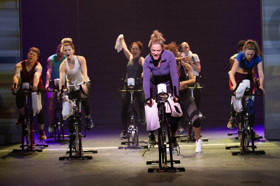 There's a lot to digest in the American Repertory Theater (ART) premiere of the new musical JAGGED LITTLE PILL, billed as a story of "pain, healing, and empowerment" based on Alanis Morissette's landmark rock album of the same name. Directed and choreographed - sometimes too aggressively - by Diane Paulus and Sidi Larbi Cherkauoi, this exploration of a suburban Connecticut family's extensive sturm und drang packs a checklist of contemporary issues into one explosive package.
With a book by Diablo Cody (Academy Award winner for Juno), JAGGED LITTLE PILL does establish a reasonable framework for the surprisingly theatrical Morissette songs. Notables like "Hand in My Pocket," "Ironic," "You Oughta Know," and "You Learn" spring seamlessly from the story and are fitted quite naturally to the characters who sing them. But Cody's dialog borders on the twee and is much more successful when surprising us with comic flourishes than spewing the kind of therapeutic jargon one might expect from Lifetime TV.
The story centers on Mary Jane Healy (Elizabeth Stanley), a highly driven wife and mother of two who becomes addicted to pain killers after undergoing surgery following a serious car accident. While Mary Jane suffers in silence, her family collapses around her. Her husband Steve (Sean Allan Krill) steeps himself in his work - and porn - as sex with Mary Jane becomes a distant memory. "Perfect" son Nick (Derek Klena) sees his college hopes shattered when he becomes ensnared in the rape of schoolmate Bella (Kathryn Gallagher) by his closest friend Andrew (Logan Hart). Adopted daughter Frankie (Celia Gooding) - a Black girl who's never been comfortable growing up in an all-White middle-class community - struggles with her identity and sexuality as she finds herself caught between Jo (Lauren Patten), her unconventional non-binary lover, and Phoenix (Antonio Cipriano), a newcomer who rushes to her defense when classmates criticize her essay. Add to this the triggering of Mary Jane's own past sexual trauma and you have enough plot threads to fill four musicals.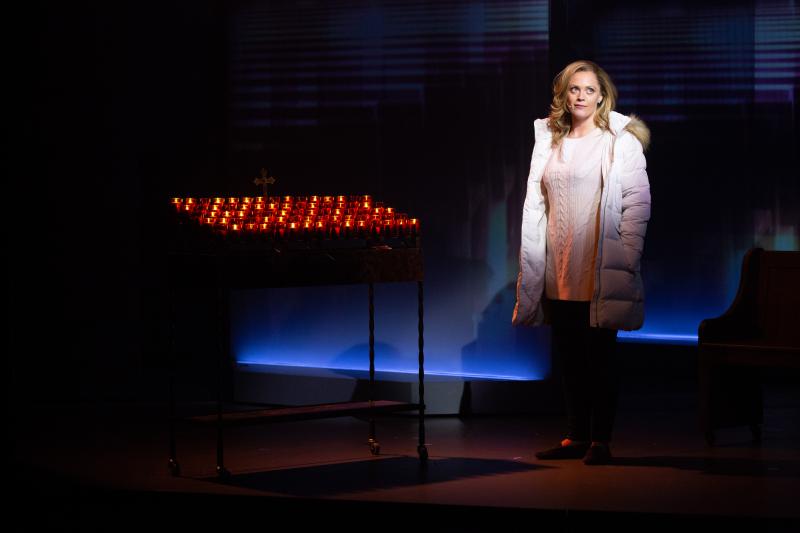 Paulus and Cherkauoi's vibrant staging alternates between brilliant and overdone. Scenes in which Bella ("Predator") and Mary Jane ("Uninvited") relive their individual but inseparable traumas become haunting out-of-body experiences as powerful as any #MeToo revelation. The more tender connections can also be moving. Jo's self-acceptance in "Hand in My Pocket" and Steve's deep appreciation of his wife's strengths and frailties in "Mary Jane" are some of the most affecting moments in the musical.
Too often, though, the angry and animated Greek chorus drowns out the principals' authentic emotions. Instead of amplifying, they distract. When ensemble members burst into the Healy home to dance on furniture and shatter the intimacy, perhaps the staging has gone too far. The same is true for set pieces and projections. There are times when there are so many moving objects that we don't know where to look. It's as if Paulus doesn't trust the material or her actors to convey the "meaning" or "importance" of what's happening. Sometimes less is more, but currently there is too much in JAGGED LITTLE PILL, including the orchestra, that is way too loud.
No fault can be found with the terrific cast, however. Stanley never loses sight of the strength and humor at the core of Mary Jane, even at her most fragile. Krill conveys a warmth and connection even when his Steve struggles to support and understand. Gooding demonstrates that her Frankie is a chip off the old block, despite her protestations to the contrary. Klena is a tightly wound "good son" who can finally relax once he's embraced his imperfections.
But the breakout star of JAGGED LITTLE PILL is Patten as the fierce yet vulnerable Jo. Her vocals are perfectly suited to Morissette's raw and edgy songs. She expresses a combination of love and agonizing loss in the reflective "Your House" then tears the roof off the theatre with her rage-filled anthem "You Oughta Know." For this she received a sustained standing ovation, well deserved, indeed.
JAGGED LITTLE PILL makes the case that a Broadway musical could be made from Morissette's singular songs. However, this current iteration, with Cody's meandering book and self-help platitude tone, needs a lot of refining to fit that ambitious bill. Intermittent sparks are not enough. More cohesion and authenticity are needed.
PHOTOS BY EVGENIA ELISEEVA: Elizabeth Stanley as Mary Jane Healy and the Company of JAGGED LITTLE PILL; Logan Hart as Andrew, Derek Klena as Nick Healy, Celia Gooding as Frankie Healy, and Lauren Patten as Jo; Elizabeth Stanley; Lauren Patten
---
Music by Alanis Morissette and Glen Ballard; lyrics by Alanis Morissette; book by Diablo Cody; additional music by Michael Farrell and Guy Sigsworth; directed by Diane Paulus; choreography, Sidi Larbi Cherkauoi; music supervision, orchestrations and arrangements, Tom Kitt; scenic design, Riccardo Hernandez; costume design, Emily Rebholz; lighting design, Justin Townsend; sound design, Jonathan Deans; video design, Finn Ross; wig, hair and make-up design, J. Jared Janas; music director, Bryan Perri; production stage manager, Iran Mont
Cast in Order of Appearance:
The Chorus: Jane Bruce, John Cardoza, Antonio Cipriano, Kathryn Gallagher, Laurel Harris, Logan Hart, Max Kumangai, Soph Menas, Sean Montgomery, Nora Schell, Whitney Sprayberry, Kei Tsuruharatani, Ebony Williams
Mary Jane Healy, Elizabeth Stanley; Steve Healy, Sean Allan Krill; Frankie Healy, Celia Gooding; Nick Healy, Derek Klena; Jo, Lauren Patten; Andrew, Logan Hart; Phoenix, Antonio Cipriano; Bella, Kathryn Gallagher
Performances and Tickets:
Now through July 15, American Repertory Theater, Loeb Drama Center, 64 Brattle St., Cambridge, Mass.; tickets start at $25 and are available by calling the Box Office at 617-547-8300 or online at www.americanrepertorytheater.org.
Jan Nargi is owner and creative director of JMN Publications, a marketing and public relations firm based in Boston, Mass. She provides consultation, communications, and (read more...)