BEN BUTLER Will Premiere At Gloucester Stage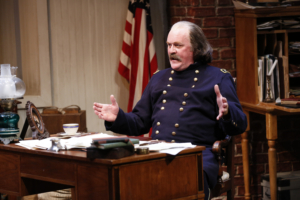 Gloucester Stage Company continues its 40th Anniversary Season of professional theater with the Boston area premiere of Richard Strand's Ben Butler from August 2 through August 25 at Gloucester Stage Company, 267 East Main Street, Gloucester, MA. Richard Strand's Ben Butler, a smart and funny discourse on race, protocol and our sense of humanity garnered high critical acclaim during its Off Broadway run in 2016. New York's Joseph Discher who helmed the show's world premiere production in 2014 and the Off Broadway production in 2016, makes his GSC debut directing Ben Butler. Actors Ames Adamson as General Benjamin Butler and Shane Taylor as escaped slave Shepard Mallory make their GSC debut in Ben Butler. GSC veterans Doug Bowen-Flynn as Lieutenant Kelly and David DeBeck as Confederate Major Cary complete the cast. Richard Strand's Ben Butler, runs from August 2 through August 25. Performances are Wednesday through Saturday at 7:30 pm and Saturday and Sunday at 2:00 pm at Gloucester Stage Company, 267 East Main Street, Gloucester, MA.
The sharply comic play takes place in the middle of the Civil War, 1861 at Virginia's Union-held Fort Monroe under the command of General Benjamin Butler. When three escaped slaves show up at Fort Monroe seeking sanctuary, Union General Butler is faced with an impossible moral dilemma - follow the letter of the law and return the escapees back to Confederacy, or make a game-changing move that could alter the course of US history? The bold and bright refugee, Shepard Mallory demands an audience with General Butler and what ensues is a battle of wits between two equally formidable men at the edge of a country ripped in half. One of Abraham Lincoln's top generals, Benjamin Butler, a lawyer, championed the causes of labor, abolition of slavery, and naturalized citizens. After retiring from the battlefield, Butler was a settler of Gloucester's Bayview neighborhood (present-day Ames Estate still inhabited by Butler's descendants), a presidential candidate, and the 33rd Governor of Massachusetts.
Director Joseph Discher is excited to be directing his fifth production of Ben Butler, this time at Gloucester Stage. He directed the world premiere at New Jersey Repertory Company, as well as productions at Majestic Theatre, Barrington Stage, and the off-Broadway premiere. Discher's off-Broadway credits include Vilna by Ira Fuchs featuring Mark Jacoby and The Violin starring Robert LuPone. Regionally Discher has directed My Name Is Asher Lev and A Moon for the Misbegotten at Playhouse on Park; Charley's Aunt, A Child's Christmas in Wales, The Diary of Anne Frank, Wittenberg, Our Town, Henry IV: Part One, To Kill A Mockingbird, Arms and the Man, The Grapes of Wrath, The Tempest, Amadeus, Galileo, Of Mice and Men, The Fantasticks, Twelfth Night, Scapin, Much Ado About Nothing, and The Complete Works of William Shakespeare (abridged) all at Shakespeare Theatre of New Jersey; One Man Two Guvnors at Florida Studio Theatre; The Weir, Red, and As You Like It with Theatreworks; and Julius Caesar at The Shakespeare Festival of St. Louis.
Ames Adamson makes his Gloucester Stage debut as General Ben Butler, a role he is reprising for the third time. He originated the role at the New Jersey Repertory Company, and again Off-Broadway at 59E59TH Theatres two seasons ago. His recent regional theater credits include The Winter's Tale and Blithe Spirit at the Shakespeare Theatre of New Jersey (where this December he will appearing as Scrooge in Neil Bartlett's Charles Dicken's A Christmas Carol); Ne Quittez Pas at Opera Philadelphia; and The Christians at The Wilma in Philadelphia.
Shane Taylor makes his Gloucester Stage debut as escaped slave Shephard Mallory. His Off-Broadway credits include Knives in Hens at The Shop Theater; The 50th Anniversary Production of In White America at New Federal/Castillo Theatre; and Romeo and Juliet at the Lincoln Center Institute. In New York: The Desire (The Billie Holiday Theatre), The Love Talker (NY Fringe). Regionally he has appeared at the Orlando Shakespeare Theatre, Luna Stage, Premiere Stages, Roundhouse Theater, Actor's Theatre of Louisville, Berkshire Theatre Festival, Milwaukee Repertory Theatre, Indiana Repertory Theatre, Williamstown Theatre Festival, Berkeley Rep, Florida Studio Theater, and Cincinnati Playhouse in the Park. His film credits include God's Forgotten House; Sarbane's Oxley" (Best International Actor at 2007 Barbados International Film Festival) and on television he appeared in King of the Bingo Game on PBS. Mr. Taylor received an MFA from Rutgers University, Mason Gross School of the Arts.
Doug Bowen-Flynn plays West Pont Graduate Lieutenant Kelly in Ben Butler. He most recently appeared at Gloucester Stage in 2017's To Kill a Mockingbird. His other regional credits include Boston Children's Theatre's Reflection of a Rock Lobster (IRNE Winner Best New Play) and To Kill a Mockingbird; American Repertory Theatre's We Won't Pay! We Won't Pay! and Three Farces and a Funeral; Commonwealth Shakespeare Company's Henry V and Macbeth; Lyric Stage Company's Book of Days; Publick Theatre's Troilus and Cressida; New Repertory Theatre's Romeo and Juliet; and Company One's The Overwhelming. His film and television credits include Detroit, Clear History, The Invention of Lying, The Maiden Heist, Mystic River, and The War that Made America. He holds a BA in Communications from University of Puget Sound.
David DeBeck returns to Gloucester Stage to play Confederate Major John Baytop Cary. He last worked at GSC in 2017's The Rainmaker. Mr. DeBeck's favorite theater credits include The Other Place at the Nora Theatre; Strange Snow at Theatreworks, Hartford; Dinner With Friends, The Lonesome West and Hamlet at The Virginia Stage Company; and Hosanna at both Philadelphia's Walnut Street Theatre and off-Broadway at The Actor's Theater. He plays Sargent Shriver in the film, Chappaquiddick directed by John Curran. Mr. DeBeck's other film appearances include Black Mass and The Company Men. On television he has been seen in guest starring roles in Olive Kitteridge on HBO; Brotherhood and SMILF on Showtime; and NBC-TV's Law & Order, Criminal Intent and Special Victims Unit. Mr. DeBeck is associated with the Drama Desk Award winning Off-Off Broadway company, the Barrow Group.
Ben Butler playwright Richard Strand wrote his first play in 1976, a one act entitled Harry and Sylvia. That play won two national awards, was published by Hunter Press and a full length version of that same play, entitled Clown, premiered at Victory Gardens Theater in Chicago. Since that time he has had premieres at Geva Theatre, Steppenwolf Theatre, Performance Network, New Jersey Repertory Company, Detroit Repertory Theatre, The Z Collective and a number of other venues. His plays are published by Samuel French, Dramatists Play Service and Applause Books. Two of his plays, The Bug and The Death of Zukasky premiered at The Humana Festival at Actors Theatre of Louisville. The Bug has been translated into German, Italian, French, Greek, and Spanish. Mr. Strand currently lives in California and is a professor, technical director and set designer at Mt. San Antonio College where he teaches Stagecraft, History of Theater and Playwriting