BWW Review: THE BIKINIS Sing You Back to The Beach at Central Alabama Theater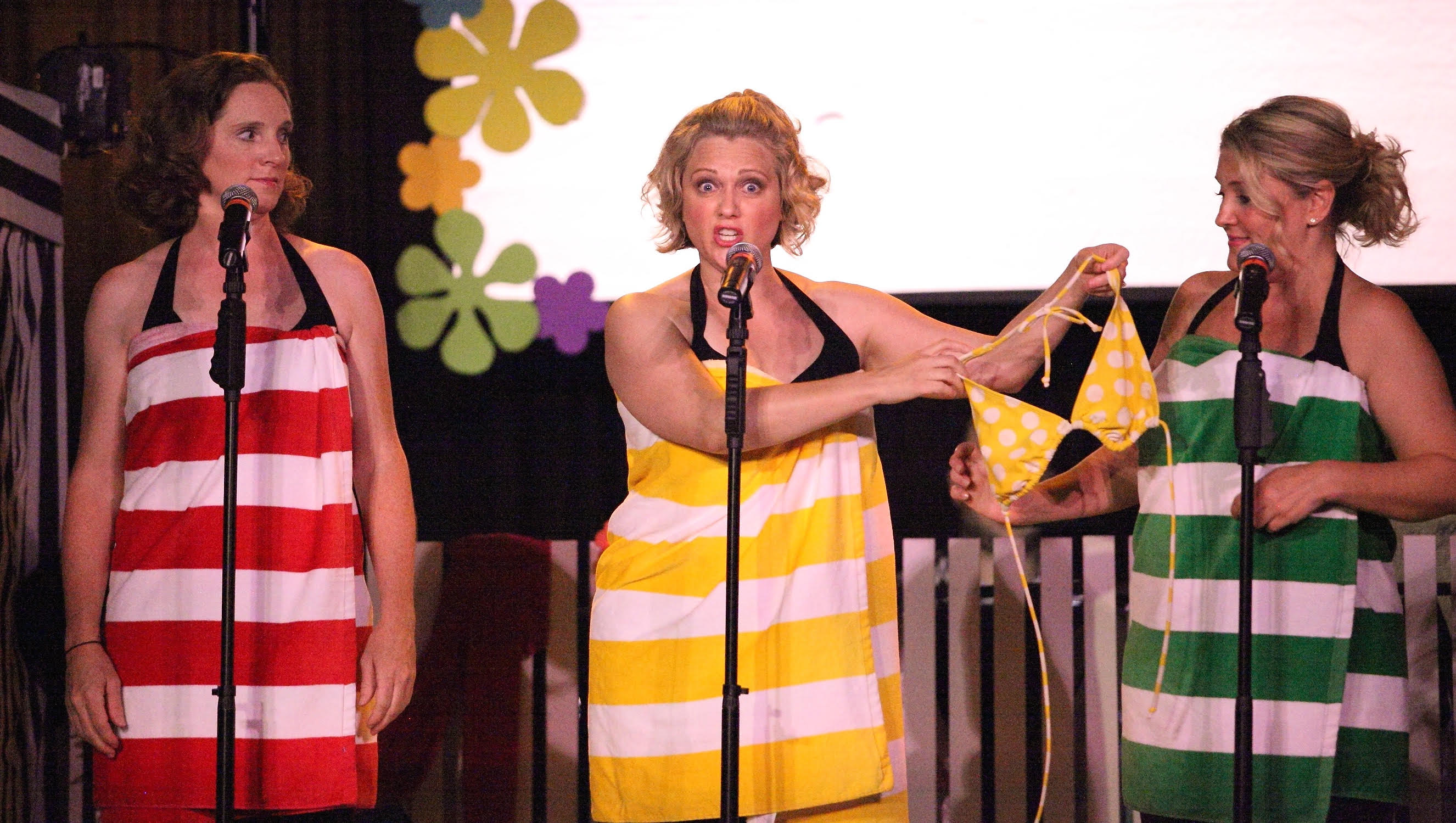 Hey Daddy-O, what happened to the music that got you dancing the streets and got you under the boardwalk? This query is answered by "The Bikinis: A New Musical Beach Party" by Ray Roderick and James Hindman. Taking its cue from the deliciously campy teenage beach films of Frankie Valli and Annette Funicello, "The Bikinis" is a kitschy retrospective reunion concert of a fictional 60's girl group called "The Bikinis". Take a guess how they got the name. The girls now middle-aged, share the story how their songs and lives evolved from bubble gum pop to adjusting to the generations of the 60's, 70's and 80's. The simple "Lets put up a show and save the town" storyline leaves the door open for many puns and innuendos. "The Bikinis" give due diligence to the variety show formula reminiscent of classic TV specials by Carol Burnett, Debbie Reynolds and Sonny and Cher. It is a walk down memory lane with tons of great songs and routines.
"The Bikinis" from the boardwalk on the Jersey Shore are made up of sisters Jodi (Natalie I. Collins) and Annie (Catherine Fries Vaughn), their cousin fresh from Philly (Monique Gannon) and friend from Staten Island, Barbara (Emily Herring). These ladies are seasoned pros with funny comedy chops and singers pipes.The four part harmonies are tight and character work impressive. I did feel a lack of soulful nuances in the singing. Perhaps a bit less polish and a bit more emotion.
Director Carl Peoples who wore many hats in the production made great use of the space inside the Steeple Arts Academy. Peoples works the small stage to his advantage and delivers wonderfully intimate performance. Complete with cabanas and beach balls. Chip Williams musical direction showcases a rock solid house band with musicians Richard Byrd, Joshua Green and Justin Wallace. They are the backbone for "The Bikinis" and they never missed a beat.
The fun of "The Bikinis" comes from it not taking itself too seriously. It pokes a tongue out at show business and the all too familiar reflections on getting older. It's pure fun and gets your hands clapping to classics like "Be My Baby," "Heat Wave," "Where the Boys Are," and "Itsy Bitsy, Teeny Weeny, Yellow Polka Dot Bikini." Wonderful absurdity is found in several quick-change numbers with reenactments of entertainers through the years.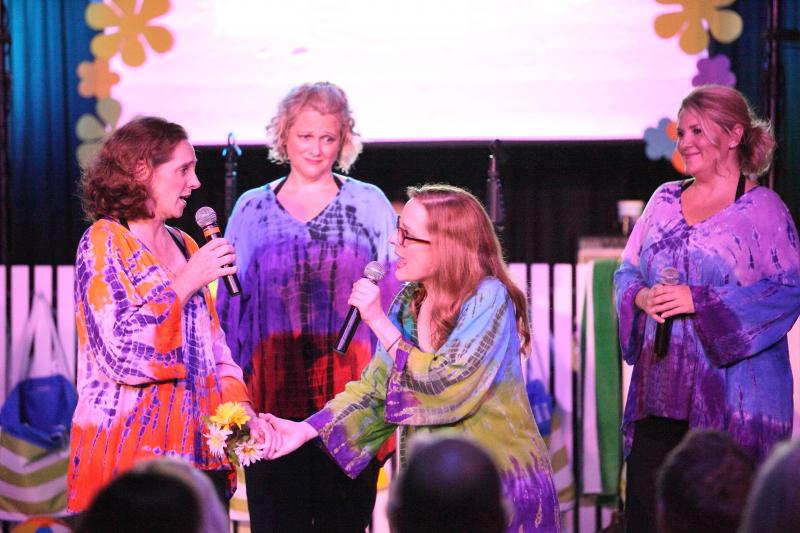 Peoples hustled through a daunting challenge getting the show ready to open. My jaw dropped when he tells me they only had two weeks of rehearsal for the show. He credits the talent and professionalism of the cast "It helps to have great professionals. Those four girls are amazing. We threw a lot at them in short amount of time and they really pulled it together."
"The Bikinis" is an enjoyable show with songs and dated jokes that make you reminisce and smile. I have to admit after the show I did break out my record player. I just wish the old record store wasn't now a Starbucks.
The Bikinis: A New Musical Party By Ray Roderick & James Hindman Music by Joe Baker
Directed by Carl Peoples - Musical Direction by Chip Williams
Central Alabama Theater at Steeple Arts Academy
36 Church Street, Mountain Brook, Alabama 35213
July 27 - Aug 6th - 7:30pm + Weekend Matinee 2:30pm / Tickets - $20 -30.
Tickets and info at centralalabamatheater.org
Photo Credit - Sarah Powell Photography