BWW Review: CINDERELLA: AN OUTRAGEOUS FAIRY TALE at Birmingham Children's Theatre is Pure Magic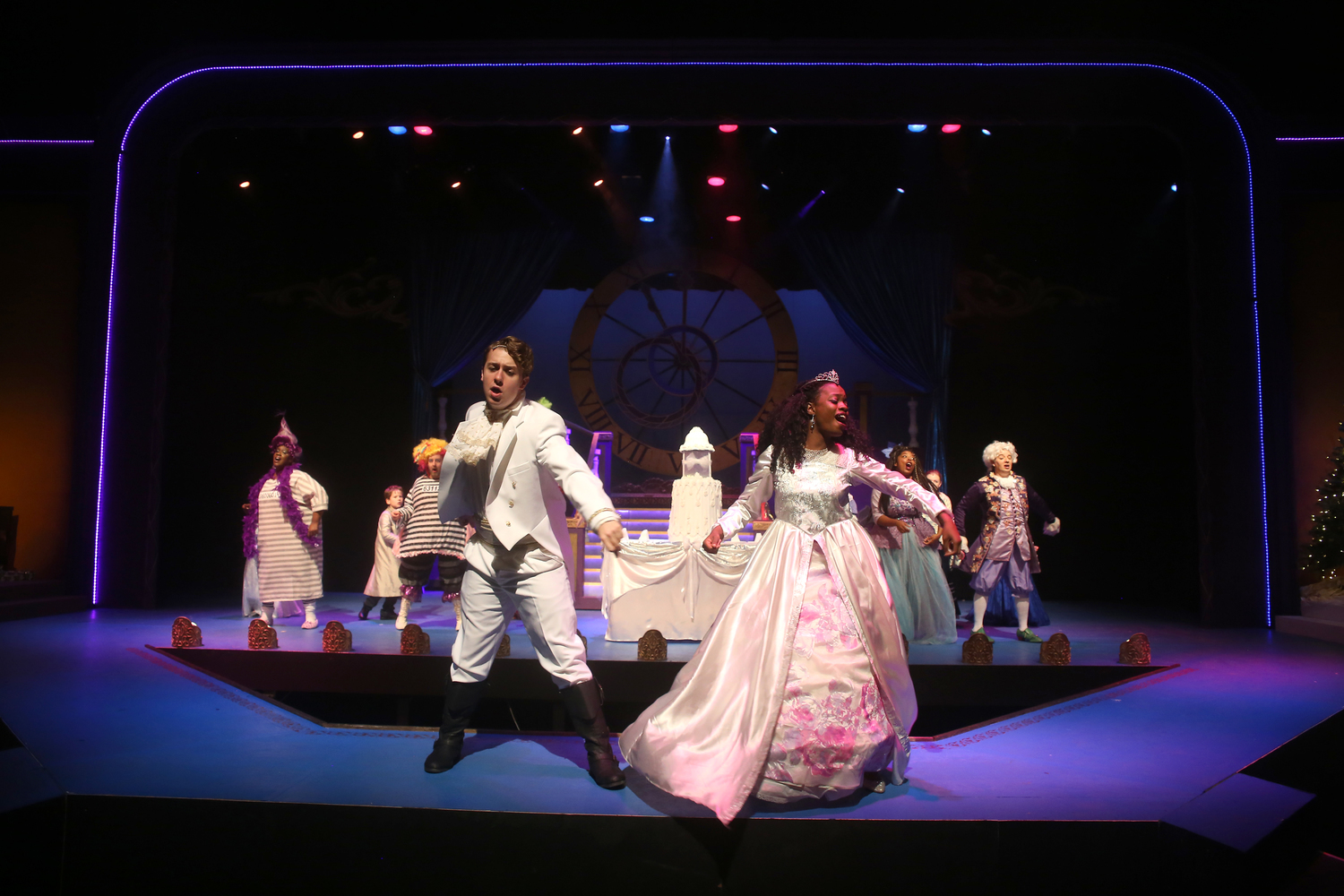 The memorable fairytales of days long gone can benefit from jolt of modern day adrenaline. The stories in the dusty old books should not be discarded in this modern era of iPads. Great stories are often told in the same roundabout fashion; causing a lackluster presentation that's predictable. This is not the case in Birmingham Children's Theatre's current production of "Cinderella: An Outrageous Fairy Tale". This dynamic piece of theater is a carousel of whimsy and childish glee. The actors and a live band keeps the energy up and a festive holiday spirit throughout the performance. This is not a typical hum-drum children's show production. Director Brandon Bruce created an energetic fusion of the classic fairytale and pop references and music. The show holds elements commonly found in a Warner Brothers cartoon. Slapstick, sight gags, prop humor, corny jokes, outrageous costumes and funny characters. This Cinderella has it all.
The show opens with a traditional holiday show format, complete with a inviting grandfather (Sylvester Rickey Powell) sitting in high back leather chair next to a Christmas tree full of ornaments and lights. He is joined by a ensemble of bright young children (Maximos Tatum, Brier Hight, Alonso De Idiaquez, Victoria Lloyd, Sinclare Smith, Gabrielle Stanley, Cadie Taunton and Dakota Ward) who show their excitement for the holidays with song and dance numbers. The Grandfather gathers the kids, opens the storybook and begins the tale. Granted, Cinderella is not a Christmas story, but the segue is not jarring. The stage shifts to a small cottage as Cinderella (Jameelah Leaundra) is hard at work tending to the unlimited chores before her. As the story continues with sight gags, physical comedy, musical numbers and audience participation. It's a perfect formula for kids to eat up. The mean Stepmother (Toy Matthews) and stepsisters Dorcas (Luke Schares) and Pearl (Daniel Hulsier) often take the reins of the show and tread into audience interaction that feels like a Vegas lounge act. The band gives a great backbone to the show with some hot arrangements. The story progresses forward on schedule with charming moments and great singers.
The show got its heartbeat from an open collaboration between Director Brandon Bruce and a stellar cast of actors. His approach stands out as a desire to do something fun. "When we first started rehearsals, the main rule was to break as many theatrical rules as we possibly can. Lets edit it later, but lets throw every single thing possibility we can into it". Bruce takes a directing approach of a receptive collaborator, not an evil step-father with a poison apple. The open collaboration gave the cast freedom to give input. "I tend to say to the actors, you're the one who has to do it on stage so why shouldn't the ideas come from you. Of course I have no problem directing and managing each element, but I'm not going to do that if I don't have to. I have extremely talented actors. I act more of a guide than a dictator". The performance is a hybrid of modern references, music and language combined with a high caliber children's show performance. "The show went through many different incarnation along the way. It's a format that is supposed to be updated regularly. Your supposed to inject as much modern music and as many local references as possible".. It was a welcomed surprise to hear the kickin' live band play a rendition of Run DMC's "Christmas in Hollis" revamped to "Christmas in the Ham". "Cinderella: An Outrageous Fairy Tale" provides the actors an opportunity to cut loose and sing music by Bruno Mars, Al Green, Beyoncé and Cyndi Lauper. Bruce came to Birmingham Children's Theatre about a year ago. "BCT did not have live music very often. What children theatre's often do is put the show music on tracks. I don't like that. We had a lot to learn on our end with a live band. The musicians that came in are very good at what they do and we as a theater had to work to get in sync". The production elements were outstanding as well as the music. Kudos to the production team for making the stage look like a story book come to life. Scenic designer Stephen Fister, Lighting designer - Jeremy Hodges, Wig Designer - Laura Kilgore Barnett, Costume designer - Brittany Dee Bodley
Jameelah Leaundra brings a regal voice and presence perfect for the role of Cinderella. She has jazzy and soulful inflections in her vocal performance that was a joy to listen to.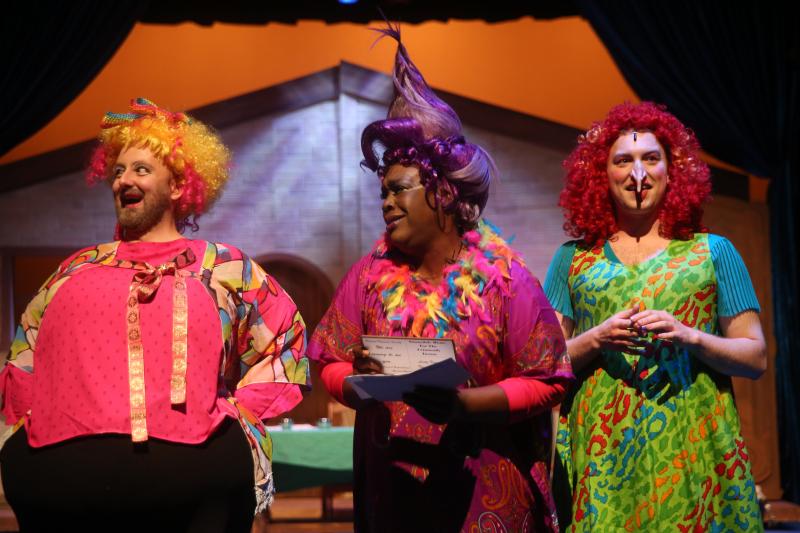 The abrasive Stepmother is played by Toy Matthews. She's a powerful combo of brassy attitude and a booming voice. Actors Luke Schares and Daniel Hulsizer give seemingly unlimited comical energy to the evil stepsisters Dorcas & Pearl. Caleb Brink is the goodly Prince who falls for Cinderella. He has a skilled voice that is smooth and rich with R&B.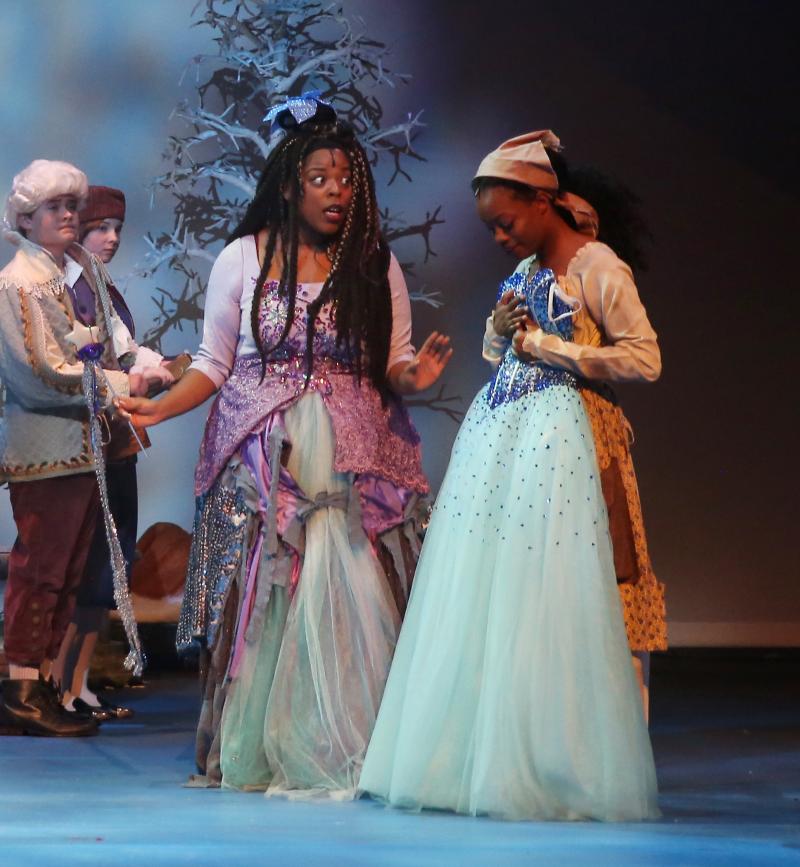 Brittany M. Williams brings light to the Fairy Godmother. She exudes a confidence and demeanor of a woman of magical might. Williams is a Birmingham native and is excited to be in her first show at BCT. "This is so much fun. I love working with kids. When I was at UAB I used to do the touring ensemble to perform for children and that was always fun. This is on such a bigger scale." I asked her why she enjoyed performing theater for children. "Kids that come are so excited and very honest." She continues with a laugh. "If they are not feeling it they will let you know." The role of Fairy Godmother is an opportunity she could not pass up. "I always enjoy playing someone magical. I get to make it snow on stage, I make trees light up. I get to stop time, I get Cinderella her husband. I mean, I do everything." She attributes the joy in the show from working in collaboration with Bruce. "The rehearsals process for this show has been one of the best I have ever done. Everyone knows the story of Cinderella. Because of that, we had so much room to build on. We were like, let's play, let's try this. "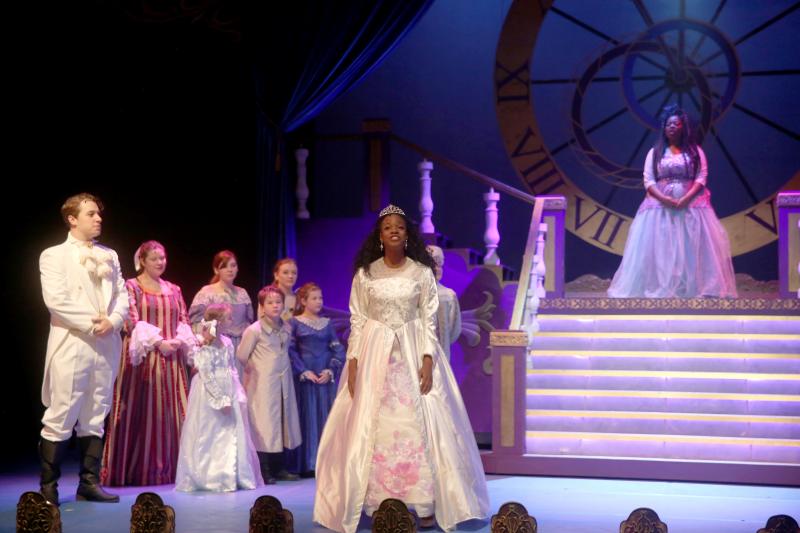 "Cinderella: An Outrageous Fairy Tale" is creative production that infuses the hashtag generation and classic fairytales. Director Brandon Bruce encourages the city to come enjoy the performances at Birmingham Children's Theatre. "We have gone through some major changes over the past year. If people haven't been here in a while, come back." This vision provides an ambitious mix for a fresh and very entertaining show, even for adults.
Birmingham Children's Theatre
"Cinderella: An Outrageous Fairy Tale"
By John Davidson - Music by Victor Zupane
Directed by Brandon Bruce
Music director Jay Tumminello
Birmingham Children's Theatre
2130 Richard Arrington Jr Blvd N
Birmingham, AL 35203
(at the Birmingham Jefferson Convention Complex)
December 2 - 16 2:30 p.m. - Tickets range $10 (Child) - $32 (Adult)
Tickets and information: (205) 458-8181 or www.bct123.org
Recommended for ages 5 and up
Location and Parking Information
The theatre is on the corner of 19th Street and 11th Avenue North inside the complex. Recommended parking is on 19th Street in the gravel lot across the street from the BJCC. There is occasionally a $7 charge for parking when special events are going on in the BJCC, and only cash is accepted. Metered parking is available on 19th Street North.
Photo Credit: Tammy Stringfellow.
Related Articles View More Birmingham

Stories

Shows