THE UNPREDICTABLE TIMES to Premiere in Maryland in 2018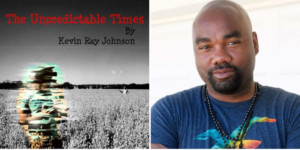 KEVIN Ray Johnson's coming of age drama The Unpredictable Times will be premiering with Showcase on Main in Elkton Maryland in 2018. The workshop premiere will be directed by S. Lee Lewis - who serves as The Artistic Director of Showcase on Main.
The last two readings (both directed by Lewis) in New York City were presented in 2015 and 2017 at Shetler Studios and The Dixon Place Lounge. The reading(s) featured the likes of Tony Award Nominee Alex Brightman (Dewey in School of Rock), Hillary Porter (A Bronx Tale), Matt Shingledecker (Wicked, West Side Story, Spring Awakening, who is currently touring in Les Miserables), Savannah Frazier (Amazing Grace), Brian Charles Johnson (Spring Awakening, American Idiot), as well as Nick Anastasia (Hair International Tour), Michael Coale Grey, Max King, Christy Wyatt and Ashley Wool.
(Click Here for the pics of the most recent reading with Alex Brightman)
"I started working on The Unpredictable Times when I was 21 but had the idea long before that. I wanted to write something that anyone from any generation can relate to. I guess you can say my own way to trying to bridge the gap between generations from all walks of life with something or a situation that everyone can connect to. This has been a long journey to put this show up and far from being over. We are all hoping this is just the first step to many more productions of this. S. Lee Lewis has a fantastic vision and has the amazing ability to make a cast of 5 look like 50 and he knows how to get the best out of his cast and to make every character leave their mark with the audience, I feel that is really a necessity with this show being a cast of 5. He is honestly one of the best directors in this industry so to have it premiering at Showcase on Main is truly a dream come true." - Says playwright KEVIN Ray Johnson
In the one-act five friends reunite in their hometown of Champlin, Minnesota, after graduating college. They attempt to deal with unresolved issues from the past and present that will challenge their lifelong friendships.
Casting and additional information on the production will be announced at a later date.
Johnson's other project includes A night of his short play readings titled Before it got 'Unpredictable' - short plays by KEVIN Ray Johnson which was presented Off Broadway at The Davenport Theatre in 2016 which featured Remy Zaken (Spring Awakening) and Reginald: From Baltimore to Billionaire! - a biopic play based on the first African American Billionaire Reginald F. Lewis which had its first industry reading in May of 2017 and it featured Olivier Award nominee Kyle Scatliffe (Scottsboro Boys, Les Miserables, The Color Purple) in the title role. His work has also been presented at The New York Theater Festival, John Chatterton's Short Play Lab, The Manhattan Repertory Theatre, The Capitol Fringe Festival, The Timberlake Playhouse (IL), Artist Bloc in DC and Pier One Theatre (AK).
Showcase on Main is located at 112 W. Main Street, Elkton Maryland 21921. For more information please visit Showcase on Main's official Facebook page by clicking here!