Click Here to Visit the College Center

Blogs are the opinions of the authors and do not necessarily reflect the opinions of BroadwayWorld. BroadwayWorld believes in providing a platform for open and constructive conversation.

Student Blog: Huzzah! - My Experience at the Maryland Renaissance Festival
The Maryland Renaissance Festival has always had a place in my heart.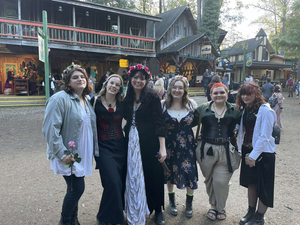 Two weekends ago was my fall break at the University of Pittsburgh. I decided to spend my long weekend travelling back home to Maryland to see my family and friends. I survived the 4-hour bus ride sitting next to another sophomore from MD and I had an incredible weekend. I caught up with friends in person, spent some time with my family, attended the Maryland Renaissance Festival and stopped by my old high school during a rehearsal for their upcoming musical. It was a jam-packed weekend that went by so incredibly fast. It was nice to get away from college for a while, but I knew the vacation was a brief one.
The highlight of my weekend was attending the Maryland Renaissance Festival, which is the sixth best Renaissance festival in the entire country! Almost every summer when I was young, my mom would take my sister and I there for a day. We would watch shows, eat food, and just enjoy the different atmosphere of the Renaissance era. Now that my sister has graduated college, it has been more difficult to get us all together for the festival but at least this year, the date fell perfectly onto my fall break. My sister is currently working at the Utah Shakespeare Festival so she could not attend with me, but I missed her all the same.
Over the years, my family and I formed a list of the shows we particularly loved watching, including some shows called, Absolutely Nothing, Fight School, and the Human Chess Game. Sadly, none of those shows are still in the schedule rotation, but we have found some new favorites including The London Broil Show and Shakespeare's Skum.
This year, I was able to attend the festival with some of my closest friends from home. I had not seen them in two months, and we had a blast. We borrowed some costumes from our high school's theatre department, and we had a great time spending more money than we should of on flowers crowns, wands, crystals, and delicious food. But I would not have changed it for anything.
I hope that one day, I can purchase my own intricate outfit to be able to attend the festival in period-accurate garb and really feel like I stepped in to the past. My sister actually offered to make something for me, so maybe that will be a fun project this upcoming year. It would be so great to pick out fabrics and colors and really make something unique to me.
The festival also sparked interest in hoping to work at a Renaissance festival one day. I have recently decided that I want to pursue a Medieval and Renaissance Studies Certificate at the University of Pittsburgh and what better way to include my Theater Arts major then working at a festival specifically dedicated to that.
The Maryland Renaissance Festival has always had a place in my heart, and I hope that one day I can travel to many more Renaissance festivals all over the country.