Photo Flash: Olney Theatre Company's OPUS
Olney Theatre Center's Artistic Director Jim Petosa directs violist-turned-playwright Michael Hollinger's Opus, winner of the Barrymore Award for Outstanding New Play in 2006.

Opus plays the Mainstage June 8 through July 3. Tickets are $26 to $54, with discounts available to groups, seniors, military, and students. Call the Box Office at 301.924.3400 or visit olneytheatre.org for tickets and information. In addition, Olney offers several special performances that include sign interpretation, audio description, and post-show discussions. Please see the Fact Sheet below for details.
The celebrated and world-renowned Lazara String Quartet is struggling to prepare for their high-profile White House performance, when its gifted but volatile violist mysteriously disappears. Grace steps in to replace him, and finds herself mixed up in a cauldron of lies and secrets that's about to boil over.The play is interwoven with rich and powerful music that propels this fastpaced comedy-drama. Hollinger's Opus has tempers flaring and egos clashing as the dynamic of the group changes and past indiscretions are revealed. Petosa directed the New England premiere of Opus at New Repertory Theatre last year. He says the play "puts a sharp focus on the intersection between creative relationship and friendship - the crossroads of love and power, integrity and compassion."Because of his background as a musician, Hollinger considers his plays compositions: characters are instruments, scenes are movements; tempo, rhythm, and dynamics are critical; and melody and counterpoint are set in relief by pauses and the spaces in between. Hollinger received a Bachelor of Music in viola performance from Oberlin Conservatory, and a Master of Arts in theater from Villanova University, where he is an associate professor or theater.Performing in Opus are Michael Kaye (Elliot - first violin), Shelley Bolman (Alan - second violin), Becky Webber (Grace - viola), Paul Morella (Carl - cello), and
Benjamin Evett
(Dorian - viola). All but Morella are reprising their roles from the New Repertory Theatre production. Michael Kaye (Elliot) is thrilled to be acting for a second time at Olney Theatre Center. Michael last
appeared at Olney as Tom in The Glass Menagerie. A Boston area actor, some of his credits include Dead End at the Huntington Theatre Company and Silence, House With No Walls, and Opus at the New Rep.With the
Lyric Stage
Company, he has performed in Ears on a Beatle, as well as Book of Days and the world premiere of
Arthur Laurents
' 2 Lives. Michael is an Assistant Professor of Acting at the Boston University School of Theatre where he received his BFA and his MFA. Shelley Bolman (Alan) is pleased to be returning to Olney Theatre Center, where he appeared last season
as Hooker in Trumpery. He also appeared as Alan in a previous production of Opus at New Repertory Theatre in Boston. Shelley is a New England-based actor and has worked with such companies as Actors' Shakespeare Project, Gloucester Stage, Commonwealth Shakespeare Company, Charles Playhouse, Wheelock Family Theatre, Stoneham Theatre, Village Theatre Project, Barnstormers Theatre, and Oldcastle Theatre. Shelley is also a member of Theatre Espresso, an educational company that performs interactive dramas about issues of justice in American history.
Becky Webber (Grace) is pleased to be making her Olney Theatre Center debut. New England credits include A Christmas Carol and Opus (New Repertory Theatre), As You Like It (Commonwealth Shakespeare Co.), Hamlet (Gan-e-meed), Thirst (
Eugene O'Neill
Theater Center), Trying (Gloucester Stage), Candide, and One Flew Over the Cuckoo's Nest (Berkshire Theater Festival). Originally from theDC area, she has also worked with Summer Dinner Theater, as well as GALA Hispanic Theater in La Edad de la Ciruela. Becky received her training at
Brandeis University
(BA), and the National Theater Institute. Becky is a Maryland Distinguished Scholar of the Arts in Acting (2004). Paul Morella (Carl) has appeared at Olney Theatre Center in Dinner With Friends, A Passion For Justice, The Millionaires, Rabbit Hole, The Mousetrap, Private Lives, Art, Coffee with Richelieu, The Laramie Project, The Rivals, Becket, Broken Glass, M. Butterfly, Monster, Night Must Fall, and The Time of Your
Life. Other regional appearances include leading roles at Folger Theatre, Woolly Mammoth,
Arena Stage
, Signature Theatre, Shakespeare Theatre, Studio Theatre, Round House, PTP, Theater J, Everyman, Rep Stage, and The Kennedy Center. He can also be heard as George in All My Sons (with
Julie Harris
and 
James Farentino
) and Joe Cantwell in The Best Man (with Fr
Ed Thompson
and
Marsha Mason
) for LATheatre Works. Later this season at Olney, he will be reprising his one person adaptation of A Christmas Carol by
Charles Dickens
. 
Benjamin Evett
(Dorian) is the Founding Artistic Director of the Actors' Shakespeare Project, where he has directed numerous productions and played Petruchio in The Taming of the Shrew, the title roles in Hamlet and Coriolanus, Caliban in The Tempest, Edmund in King Lear, and Cassius in Julius Caesar.  Photo Credit: Stan Barouh


Michael Kaye (Elliot) and Benjamin Evett (Dorian)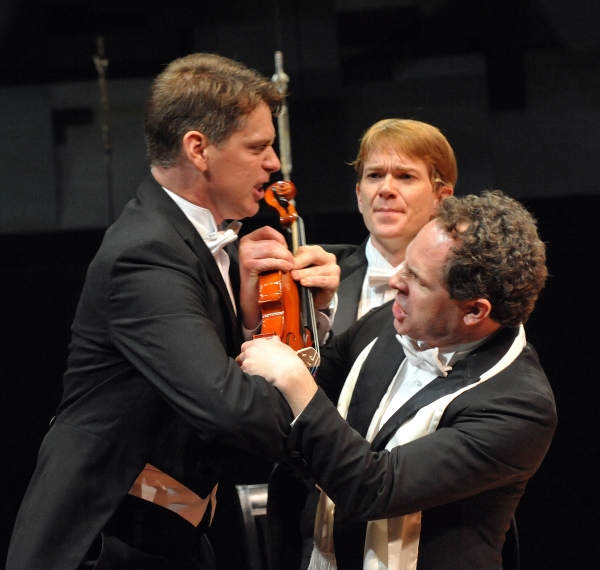 Michael Kaye (Elliot), Shelley Bolman (Alan), and Benjamin Evett (Dorian)

Paul Morella (Carl), Becky Webber (Grace), Shelley Bolman (Alan), and Michael Kaye (Elliot)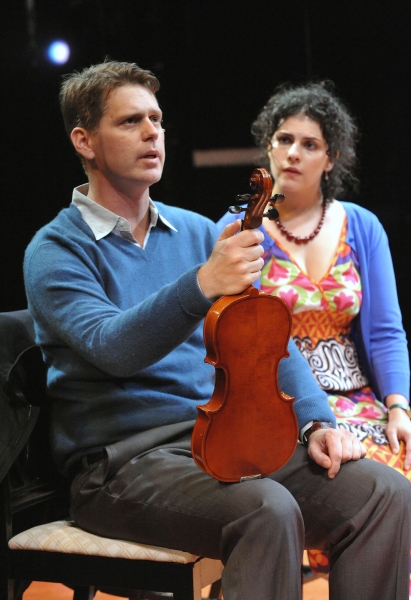 Michael Kaye (Elliot) and Becky Webber (Grace)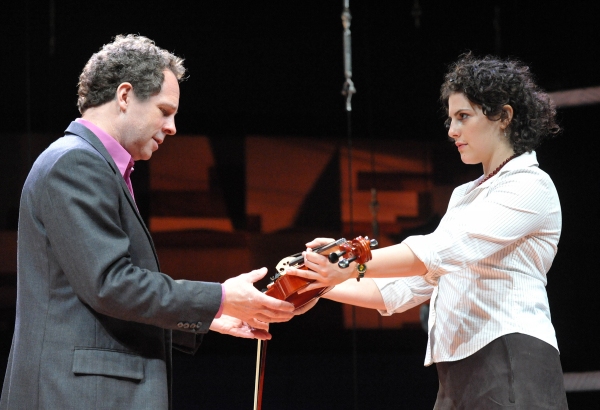 Benjamin Evett (Dorian) and Becky Webber (Grace)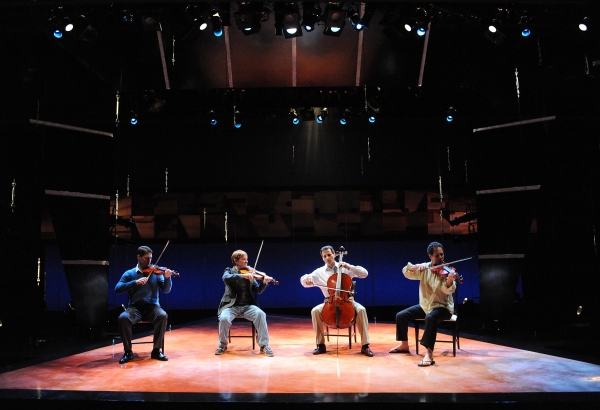 Michael Kaye (Elliot), Shelley Bolman (Alan), Paul Morella (Carl), and Benjamin Evett (Dorian)