MET's The Fun Company Presents CLICK, CLACK, MOO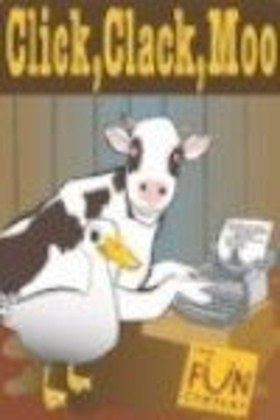 Maryland Ensemble Theatre's (MET) family theatre, The Fun Company is proud to present Click, Clack, Moo. The play is adapted by James E. Grote from the beloved children's book and recording. The original book was by Doreen Cronin, Illustrations byBetsy Lewin, Music by George Howe, Lyrics by George Howe and James E. Grote. Farmer Brown's cows are c-c-c-cold. They'd like cozy electric blankets. But how to tell him? Eureka! They discover an old typewriter in the barn and start typing away. The next day, Farmer Brown is shocked to find a rebellious note on the barn door: "Sorry. We're closed. No milk today." Uh oh, how will barnyard peace be restored? Come find out in this delightful musical adaptation of the Caldecott Honor Book by Doreen Cronin.

Click, Clack, Moo is chock-full of zany fun from start to finish. Moms, dads, brothers, sisters, and grandparents will all find something to enjoy in this colorful cast of barnyard friends. Director Jeremy Myers is thrilled at the chance to bring this beloved tale to the stage. "This title has a great recognition factor from the books, so I think this piece will really resonate with many. In Chicago, I had the pleasure of working with the adaptors, Jim Grote (script) and George Howe (music) on two other pieces they did from this series. So, I'm really happy to return to their work and bring it to Frederick!"

The Click, Clack, Moos crew includes: Director Jeremy Myers, Music Director Thom Huenger, Choreographer Bailey Sterling, Stage Manager Morgan Southwell, Scenic Designer Kevin Cole, Lighting Designer Doug Grove, Costume Designer Stephanie Hyder and Props Designer Maria Laird.

The cast includes: Lisa Burl and Madi Reinhold as the Cows, Susasree Das as Hen, Najee Banksas Duck and Brian Irons as Farmer Brown .

Click, Clack, Moo opens on Saturday, September 22nd and runs until Sunday, October 14th everySaturday and Sunday at 1:30 p.m. Tickets are $12. Tickets may be purchased by phone at (301) 694-4744, online at marylandensemble.org or in person at the MET box office. Come laugh it up at this barnyard adventure.
More Hot Stories For You