Ballet Theatre of Maryland to Stage COPPELIA
The classic is set to run on April 22nd and 23rd at the Maryland Hall for the Arts.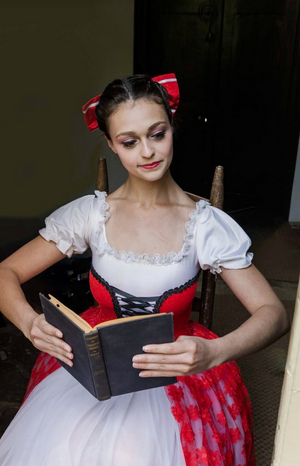 Capping off their 2021-2022 season, Ballet Theatre of Maryland will present the beloved classic, Coppélia, April 22-23 at Maryland Hall for the Arts. This fractured fairytale, set in an idyllic peasant village, tells the story of two lovers, an eccentric inventor, and his beautiful, mysterious daughter.
Says Artistic Director Nicole Kelsch, "No other classical ballet is quite as fun-for the audience as well as the dancers-as Coppélia. Its comedic storyline, energetic character dances, and eclectic cast of characters have made it an audience favorite for over a hundred years. We think it's the perfect way to end our season."
Originally choreographed by Saint-Leon in 1870, Coppélia features the music of Delibes. This production, last performed by Ballet Theatre of Maryland in 2013, follows the staging of previous Artistic Director Dianna Cuatto.
The story follows Swanhilda, a free-spirited peasant girl, as she pursues her sweetheart, Franz. Although the two are encouraged to marry, Swanhilda catches Franz blowing kisses to a mysterious girl on the balcony of Dr. Coppelius's home. Incensed, she and her friends sneak into the old man's workshop to investigate. Though Swanhilda discovers the truth about Coppélia, she and Franz are caught in the workshop and must keep their wits about them to escape.
Ballet Theatre of Maryland performs Coppélia April 22nd at 7:30 and April 23rd at 1:00 and 4:30. In-person tickets are on sale now at $47 for adults, $28 for senior/child/student tickets, and $38 for military. Masks are now optional for audience members at Maryland Hall. For virtual audiences, tickets are $25 per household. To purchase tickets or learn more, visit balletmaryland.org.
Ballet Theatre of Maryland, founded in 1978, is designated as Maryland's premier professional ballet company and conservatory and has a long history performing at venues throughout the state. The company is comprised of 23 professional dancers, 15 apprentices, and 17 trainees. Professional faculty members of the Conservatory of Dance are current in their field, most with degrees or certifications in dance education. The conservatory offers a full curriculum of classes in ballet, jazz, modern, tap, partnering, and conditioning while providing students with professional performance opportunities. For more information about BTM, please visit www.balletmaryland.org or call (410) 224-5654.
Nicole Kelsch received her early training from Peter and Kristin Degnan at Ballet Northeast in Pennsylvania. She also received training from Central Pennsylvania Youth Ballet, Milwaukee Ballet, Ballet Austin, Pennsylvania Governor's School for the Arts, and Princeton Ballet. Nicole graduated from Point Park University in Pittsburgh, receiving her Bachelor of Arts in Ballet Performance in three years. Upon graduation, she danced professionally with Columbia City Ballet, Atlanta Festival Ballet, and Connecticut Ballet.
In 2006, Nicole joined The Ballet Theatre of Maryland as an apprentice under the direction of Dianna Cuatto. She was promoted to Principal Dancer in 2008 and throughout her career was featured as Clara and The Snow Queen in The Nutcracker, Odette/Odile in Swan Lake, the Firebird in The Firebird, Swanhilda in Coppelia, Juliet in Romeo and Juliet, as a Principal in Antony Tudor's Continuo, the Principal Couple in Italian Symphonette, Titania and Hermia in A Midsummer Night's Dream, Magdalena in An American Southwest Carmen, Cinderella in Cinderella, Guinevere in Excalibur, Aurora in The Sleeping Beauty, Pearl in The Little Mermaid, and has performed the Don Quixote Pas de Deux.
In 2008, after having served on the faculty for two years, Nicole became the School Principal for The Ballet Theatre of Maryland Conservatory. She was named the Ballet Mistress for the company in 2015. Nicole retired from performing in March 2020 and became the Artistic Director in July 2020. She successfully led the company through a full 2020-2021 performing season at the height of the COVID-19 pandemic, staging performances of Edward Stewart's Dracula, Dianna Cuatto's The Nutcracker, An American Southwest Carmen, and The Little Mermaid.
Photo Credits: Joanne Marie Photography