BWW Review: BAD JEWS at Vagabond Players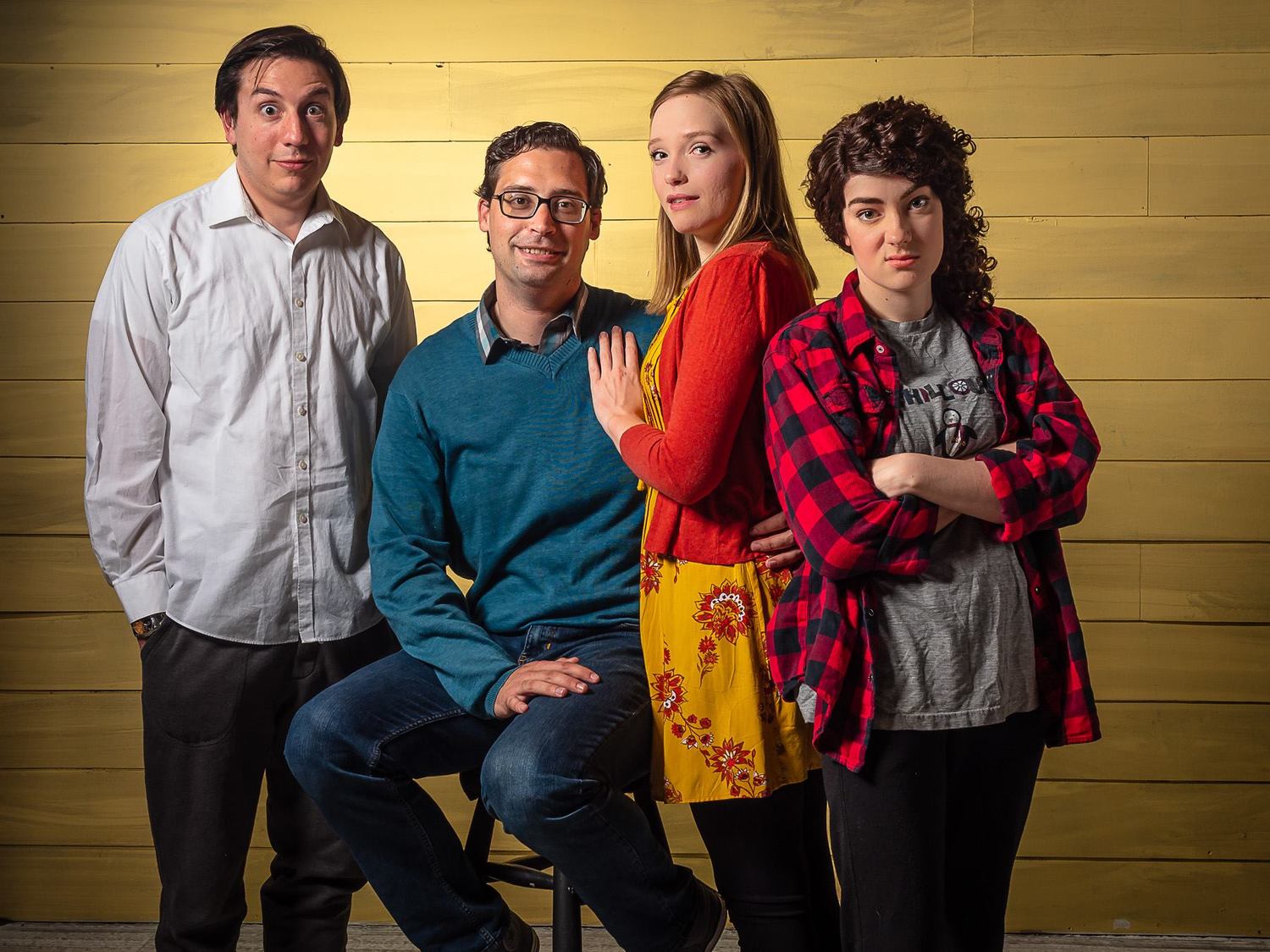 When a family deals with loss, how can they go about preserving their loved one's legacy with what was left behind? At the Vagabond Players, audiences can witness how Joshua Harmon's award-winning dark comedy BAD JEWS will immerse you on an emotional journey from beginning to end.
Taking place at a studio apartment in New York City, the play follows the death and funeral of Holocaust survivor "Poppy" - grandfather of brothers Jonah (Mike Kranick) and Liam (Jon Meeker), and their cousin Diana/Daphna (Anna Steuerman). Daphna argues that she deserves Poppy's chai, an important family heirloom, while Liam plans to propose to his girlfriend Melody (Molly Mayne) with the same amulet.
Just from the first few lines, you can tell that Anna Steuerman will play Daphna brilliantly; her impressive range is quite clear in this performance. She is methodical and deliberate with every movement and line, and she embodies the "most Jewish grandchild" well. However, her "Jewish hair" was very clearly a wig and was a bit distracting when you first meet her onstage. Once you get to her (many) sharp, biting monologues it's not as noticeable, but the wig may have done more harm than good by making her seem like a caricature at first glance. That aside, she perfectly embodies the tenacity and spirit needed to make this multi-faceted character come alive.
Likewise, Meeker's tirades as Liam were a sight to behold. His pacing and timing were impeccable, and his disdain toward Daphna was extremely clear as soon as he came onto the scene. This was in stark contrast to his affection for his girlfriend Melody, a non-Jew "Shiksa" originally from Delaware. Mayne does a commendable job playing this vapid character - her rendition of "Summertime" was particularly entertaining - but may have gone a bit too far with the wide-eyed persona in moments where her reactions seemed not as believable.
Kranick's reactions, however, stole several parts of the show. He was clearly present every minute the action unfolded, and although he didn't have as many lengthy monologues as Meeker and Steuerman, his non-verbals to the constant back-and-forth between his brother and cousin spoke volumes. You could almost feel his discomfort caused by his warring family members through witnessing his emotions and physicality.
Moe Conn's set works well in the small theater space and believably captures a typical millennial apartment with few furnishings, some artwork on the walls, and a kitchenette tucked in the corner (that is seamlessly used by the actors throughout the show). This vibe is further punctuated by Eric C. Stein's video game sounds that bring the audience into this family's world, along with Masha Miriam Grady's lighting choices to differentiate the apartment from the hallway that move the piece along.
Director Miriam Bazensky did a fantastic job working with these actors. Although every repartee was jam-packed with emotion (and phrasing), the cast maintained their articulation, their blocking made sense, and their monologues felt conversational and didn't seem to drag in the slightest.
Audiences attending this smart production will leave the theater reflecting on their own experiences with sickness and death, and what the chai represents in their own lives. By intelligently displaying the struggles associated with family, religion, culture, and identity, BAD JEWS allows us to recount the stories of those who lived before us, and gives us pause to think about how to best make way for stories that will prove to outlive us.
BAD JEWS plays now through June 24 at the Vagabond Players, 806 South Broadway, Baltimore 21231. For ticket information call (410) 563-9135 or go to www.vagabondplayers.org.
Photo Credit: Bruce F Press Photography