BWW Review: A LITTLE NIGHT MUSIC at Signature Theatre - 'Send In The Crowds'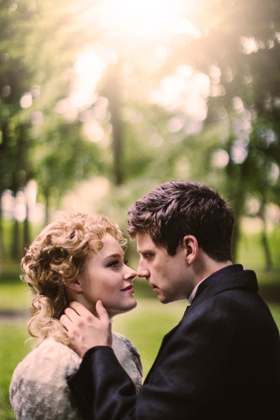 If you want to get an idea of what Stephen Sondheim's masterpiece musical is really about take a glance at the "R" rated cover of the Broadway Cast Recording (album or CD) and you'll see an image of a tree. But if you look closely at the branches you will see the sensual depiction of couples in the nude.
A LITTLE NIGHT MUSIC is one of Sondheim's greatest hits filled with amazing melodies I can't get out of my mind. It's a comedy and you will laugh out loud at some of the cleverest lyrics ever penned to paper. I highly suggest before you see it to read the lyrics (found in his treatise entitled "Finishing the Hat") and to listen to the CD (available at the Signature).
The title of the show comes from the English translation of the German name for Mozart's Serenade No. 13 for strings in G major, Eine kleine Nachtmusik and is based on the 1955 Ingmar Berman film "Smiles of a Summer Night". Kudos to the Signature for suggesting the Shirlington Library, next to the theater, present the film after a recent Sunday matinee performance. Bergman gave permission for Sondheim to write the musical with a caveat that he could not use the title of his film.
It won five Tony Awards in 1973 including Best Musical, the Grammy Award for Best Show Album, and the song "Send in the Clowns" actually won the 1975 Grammy Award for "Best Song of the Year" (the last time that happened). According to Sondheim, there have been more than 500 recordings of it following the Judy Collins and Frank Sinatra versions.
The music at times is very operatic in 3/4 time and in fact the first three revivals were not on Broadway but by The New York City Opera.
I have been fortunate to see two prior productions of A LITTLE NIGHT MUSIC. It was part of the Kennedy Center Sondheim Celebration in 2002 with a stellar cast including Blair Brown, Doug Sills, Randy Graff, John Dosset, Natascia Diaz, and Kristen Bell. Baltimore's Center Stage did a wonderful production in 2008 with Polly Bergen, Stephen Bogardus, Barbara Walsh, and Kate Baldwin.
But in my humble opinion, not even the original Broadway cast (with Len Cariou and Glynis Johns in the leads) cannot hold a candle to this Signature, signature production directed impeccably by Eric Schaeffer. Yes, it could be due to the intimate setting in the "Max" theater holding under 300 theatergoers. But it is the superb cast and orchestra that make this show a must see.
The premise of the show is how people relate to one other, especially their passions for relationships with those unmarried and married. The action takes place in Sweden at the turn-of-the-century (20th) and centers on the frustrated successful lawyer Fredrik (the impeccable Bobby Smith) married to an 18 year old young women who he knew as a child, Anne (the cute Nicki Elledge) who remains a virgin after 18 months of marriage and his infatuation with a successful actress who Fredrik had an affair with many years ago, Desiree (the talented Holly Twyford making her musical debut). Fredrik has a 21 year old son Henrik (the delightful Sam Ludwig) from a former marriage studying to be a minister but has a temptation for the sexy maid Petra (the superb Maria Rizzo). He takes out his frustration by playing the cello and yearns for Fredrik's virginal wife. Desiree has another suitor, the handsome and debonair military man in uniform Count Carl-Magnus Malcolm (the incredible Will Gartshore with amazing comic timing) but he is also married to Countess Charlotte Malcolm (the hysterical and wonderful Tracy Lynn Olivera who almost steals the show). Such is the "glamorous life" in Sweden.
A key figure is Desiree's mother Leonora (the elegant Florence Lacy) who arranges a "Weekend in the Country" (one of my favorite numbers) for all. Isn't it interesting, isn't it rich that Desiree has a daughter named Fredrika (the cute Anna Grace Nowalk). You get the picture?
Sondheim employs a "Greek" chorus known as the Liebeslieders (Susan Derry, Maria Engler, Benjamin Lurye, Quynh-My Luu, and Kevin McAllister (fresh from his starring role at Ford's Theatre' RAGTIME) who help move the story along and WHAT voices they have.
For those who have said Sondheim cannot write a good melody, well, see this show. The show features a clever opening of three numbers sung about love. There's "Now" by Fredrik, "Later" by his son Henrik who wants it NOW, and "Soon" by Anne who longs for her first sexual encounter but not now yet.
One of the funniest numbers is "You Must Meet My Wife" that Fredrik sings to his lover Desiree.
A duet that reminded of a number from INTO THE WOODS is the duet " It Would Have Been Wonderful" sung by Fredrik and his competition for Desiree, Count Malcolm. The song "In Praise of Women" by Count Malcolm reminded me of "Pretty Women" from SWEENEY TODD.
The classic "Send in the Clowns" was written especially for Glynis Johns and Sondheim admitted he considered her limited vocal range when he wrote it. Twyford nails this number on two separate occasions and proves she has a great future in musical theater.
But for me, the most moving song is "The Miller's Son" sung and acted to perfection by Maria Rizzo. I got goose bumps listening to her incantation of this wonderful ballad.
Musical Director Jon Kalbfleisch once again has assembled a talented group of musicians (13) located high above the stage. Associate Conductor William Yanesh did a great job subbing for Kalbfleisch when I saw the show. The lush Orchestrations (originally by Tony winner Jonathan Tunick, a former Signature honoree) were by John Owen Edwards.
Special mention must go to Choreographer Karma Camp as this marks her 50th Signature production. The waltzes were marvelous to watch.
Adding to the enjoyment of this spectacular show are the Scenic Designer Paul Tate DePoo III, Costume Designer Robert Perdziola, Lighting Designer Colin K. Bills, and Sound Designer Ryan Hickey.
A LITTLE NIGHT MUSIC HAS BEEN EXTENDED to October 15. For tickets call 703-820-9771 or visit www.sigtheatre.org for a glimpse of the show. Do not miss it!!
Here is a video of the cast.
A Little Night Music Trailer - YouTube Link
Here is video showing highlights.
https://www.dropbox.com/s/yydkoiac01tqbjq/A%20LITTLE%20NIGHT%20MUSIC%20Trailer%20-%20Letterbox.mov?dl=0
THIS AND THAT
There are two features I recommend in the August 20, 2017 Washington Post: Peter Marks writes about Holly Twyford and Nelson Pressley has a piece on Musical Director Kalbfleisch.
The next big musical coming soon is IN THE HEIGHTS at the Olney Theatre Center and it has already been extended to October 15. This is unprecedented to extend a show before it even opens (Sept. 6). Get your tickets now to this co-production with the Round House Theatre by calling 301-924-3400.
Just noticed that the musical NEWSIES will be available soon on Netflix. It is also schedules next season at Toby's Dinner Theatre.
Finally, check out this Sunday's Baltimore Sun (September 3, 2017) for its Fall Arts Preview.
cgshubow@broadwayworld.com
| | | |
| --- | --- | --- |
| | Donations | Arts Orgs |
Related Articles View More Baltimore

Stories

Shows