Argh, Mateys! HOW I BECAME A PIRATE Opens 9/22 at ATMTC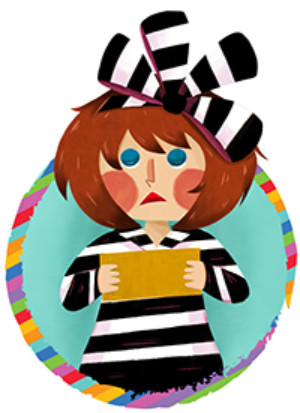 Yo, ho! Yo, ho! A pirate's life for Adventure Theatre MTC (ATMTC), recent recipient of three 2017 Helen Hayes Awards. ATMTC brings to the stage its delightfully silly, swashbuckling fall musical, How I Became A Pirate, directed by Jenny Male. Based on the Irma Black Award Winning book for Excellence in Children's Literature by Melinda Long with illustrations by Caldecott Honor-winning David Shannon, this tale of Jeremy Jacobs' high seas adventure is recommended for all ages and opens September 22, 2017. Tickets are $19.50 each and can be purchased online at www.adventuretheatre-mtc.org or by calling 301-634-2270.
Argh matey! One day as Jeremy Jacobs builds a sand castle on the beach, a pirate ship rows ashore in search of a place to bury treasure. Taken aboard as an honorary pirate, Jeremy learns the ropes of what it really means to be a swashbuckling (but smelly) pirate, and the pirates just might learn how to play soccer too.
Adventure Theatre MTC's Artistic Director, Michael J. Bobbitt, says of the show, "We've wowed audiences in the past with our fall musicals (Knuffle Bunny, Goodnight Moon), and this arrrrrrrrestingly silly tale is going to be no exception. With action, adventure, and a ton of imagination, this story of a young boy learning to become a true pirate will delight families of all ages."
On September 19th, Adventure will be celebrating International Talk Like A Pirate Day with a special offer for ye. Come in person dressed as a pirate, get yer picture taken, and get a free copy of Melinda Long's How I Became a Pirate with yer order four tickets or more. Aargh, Can't make it in person? Ye won't be cast adrift. Get 10% off yer tickets when ye Order Like a pirate over the phone.
How I Became A Pirate is recommended for all ages. Tickets are $19.50 each with Flexpass, group, and field trip rates available. The press performance will be Sunday, September 24, 2017 at 2pm. All performances will take place at Adventure Theatre MTC, 7300 MacArthur Blvd, Glen Echo, MD, 20812 in the historic Glen Echo Park. For more information about Adventure Theatre MTC or How I Became A Pirate, call 301-634-2270 or visit www.adventuretheatre-mtc.org.
ABOUT ADVENTURE THEATRE MTC
Adventure Theatre MTC educates and inspires new generations of theater artists and audiences with exceptional theatrical experiences.
More Hot Stories For You