Student Blogger: Janelle Murray
MOST POPULAR ARTICLES
LAST 365 DAYS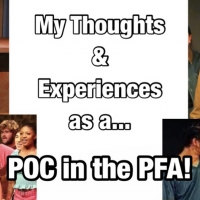 BWW Blog: My Thoughts and Experiences as a POC in the Performing Arts
Posted: Jun. 26, 2020


BWW Blog: Extended College Decision Day - How I Ended Up at Marymount Manhattan College!
Posted: Jun. 3, 2020


BWW Blog: ?Learning Doesn't Happen in a Straight Line? - An Interview with Ellen Orenstein
Posted: Jul. 27, 2020


BWW Blog: We Are Only Human
Posted: Sep. 11, 2020


BWW Blog: Thank You BroadwayWorld

October 2, 2020

Well friends, my final BroadwayWorld blog for the summer season has arrived.
---
BWW Blog: We Are Only Human

September 11, 2020

Ia??m not perfect. I never will be. I definitely want to be, but I need to stop trying to be. I share this because I just got out of my acting class and Ia??m laying on my bed reflecting on my day. As someone with social anxiety this is a pretty normal thing.
---
BWW Blog: Farewell New York City - See You Soon!

August 31, 2020

have always loved New York City. Walking through the streets that never sleep, listening to the sounds that fill the atmosphere and breathing in that NYC air - none of it will ever get old.
---
BWW Blog: A Letter to the Performing Arts Major

August 12, 2020

Dear Performing Arts Major...
---
BWW Blog: "Learning Doesn't Happen in a Straight Line" - An Interview with Ellen Orenstein

July 27, 2020

I had the pleasure of interviewing professor, the legendary Ellen Orenstein, on her professional perspective on educating remotely.
---
BWW Blog: How to Stay Creative and Motivated this Summer!

July 9, 2020

We WILL get through this but until then, let's get to work!
---
BWW Blog: My Thoughts and Experiences as a POC in the Performing Arts

June 26, 2020

No. I did not get into one of my top college choices because I am black. I was accepted because I prepared for months and did the best I could at the audition.
---
BWW Blog: Extended College Decision Day - How I Ended Up at Marymount Manhattan College!

June 3, 2020

Choosing a college is hard, trust me I get it. It took me two tries before finally finding the right school for me. Thankfully, I found where I belonged but it wasn't easy. Here's the story of how I ended up at Marymount Manhattan College.
---