Larry O'Brien - Page 2
Larry O'Brien has been a fan of live theater for fifty years since he saw his first live production, A Streetcar Named Desire, at the Trinity Square Repertory Company. He served as a volunteer usher at Trinity for over twenty years and as President of the Board of Directors at the late, lamented Wickenden Gate and Newgate theaters. He has written reviews for the Rhode Island College Anchor and the Arthur miller Journal. While he enjoys what Trinity and PPAC have to offer, he is a big fan of the small theater scene one finds in Rhode Island. He earned his Masters from Rhode Island College and is ready to roll!
MOST POPULAR ARTICLES
LAST 365 DAYS
Trinity REP Scores a Hole-in-One with August Wilson's RADIO GOLF
Posted: Feb. 5, 2020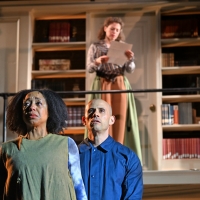 Justice Done to Dickens A TALE OF TWO CITIES at Trinity Rep
Posted: Feb. 26, 2020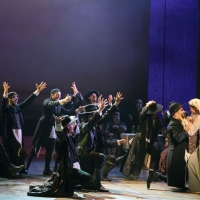 BWW Review: FIDDLER ON THE ROOF at Providence Performing Arts Center. Don't Miss It!
Posted: Feb. 12, 2020


BWW Review: THE ILLUSIONISTS--LIVE FROM BROADWAY at Providence Performing Arts Center

January 20, 2018

If you hurry, you still have time to get over to the Providence Performing Arts Center to catch THE ILLUSIONISTS-LIVE FROM BROADWAY. Most touring shows do not have the Broadway cast, but this one does. It blends very funny comedy with jaw-dropping feats of magic and/or derring-do. My wife and I walked out asking each other, 'How did they do that,' and, as Butch said to Sundance, 'Who are those guys?' There were five of them and three assistants, and they took turns stopping our thought processes cold. I am going to take them in order of enjoyment.
---
BWW Review: KINKY BOOTS Kicks Butt at Providence Performing Arts Center

December 11, 2017

KINKY BOOTS, book by Harvey Fierstein (La Cage aux Folles and Torch Song Trilogy) and songs by Cindy Lauper and inspired by true events, is in Providence at the Performing Arts Center for a very short run. Blink and you'll miss it. The musical tells the story of Charlie Price (Lance Bordelon), who inherits a shoe factory from his father and forms an unlikely partnership with cabaret performer and /drag queen Lola (Jos N. Banks) to produce a line of high-heeled boots designed to withstand a man's heft and save the business. In the process, Charlie and Lola discover that they are not so different after all. . When was the last time you saw a Broadway show about sensitive, heroic businessmen? I have to admit that KINKY BOOTS had escaped my notice until the other night and that the audience and I had a really good time Friday night!
---
BWW Review: THE WIDOW'S BROOM at The Festival Ballet - Too Lovely for Words!

November 27, 2017

I have not been to a ballet since I took my daughter to a performance of The Nutcracker some thirty years ago, so it was with some trepidation that I accepted the assignment to review the Festival Ballet's performance of THE WIDOW'S BROOM, based on the story by Chris van Allsburg. I was afraid I would be first bored to death and then unable to write a coherent review. I could not have been more wrong about my first fear-let's see how I do with the second.
---
BWW Review: WAITING FORGODOT at Counter-Productions Theatre Company: A Rare gem in a Black Box

October 24, 2017

Counter-Productions Theatre Company begins its 2017/2018 season with Samuel Beckett's absurdist masterpiece, WAITING FOR GODOT at AS220's Black Box Theatre on Empire St. in Providence. The New York Times has called this the greatest play of the Twentieth Century. It has attracted talents from Bert Lahr to Steve Marin and Robin Williams to John Turturro to take it on. I had never seen this play, was somewhat afraid of it, and am now glad I have. Sometimes it's tedious (I think that's deliberate and blame Beckett), but sometimes it's hilarious and sometimes very touching. Here we all are, trapped between life and death.
---
BWW Review: Providence Performing Arts Center Presents LES MISERABLES

September 29, 2017

If you hurry over the Providence Performing Arts Center, you might still be able to catch one of the last performances of LES MIS. This show is a force of nature and hardly needs me to tell you how great it is, which is a good thing since it closes tomorrow night. Not my call, it's how the production company wanted it.
---
BWW Review: GALILEO Worth Seeing at The Burbage Theatre Co.

August 30, 2017

The first time I saw GALILEO by Bertolt Brecht performed was thirty-five years ago at Trinity Rep. I remembered being blown away by the experience-the late great Richard Kneeland played the title role and Brecht's play put the conflict between science and dogma right on the table. I remember loving the idea that one person can be right and the rest of the world wrong. So now the Burbage Theatre Company in Providence is offering GALILEO directed by Vincent Petronio and I was curious to see if they could measure up and if the play held up.
---
BWW Review: BELL, BOOK AND CANDLE Does Not Quite Glow at 2nd Story Theatre

August 19, 2017

BELL, BOOK AND CANDLE must be missing the eye of a newt.
---
BWW Review: THE BEST OF EVERYTHING at 2ND STORY THEATRE

May 11, 2017

Women in business in the 1950's--not the easiest row to hoe.
---
BWW Review: Song, Dance and Cynicism--CHICAGO at Providence Performing Arts Center

May 3, 2017

They sing, they dance, they have no values.
---
BWW Review: VICTOR/VICTORIA at Ocean State Theatre Company

April 30, 2017

Pretty good production of a pretty good Broadway musical. VICTOR/VICTORIA is fun, but lacks a truly memorable song (or two).
---
BWW Review: FAITHFUL CHEATERS at Trinity Repertory Company

April 27, 2017

FAITHFUL CHEATERS is a zany, fast-paced, did I say zany already,well-acted farce. Zany.
---
BWW Recommends ART: It's Good for Ya!

April 25, 2017

'ART' has come to Rhode Island in a very entertaing production. Hey, what is art, and why are your friends your friends?
---
BWW Review: LEND ME A TENOR a Little Off Key at Rhode Island Stage Ensemble

April 9, 2017

Some good things, some not quite so good things going on in Woonsocket.
---
BWW Review: Willy Russell's SHIRLEY VALENTINE Comes to 2nd Story Theatre

March 14, 2017

Willy Russell's SHIRLEY VALENTINE is running right now at 2nd Story Theatre in Warren, and I advise you to call them at once to purchase a ticket and them come back and finish reading my review. This is the second trip to Russell-Land for director Mark Peckham and 2nd Story; last year they scored with EDUCATING RITA. I think they're on to something. This time Russell has created the circumstance of a housewife, who, feeling shortchanged by life, has the chance to travel to Greece and see what more there might be.
---
BWW Review: Very Silly but Funny MURDER AT THE HOWARD JOHNSON'S at 2ND STORY THEATRE

February 19, 2017

2nd Story Theatre in Warren is currently offering Sam Bobrick and Ron Clark's 1979 classic MURDER AT THE HOWARD JOHNSON'S. Did I say classic? What I meant was a shallow, pithy, superficial, farcical, and light-weight comedy. Bobrick and Clarke cut their teeth writing tv comedy for some of the smartest television of all time like The Smothers Brothers Comedy Hour, The Dick Van Dyke Show and The Steve Allen Show. (Look these up if you have to.) This is a comedy about murder and infidelity-now who couldn't like that? 2nd Story says they were shooting for 'a pain-reducing balm' to what we've been experiencing the past months, and I think they more or less delivered. The audience was laughing and, my God, needed it.
---
BWW Review: BORN YESTERDAY at Ocean State Theatre Company is Scary/Funny

January 28, 2017

On opening night, Garson Kanin's BORN YESTERDAY had 'em rolling in the aisles at the Ocean State Theatre Company (OSTC) in Warwick. Actually, the first act had 'em rolling in the aisles; the second act had 'em marching in the streets.
---
BWW Review: See SEACAPE at 2ND STORY THEATRE

January 18, 2017

SEASCAPE, Edward Albee's 1975 Pulitzer Prize-winning comic-drama is getting a very entertaining production at Warren's 2nd Story Theatre. SEASCAPE is a quirky, compelling examination of the meaning of life, how we got, and where we go, from here. On a deserted beach, an older couple (Ed Shea and Susan Bowen Powers) encounters two humanesque sea creatures (Valerie Westgate and Charles Lafond) contemplating the evolutionary leap to dry land. Ironically, it's the human couple, for whom existence has grown flat and routine, who holds the answers to the inquisitive amphibians' naive yet probing questions, which in turn helps the humans answer their own. If I have neglected to say so thus far, this thing is hilarious.
---
BWW Review: Love PRELUDE TO A KISS at 2nd Story Theatre

November 25, 2016

With PRELUDE TO A KISS, the current offering at 2nd Story Theatre in Warren, RI, playwright Craig Lucas came up with a realistically magical take on the Hollywood formula, boy-meets-girl, boy-loses-girl, boy-gets-girl back. Apparently this theme predates even Hollywood: on the way home from the theater I listened to Monteverdi's seventeenth century opera, L'Orfeo, based on the even older story of Orpheus, in which boy-meets-girl, boy-loses-girl, but oops. In this PRELUDE TO A KISS, which 2nd Story bills as a modern day fairy tale, elderly 'wedding crasher' (F. William Oakes) kisses the bride, Rita, (Lara Hakeem) and their souls exchange, which turns a perfect wedding into a white-knuckled flight of doubt and regret. All this leaves the brave but bewildered groom, Peter, (David Sackel) to reverse the curse armed only with the power of love and, eventually, the assistance of the persona-switched bride and crasher. Got all that?
---
BWW Review: FRANKIE AND JOHNNY IN THE CLAIRE DE LUNE at 2nd Story Theatre

October 28, 2016

First of all, I was supposed to write a review last month of Charles Morey's adaptation THE LADIES MAN by Georges Feydeau. Unfortunately, the elevator was out of service and, since I get around in a wheelchair, so was I. I finally got to see it the night it closed; It was the night of the full Hunter's Moon, and Warren was hopping-every restaurant we passed was packed. My wife and I had a light dinner around the corner from the theater at the Square Peg. The joint was jumping and deservedly so. Then it was on to THE LADIES MAN, and it was a hoot; Ed Shea was hilarious; the whole production rocked. I still laugh once in a while at some of the goings on.
---
BWW Reviews: THE SUNSHINE BOYS at 2ND STORY THEATRE
August 8, 2016
---