Larry O'Brien - Page
Larry O'Brien has been a fan of live theater for fifty years since he saw his first live production, A Streetcar Named Desire, at the Trinity Square Repertory Company. He served as a volunteer usher at Trinity for over twenty years and as President of the Board of Directors at the late, lamented Wickenden Gate and Newgate theaters. He has written reviews for the Rhode Island College Anchor and the Arthur miller Journal. While he enjoys what Trinity and PPAC have to offer, he is a big fan of the small theater scene one finds in Rhode Island. He earned his Masters from Rhode Island College and is ready to roll!
MOST POPULAR ARTICLES
LAST 30 DAYS
LAST 365 DAYS
BWW Review: A CHRISTMAS CAROL Sings at TRINITY REP
Posted: Nov. 15, 2019


Trinity REP Scores a Hole-in-One with August Wilson's RADIO GOLF
Posted: Feb. 5, 2020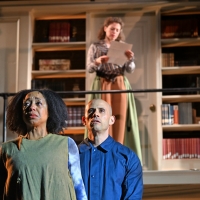 Justice Done to Dickens A TALE OF TWO CITIES at Trinity Rep
Posted: Feb. 26, 2020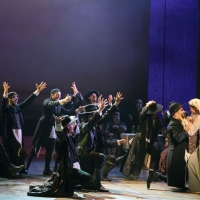 BWW Review: FIDDLER ON THE ROOF at Providence Performing Arts Center. Don't Miss It!
Posted: Feb. 12, 2020


Justice Done to Dickens A TALE OF TWO CITIES at Trinity Rep

February 26, 2020

When you get seated inside the Chace Theater at Trinity Rep, you might think you're in the wrong place. Eugene Lee's set for A TALE OF TWO CITIES, written by Brian McEleny and based on Dickens' novel, looks like a library. Stacks and stacks of books on two levels set behind rows of tables. When Christopher Sadlers and Joel Thibodeau enter alone to perform a musical introduction, you might still be confused. Check your program; you're in the right place. Not until the actors appear and begin intoning 'It was the best of times, it was the worst of times . . .,' are you totally certain. It's a roundabout trip, but A TALE OF TWO CITIES ends up where it needs to be.
---
BWW Review: FIDDLER ON THE ROOF at Providence Performing Arts Center. Don't Miss It!

February 12, 2020

There are times when being a theater reviewer is a fabulous gig. Last night at the Providence Performing Arts Center was one of those times. FIDDLER ON THE ROOF, running through Sunday at PPAC is not to be missed. It is warm, funny, sad, uplifting, and helps us see the world from the vantage point of the oppressed-it is gorgeous. First, let's give credit to FIDDLER'S creators: Jerry Bock wrote the music, Sheldon Harnick the lyrics, and Joseph Stein the book. Bock and Harnick had previously collaborated on the Tony and Pulitzer Prize winner Fiorello; Stein had been part of the writing team along with Woody Allen, Mel Brooks, Carl Reiner and Neil Simon on television's Your Show on Shows-these were some talented guys. The original Broadway production of the show, which opened in 1964, had the first musical theatre run in history to surpass 3,000 performances. It held the record for the longest running Broadway musical for almost ten years. The production was extraordinarily profitable and highly acclaimed. It won nine Tony awards, including best musical, score, book, direction and choreography. It spawned five Broadway revivals and a highly successful film adaptation and has enjoyed enduring international popularity.
---
Trinity REP Scores a Hole-in-One with August Wilson's RADIO GOLF

February 5, 2020

Some shows seek to entertain; think the first act of George Bernard Shaw's Pygmalion. Some seek to inform; think the second act of George Bernard Shaw's Pygmalion. What director Jude Sandy has come up with in this amazing production of August Wilson's RADIO GOLF is a play that is both wildly entertaining and yet manages to grapple with the most serious conflicts of our time. RADIO GOLF is both powerful and hilarious, often at the same time. It's running time is over two hours and forty-five minutes, but, trust me, you'll never glance at your watch.
---
BWW Review: A CHRISTMAS CAROL Sings at TRINITY REP

November 15, 2019

First of all, I am a sucker for Dickens' A CHRISTMAS CAROL. I like the Alistair Sim version that you might find close to the holiday. I like the Bill Murray version, Scrooged, set in the present day in the television industry. I like the Muppets' Christmas Carol. How many of you have seen Mr. Magoo's Christmas Carol? I thought so. I really have a warm spot in my heart for the adaptations Trinity Rep has produced over the years. You can still hear occasional snatches of music from the Adrian Hall/ Richard Cummings version in this year's production, but what remains is the bones: the simple, moving story of the reclamation and transformation of a wretched, miserable old man.
---
BWW Review: THE BOOK OF MORMON at Providence Performing Arts Center

April 25, 2019

THE BOOK OF MORMON, which is running for one week at the Providence Performing Arts Center until April 28th, follows two Mormon Missionaries as they attempt to preach the Mormon religion to the inhabitants of a remote Ugandan village. The earnest young men are challenged by the lack of interest of the locals, who are distracted by more pressing issues such as AIDS, famine and oppression from the village warlords. The play makes light of various Mormon beliefs and practices, but ultimately endorses the positive power of love and service, while at the same time being the raunchiest play I have ever seen, while at the same time being one of the most entertaining shows I have ever seen. The script, lyrics, and music were written by Trey Parker, Robert Lopez and Matt Stone. Parker and Stone were best known for creating the animated comedy South Park. Lopez had co-written the music for the musical Avenue Q. These three have created a deeply offensive, great night of theater.
---
BWW Review: Poetry in Motion: FROM BACH TO BOWIE at Providence Performing Arts Center

April 22, 2019

Your intrepid reviewer headed off last Wednesday night to the Providence Performing arts Center (PPAC) for the Complexions Contemporary Ballet's performance of FROM BACH TO BOWIE, part of the FirstWorks Artistic Icons Series. The first half of the New York dance troupe's performance featured 'Bach 25,' a fusion of contemporary dance and ballet technique performed to the music of Johann Sebastian Bach. The second part was 'Stardust,' which turns an assortment of Bowie's hits into a rock-inspired ballet to honor him. Songs such as Lazarus,' 'Heroes,' 'Young Americans,' 'Life On Mars' and 'Let's Dance' were featured. So, full disclosure, I am vastly unqualified to write a review about Bach, Bowie or dance. Now that we understand each other, here goes.
---
BWW Review: Go at Once to See STOMP at Providence Performing Arts Center

April 13, 2019

First of all, STOMP at the Providence Performing Arts Center (PPAC)is a complete hoot! I cannot remember anything I've ever seen that was more fun, more energetic, or more original. It's a totally non-verbal performance combining dance and percussion. The cast of eight performers make music out of everything from matchbooks, to cigarette lighters to, literally, the kitchen sink. In studio art, 'found art' is making art out of whatever you might find anywhere, even a junkyard; STOMP is the found art of the stage. The performers start making music with brooms and end up with a percussive symphony on plastic and metal garbage cans. It is an amazing show. How do you find performers like these? Do you look for dancers who can play drums or drummers who can dance? Whatever, these eight took the crowd on a rousing one hour and forty-five-minute trip way out past our expectations. STOMP has some very funny moments, particularly in the audience participation segments and in the nerdy buffoonery of Joe White's character. This is a very kid friendly show-there were tons of kids in last night's audience, and they all seemed to be having as much fun as the adults.
---
BWW Review: BLACK VIOLIN: CLASSICAL BOOM TOUR at Veterans Auditorium--O My!

April 8, 2019

What a great show!
---
BWW Review: THE MARRIED NAME at Counter-Productions Theatre

March 21, 2019

Counter-Productions Theatre Company is presenting the world premiere of Kevin Broccoli's THE MARRIED NAME this weekend at AS 220's Black Box Theatre, 95 Empire St in Downtown Providence. Broccoli is a very talented actor, playwright, and artistic director of Epic Theatre in Cranston. In an uninterrupted hour and twenty minutes, THE MARRIED NAME deals with four men getting together for dinner a short time before the wedding of two of them. Rex and Dan are planning this wedding and encountering problems that probably should have been dealt with earlier. Kevin Broccoli can write funny.
---
BWW Review: Aah! MIRRORS at Festival Ballet Providence

February 25, 2019

This weekend at Veterans Memorial Auditorium, the Festival Ballet Providence danced MIRRORS, which is really three short modern ballets- 1934's 'Serenade' with music by Tchaikovsky and choreography by George Ballentine; 'Coma' with music by Arvo Part and choreography by Viktor Plotnikov from 2007; and 'Smoke and Mirrors' from 2016 with music by Lucas Vidal and choreography by Yury Yanowsky. Right now, my spell check is going crazy. 'The concept of reflection inspired this program,' said Mihailo (Misha) Djuric, Artistic Director of FBP, adding, 'Each ballet highlights the dynamic nature of contemporary choreography. By combining these three different pieces, we hope to introduce new audiences to the emotional and transformative power of dance.' When Festival Ballet performs, pay attention-it's a limited time offer.
---
BWW Review: THOM PAIN (BASED ON NOTHING) at THE BURBAGE THEATRE--O MY!
January 27, 2019
---
BWW Review: LAKE STREET DIVE: FREE YOURSELF UP at Veterans Auditorium

November 15, 2018

Sunday evening your intrepid correspondent headed to Veterans Auditorium to catch a band called LAKE STREET DIVE. I had seen the group perform on Colbert twice and thought, 'Well, that's pretty interesting.' So when I heard they were coming to the Veterans Auditorium in Providence, I decided to go. The last time I went to a 'rock' concert was probably Country Joe and the Fish at Rhodes on the Pawtuxet in the early seventies. I went to Woodstock but do not remember much about it. If you are of a certain age and decide to go to a concert these days, be forewarned-the protocol has changed. No more waiting two hours for The Lovin' Spoonful to show up, nosiree. The concert was scheduled to start at seven and went off at seven. My wife and I wondered where everyone was; it turns out at least half the audience skipped the opening act, and the place didn't fill up until the headliners showed up at eight. I was not disappointed by this concert-they had the sold out house with them from jump street.
---
BWW Review: New Life: PILOBOLUS: BRANCHES at Veterans Auditorium

October 30, 2018

In the interest of full disclosure, what I know about modern dance could fit in a thimble. In addition, I am a Boston Red Sox fan of the first magnitude, back to the days of Ted Williams and Carl Yastrzemski. So what was I doing out at Veterans Auditorium on a Friday night when game three of the World Series was about to begin? Well, I, along with about 2000 other similarly misdirected souls, was out to cover a modern dance performance by a group called Pilobolus put on by FirstWorks. I am really happy I went. It was a mind-blowing show, which combined the strength of David Ortiz, the grace and speed of Mookie Betts and the trickery of a Tim Wakefield knuckleball; and when I got home, the ballgame still had four-and-a-half hours to go!
---
Uneven SOCIAL SECURITY at The Community Players

September 21, 2018

To open their ninety-eighth season, the Community Players is offering SOCIAL SECURITY by Andrew Bergman at Jenks Auditorium in Pawtucket. The play has an excellent pedigree. After twenty-six previews, the Broadway production, directed by Mike Nichols, opened on April 17, 1986 and ran for 388 performances. Not chopped liver. And New York magazine in 1985 dubbed playwright Andrew Bergman 'The Unknown King of Comedy,'. His best known films include Blazing Saddles, The In-Laws, and The Freshman. Again, not chopped liver.
---
Get Out of the House. Go See MUCH ADO ABOUT NOTHING in the Park!

August 7, 2018

Out of almost nothing, Head Trick has made something out of MUCH ADO ABOUT NOTHING at Roger Williams National Park.
---
BWW REVIEW: AS YOU LIKE IT at the GAMM THEATRE is a Blue Thumbs Up

April 24, 2018

The Gamm Theatre closes its fifteen year run in Pawtucket with Shakespeare's AS YOU LIKE IT, so it was with mixed emotions that I turned right onto Exchange St. last Saturday, for the last time to be squeezed into the lyric, little bandbox of a theater. Fear not, theatergoers, they're not going away, just going to Warwick, where I trust they will continue to produce some of the most entertaining, interesting and thought provoking theater you can find. They chose to go out with Shakespeare and once again have found a new way to look at a play and led us to a new way to look at reality. It's what they do there.
---
BWW Previews: LE DERNIER REPAS: A LOVE STORY at Counter-Productions Theatre Company

March 23, 2018

Otto Von Bismark once advised anyone who enjoyed sausage or legislation to avoid seeing how they are made. From first hand experience, I can report that this warning does not apply to the theater. I sat in on a rehearsal of Counter- Productions Theatre Company's upcoming offering, the world premiere
---
BWW Review: BEAUTIFUL: THE CAROLE KING MUSICAL at Providence Performing Arts Center

March 2, 2018

BEAUTIFUL: THE CAROLE KING MUSICAL playing right now at the Providence Performing Arts Center (PPAC) is the most jukebox of juke box musicals. With a book by Douglas McGrath, it tells the story of King's life and career using songs that she wrote, often together wither sometimes partner and spouse Gerry Goffin, and other contemporary songs by Barry Mann and Cynthia Weil, Phil Spector and others. What makes it the 'most juke box?' In a play that runs two and a half hours (including intermission), the very talented cast performs over twenty-five songs. Why so many songs? It's a play about songwriters whose best friends are songwriters, who among them wrote some of the most popular songs of the sixties and seventies. With so many songs to cover, McGrath let the music carry the first act and left the story of King's metamorphosis from composer to singer songwriter to Act 2. Somebody is doing something right because BEAUTIFUL opened on Broadway in January of 2014 and has been running ever since. This stop in Providence is the second in our fair city since it went on tour in 2015. As near as I could tell, everybody present had a helluva time last night.
---
BWW Review: S'Wonderful - AMERICAN RHAPSODY: THE GERSHWIN SONGBOOK at Veterans Auditorium

February 28, 2018

In addition to seeing some wonderful performance, the great things about wring reviews are that you to get to think, learn, and write. So it was with last Thursday's Firstworks production of AMERICAN RHAPSODY: THE GERSHWIN SONGBOOK with Michael Andrew, Michelle Amato and seventeen piece Gershwin Big Band before a nearly full-house at Veterans Auditorium in Providence. The music was fabulous and I have been thinking about it and the Gershwins ever since.
---
BWW Review: TWELFTH NIGHT, OR WHAT YOU WILL at Burbage Theatre

February 26, 2018

The Burbage Theatre continues its inaugural season in its new home at 249 Roosevelt Ave. in Pawtucket with a raucous production of Shakespeare's TWELFTH NIIGHT, OR WHAT YOU WILL. Harold Bloom has called TWELFTH NIGHT 'the funniest of all Shakespeare's plays.' While I'm not sure Bloom is a reliable guide to comedy, the mostly youthful Burbage cast has managed to fully mine the humor in this piece. 'We're eager to bring (TWELFTH NIGHT) to life, and we've got the team to do it,' said director Jeff Church, who is also Artistic Director at the Burbage.
---