BWW Review: THOM PAIN (BASED ON NOTHING) at THE BURBAGE THEATRE--O MY!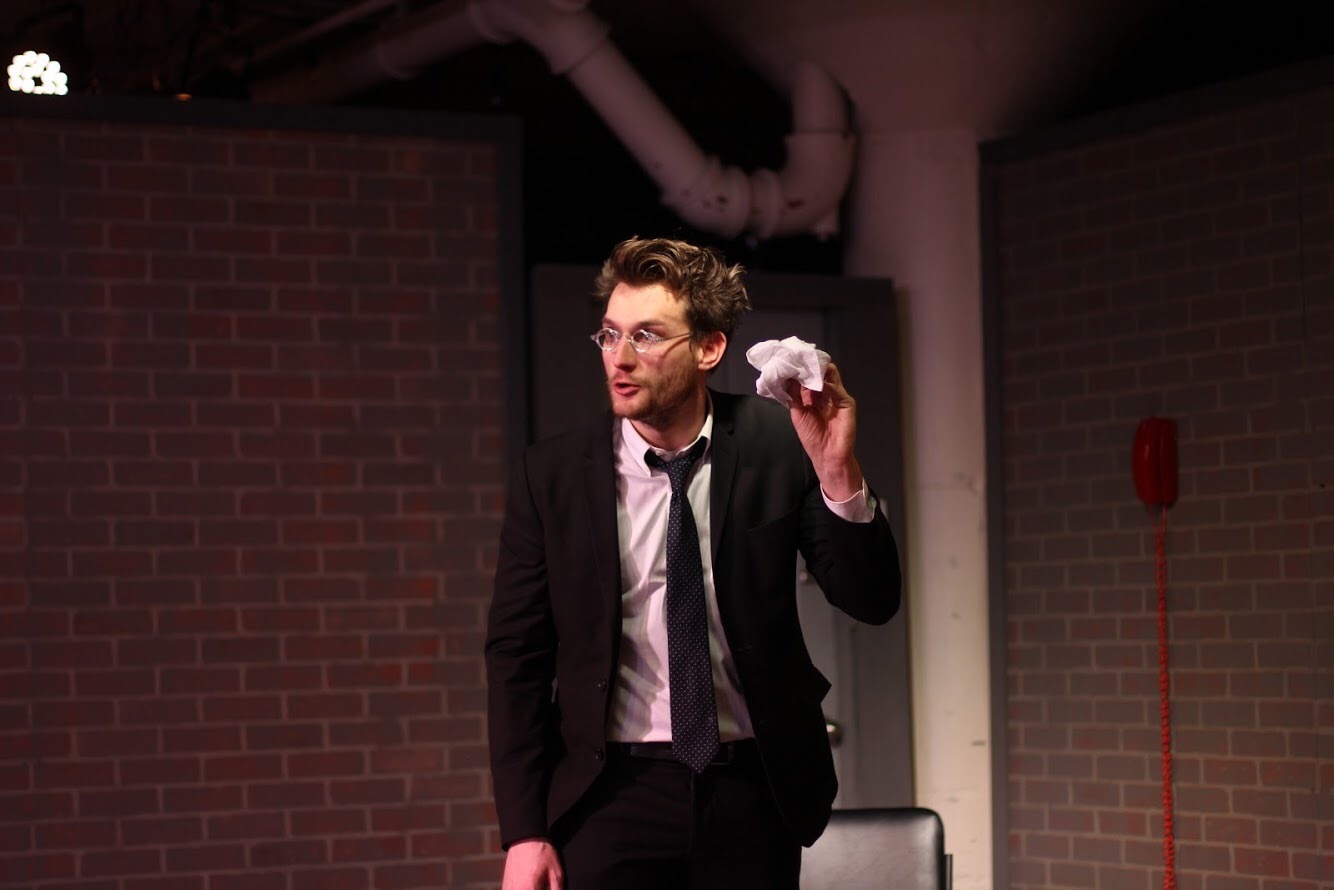 I saw THOM PAIN (BASED ON NOTHING) by Will Eno at the Burbage Theatre in Pawtucket last Friday night and have been thinking about it ever since. t's a monologue that runs for a little over an hour and gives Jeff Church a chance to display his considerable talent. This is very challenging, absurdist theater which rises and falls on the ability of the actor to engage the audience in the absence of what you might call a story line or even sequential events. It is very much like a dream in that it does not make strict sense, either as it's happening to the dreamer or in the retelling. What a challenging piece this is for an actor! Playing only off the audience, Church has to become completely invested in the hairpin turns and sudden reversals in mood and demeanor THOM PAN requires, and he has to persuade the audience to invest with him. Dressed in a black suit, his hair a mess, and wearing a pair of the oddest little eyeglasses you have ever seen, Church is very much an open wound on stage-at once totally in and totally out of control. The only props are some matches he cannot light with their accompanying cigarettes, his snot-rag, a dictionary and a chair. The chair is set in a corner where two broken walls meet. They might belong to This s Our Youth, which is running in repertory with THOM PAN, although anything broken would seem to lend itself to the goings on here.
Thom Pain (based on nothinG) was a finalist for the 2005 Pulitzer Prize for drama, which was won by Doubt, A Parable by John Patrick Shanley. Those juxtaposition two works highlights what THOM PAIN is about. Doubt has a narrative, good guys and bad guys, a beginning, a middle and an end; THOM PAIN has only the single character lost in a dream trying to make sense of it all. Come to think of it, I'd like to see Meryl Streep play THOM PAIN.
THOM PAIN (BASED ON NOTHING) has an interesting history. It started as a reading at the Soho Theatre in London and was then performed at the Edinburgh Fringe Festival in 2004. The play next opened in London at the Soho Theatre. It premiered in the United States Off- Broadway at the DR2 Theatre on February 1, 2005 and closed on September 4, 2005. Stateside, the original production starred James Urbniak and was directed by Hal Brooks. Urbaniak was nominated for the Drama Desk Award for Outstanding Solo Performance for his work. The play was revived at the Off-Broadway Signature Theatre Company for a five-week run starring Michael C. Hall (of Dexter fame). The play has been translated into over a dozen languages, and since 2005 has been produced regularly around the U.S. and the world. Some notable American productions have been presented at Seattle Rep, the Dallas Theater Center, Theatre Wit, Hyde Park Theatre, and Actor's Express, and now the Burbage.
The Burbage Theatre is located at 249 Roosevelt Ave., Pawtucket, Rhode Island. A word of warning: it is very easy to drive past the opening to the parking lot; the entrance is only a hundred yards or so from Exchange St. Tickets prices run from $15 - 25 and are available at www.Burbagetheatre.org or by calling the box office at (401) 484-0355. The Burbage is an accessible space (through a garage door with an impromptu tour of the backstage area) with accessible bathrooms. THOM PAIN (BASED ON NOTHING) runs in repertory with This is Our youth until February 24th. You got twenty-five bucks? Go see it.
PHOTO BY GABRIELLE MCCAULEY