Felicitas de la Fare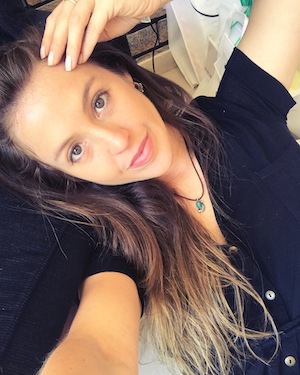 Felicitas is a writer, blogger, and educator from Buenos Aires, Argentina where she teaches technique, repertoire, and vocal styles in pop, rock, and music theatre. As a performing artist, Felicitas has sung lead roles in musical productions and was a member of an Argentinian pop/rock band which performed professionally throughout her native country, and opened for major label acts such as Demi Lovato and the Jonas Brothers. Felicitas maintains a business in Buenos Aires which works regularly with young performing artists in South and North America and facilitates trips to New York City, where they study dance, singing, and acting with Broadway industry professionals. She holds a degree from Catholic University of Argentina.
¨TÍA MALVINA¨ del Ciclo LA LENGUA TE MUESTRA por Facebook Live. No te la pierdas!!!

September 23, 2020

En tiempos de conexiones virtuales, el teatro sigue presente con ¨Tía Malvina¨del ciclo La Lengua te Muestra.
---
BWW Previews: LO QUIERO YA at Cuchame Theatre Co

August 22, 2020

El sábado 22 de Agosto, Cuchame Theater Co va a estar presentando la obra teatral ¨Lo Quiero Ya¨ a través de Youtube Live combinando distintos elencos de Latino-America y entrevistas exclusivas con varios de sus protagonistas
---
BWW Previews: FULL-VOICE ONLINE at NYC&Argentina, To The World!

April 28, 2020

Artistas de Broadway junto con entrenadores profesionales de la industria musical de NY y un grupo de instructores Argentinos estarán ofreciendo entrenamiento online como parte de la academia Neoyorquina Full-Voice Online comenzando el 4 de Mayo.
---
BWW Previews: CICLO DE LECTURAS VIRTUALES: Histerias de una Noche de Cuchame Theatre Co.

April 21, 2020

En el marco de la situación tan excepcional que estamos atravesando como sociedad y en donde el aislamiento social es prescindible para cuidarnos entre todos; la compañía Cuchame Theatre Co. decidió crear un a?oeCiclo de lecturas virtualesa?? .
---
BWW Feature: Argentinian composer Martina liviero wins the ASCAP, HERB ALPERT YOUNG JAZZ COMPOSER AWARD

February 11, 2020

The multiple award winner composer, created and leads her own ensemble in New York City. She has just turned to be the first national musician to receive the prestigious ASCAP Herb Alpert Young Jazz Composer Award.
---
BWW Review: HAY ALGUIEN QUE NOS ODIA at Teatro El Grito

November 20, 2019

Hay alguien que nos odia, is a story about a lesbian couple who moves from Buenos Aires to Brazil and instead of becoming a great experience for them, it becomes a nightmare. The girls are not only victims of their cultural differences (one is Argentinian and the other one Brazilian), but also have to face being discriminated by their homophobic neighbors, situation that becomes harder and more scary each day.
---
BWW Review: FOREVER YOUNG at Picadero

November 12, 2019

FOREVER YOUNG is a hilarious, tender and intelligent musical for a?oeyoung peoplea?? of any age; with the songs and musical hymns of the 70's, 80's and 90's that are already part of our DNA
---
BWW Previews: EL CURIOSO INCIDENTE DEL PERRO A MEDIANOCHE at Maipo Theater

October 16, 2019

The multi-award-winning play by Simon Stephens 'The curious incident of the dog in the night-time', based on the bestseller by Mark Haddon, arrives at the Maipo Theater in Buenos Aires as a production of The Stage Company and with the highest quality technologic setting
---
Argentinian Cast in IT'S A WOMAN THING at Hudson Guild Theatre

July 15, 2019

'It's a Woman thing (The story of a friendship)', obra que se presentara el proximo mes de Julio del 2019 los dias 15, 17 y 20 en el Hudson Guild Theatre.
---
BWW Review: LO QUIERO YA at Galpón De Guevara

May 2, 2019

Lo Quiero Ya (I want it Now) is an Argentinian musical about young people and modern life in Buenos Aires
---
BWW Previews: CAMARERA (WAITRESS) at Metropolitan Sura

April 23, 2019

Last Wednesday it was the opening of CAMARERA ( Waitress) in Buenos Aires. Camarera is a very optimistic Musical that celebrates friendship, motherhood, women empowerment  and why not, how to bake a great pie!
---
BWW Review: REGIONAL AWARDS & ARGENTINIAN STAGES in Argentina

February 28, 2019

At the end of last year, BroadwayWorld.com announced the winners for the 2018 BroadwayWorld Argentina Awards. Regional productions, touring shows, and more were all included in the awards, honoring productions which opened between October 1st, 2017 through September 30th, 2018. In 2018 the BroadwayWorld Regional Awards were bigger and better than ever, including over 100 cities across America, Canada, Central and South America, Europe, and Asia!
---
INTENSIVE BROADWAY VISION workshop in Mar Del Plata, Argentina

December 4, 2018

On January 5th and 6th,  2019, Mar del Plata will host the artists Jesica Terry and Valeria Llaneza who will be coaching the "Intensive Broadway Vision" workshop. 
---
AMDA SCHOLARSHIP AUDITIONS In Buenos Aires, October 6th

September 20, 2018

AMDA SCHOLARSHIP AUDITIONS In Buenos Aires, October 6th
---
Emilia Attias, the Famous Argentinian Performer, Traveled to NYC and Took Classes at BDC

August 30, 2018

Argentinian actress Emilia Attias, traveled to the big apple with the TV program 'Chicas en NY¨ (Girls in NY ); the show will be broadcast this upcoming weekend.
---
AMDA AUDITIONS in Buenos Aires Coming 10/6

June 11, 2018

Auditions in Buenos Aires will be on Saturday October 6th at 10 am.  All performers who audition, and who are accepted, are awarded scholarships to AMDA ranging from $1000 to $15, 000 per year of study. A monologue and a song are required for the audition. 
---
BWW Review: ALICE RIPLEY FROM BROADWAY TO Teatro Astral

April 6, 2018

Alice Ripley visited Argentina, not only she gave an amazing masterclass, she also performed as Diana in Next to Normal Argentina.
---
BWW Review: CASI NORMALES 7TH SEASON at Astral Theater

March 13, 2018

In 2012 Casi Normales premiered at Teatro Liceo with a group of super talented argentinian performers like Laura conforte, Fernando Dente and Mariano Chiesa. After 5 years of successful productions in Argentina, and also collaborations with the original cast from broadway and Spain, in 2018 Casi Normales came back to the tabloids on its 7th season here in Buenos Aires. in this oportunity with the incorporations of Franco Masini as Henri, Natalie's boyfriend. Natalie is played by Manuela del Campo who has own this role for the last couple productions.
---
BWW Review: FLOR&TRIPA, ARGENTINIAN MUSICAL THEATER ARTISTS PERFORMING IN NYC

February 19, 2018

Florencia Otero and German 'Tripa' Tripel visited NYC and made their dream come true: get to know the city and perform at different venues.
---
NEXT TO CASI NORMALES at Recording Studio

December 13, 2017

Members from the original casts of Next to Normal and Casi Normales got together in New York City for the special recording of one of the main songs of the show.
---