Carla Maria Verdino-Süllwold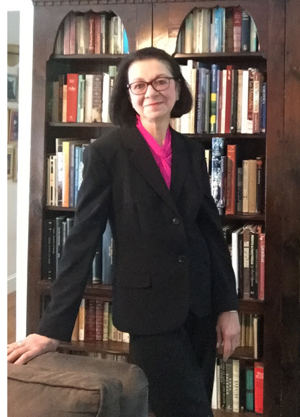 Born and raised in the metropolitan New York area, Carla Maria Verdino-Süllwold took her degrees at Sarah Lawrence College and Fairleigh Dickinson University. She began her career as a teacher and arts administrator before becoming a journalist, critic, and author. In addition to contributing to Broadway World, her theatre, film, music and visual arts reviews and features have appeared in Fanfare Magazine, Scene 4 Magazine, Talkin' Broadway, Opera News, Gramophone, Opéra International, Opera, Music Magazine, Beaux Arts, and The Crisis, and her byline has headed numerous program essays and record liner notes. Among her scholarly works, the best known is We Need A Hero! Heldentenors from Wagner's Time to the Present: A Critical History. She helped to create several television projects, serving as associate producer and content consultant/writer, among them I Hear America Singing for WNET/PBS and Voices of the Heart: Stephen Fosterfor German television. Her first novel, Raising Rufus: A Maine Love Story appeared in 2010. Her screenplay version of the book was the 2011 Grand Prize Winner at the Rhode Island International Film Festival. She is also the author of a second novel, The Whaler's bride, and three collections of short stories, BOOKENDS Stories of Love, Loss, and Renewal, CAROUSEL, and ROUND TRIP. Ms. Verdino-Süllwold now makes her home in Brunswick, Maine, with her Newfoundland dog, Mariah's Storrm.
MOST POPULAR ARTICLES
LAST 30 DAYS
LAST 365 DAYS
Good Theater Celebrates 20th Anniversary with Ambitious and Affecting CAROUSEL

November 17, 2022

The current production of Rodgers & Hammerstein's CAROUSEL at the Good Theater represents the realization of a lifelong dream for Executive/Artistic Director Brian P. Allen, and the show that he has conceived and directed is both ambitious and genuinely affecting. Marshalling all the resources that this small company can command, Allen has created a chamber version of this 1945 masterpiece that preserves the heart of the tale and pays homage to what is arguably Rodgers & Hammerstein finest score.
---
Review: THE VICTORIAN LADIES DETECTIVE COLLECTIVE Confronts Convention, Gender Bias - and a Serial Killer

November 7, 2022

The Public Theatre's production of Patricia Milton's THE VICTORIAN LADIES DETECTIVE COLLECTIVE is a witty, sophisticated, clever examination of late Victorian mores, skillfully embedded with subtle feminist rhetoric, and all encased in the classic mystery thriller format. Add to this recipe a handful of zany, colorful characters and some facile repartee, and the end result is a delightfully period piece with a compelling contemporary twist.
---
Review: The Ever-Elusive SHERLOCK HOLMES at Portland Stage

October 31, 2022

For its second offering of the season Portland Stage regales its audience with Steven Dietz's adaptation of William Gillette and Sir Arthur Conan Doyle's original play, Sherlock Holmes: The Final Adventure. The play, a re-imagined period piece, offers a low-key, witty take on the familiar characters and material with enough twists and turns to satisfy Conan Doyle fans.
---
MSMT Draws Large Crowd for Concert on the Mall

August 25, 2022

What better way to cap what has been billed as MSMT's Revival Season than with a free, festive outdoor event that, despite intermittent showers, drew a large, enthusiastic crowd? That is exactly what MSMT did on August 24 when it presented its annual MSMT Concert on the Mall as part of the Brunswick Downtown Association's summer series. In a program designed to thank the community for its loyal support of the theatre, especially during the pandemic, the seventy-five-minute concert featured performers from the company's current main stage show, KINKY BOOTS, as well as other local artists in a rousing and engaging program of musical theatre selections.
---
Resilience, Acceptance, and Change: The Healing Lessons in KINKY BOOTS

August 20, 2022

"Lola gains her strength from her resilience," says Stephane Duret, who plays the drag queen star of MSMT's KINKY BOOTS. "Sometimes she feels like an island, alone in this world she has created. But she survives. She's got her Angels for support, her chosen family, and even when she gets a little slap in the face from Charlie, she comes back to their partnership. That's her resilience." "And Lola challenges others to be accepting and to change their perspective," continues MSMT Artistic Director Curt Dale Clark. "I consider it important for MSMT to present something that can cause change in a community, and this show with Stephane's and the entire cast's unbelievable performances is doing just that!" His remarks draw applause from the capacity audience at MSMT's final Peek Behind the Curtain panel discussion, moderated by Carla Maria Verdino-Süllwold, BWW's Maine editor, on August 17 at Curtis Memorial Library in Brunswick.
---
Review: Bold, Big-Hearted Celebration of Friendship: MSMT's KINKY BOOTS

August 12, 2022

With its bold, brilliant, sassy, urbanely funny, and warmly heartfelt production of KINKY BOOTS, Maine State Music Theatre has chosen the perfect vehicle to close its main stage season. The irresistible musical by Harvey Fierstein and Cyndi Lauper is given a spectacular, big-hearted production that pulls out all the stops and showcases MSMT at its Broadway best.
---
Hand Clapping, Heart Pumping, Soul Singing: MSMT & Portland Stage Present SMOKE ON THE MOUNTAIN

August 6, 2022

Hand Clapping, Heart Pumping, Soul Singing: MSMT & Portland Stage Present SMOKE ON THE MOUNTAIN
---
Interview: An Unlikely and Inspiring Friendship - Matt Farcher and Stephane Duret Discuss MSMT's Upcoming KINKY BOOTS

August 4, 2022

Both Duret and Farcher are currently in Brunswick preparing for the run of Maine State Music Theatre's last main stage production of the season beginning on August 10: Harvey Fierstein/Cyndi Lauper's KINKY BOOTS, a show they have each performed before.
---
The Man in Black Returns: Scott Moreau in DARLIN' COMPANION at MSMT

August 1, 2022

Audience favorite and native son, Scott Moreau returns to MSMT to close out the theatre's 2022 concert series with a new, engaging musical tribute celebrating Johnny Cash and his wife, June Carter Cash, performed by Allison Kelly. Conceived by Moreau and featuring twenty-five songs and duets that the couple made famous, DARLIN' COMPANION (presented by ShowTunes Productions) is a musical feast with a compelling narrative thread.
---
Interview: Talking THE COLOR PURPLE: A Spiritual Journey

July 29, 2022

Something extraordinary has happened in Brunswick, Maine, this summer. Maine State Music Theatre's production of THE COLOR PURPLE has taken this tiny New England town by storm, telling a story that has shaken and uplifted an entire community, inspired by its truth, beauty, and sheer joyousness.
---
Review: Sherwood Forest's Merry People Retell Tale of ROBIN HOOD at MSMT

July 25, 2022

Maine State Music Theatre celebrates the world premiere of a new children's musical, THE VERY FRACTURED TALE OF ROBIN HOOD by Randall Frizado in a clever, funny, upbeat, contemporary retelling of the Howard Pyle folktale about the legendary outlaw who robbed the rich to pay the poor in 12th century England. Helping to develop this title from script to the stage, MSMT has made a valuable contribution to the canon of children's musical theatre, while reacquainting a new generation of youngsters with colorful characters in the source material.
---
Review: Brilliant and Beautiful: MSMT Stands Tall with THE COLOR PURPLE

July 21, 2022

For its third 2022 main stage production, Maine State Music Theatre has mounted a brilliant, beautiful, authentic, and heartwarming staging of the musical adaptation of Alice Walker's epistolary novel, THE COLOR PURPLE. This epic story chronicles the journeys of its complex characters through hardship and pain to hope and healing. Inspirational and uplifting, it is a tale of resilience, redemption, and love, that speaks with powerful universality, and in this stunning production, directed by E. Faye Butler, it becomes one of those unforgettable, transformative moments in the theatre.
---
Sisters: Tavia Rivée and Jaden Dominique Rehearse MSMT's THE COLOR PURPLE

July 15, 2022

"We have been fortunate right away that there felt like a sisterly energy between the two of us," says Tavia Rivée, who plays Nettie in Maine State Music Theatre's new production of THE COLOR PURPLE. Rivée is talking about her co-star, Jaden Dominique, who plays the show's protagonist, Celie. Dominique seconds these sentiments, saying she has felt that connection from the very beginning and being able to share housing with her colleague during the rehearsal period "has strengthened that bond."
---
Big, Bold, and Vibrant, CLASSIC ROCK Showcases Rock n' Roll Standards

July 11, 2022

In Maine State Music Theatre's second 2022 concert series program, the Pickard Theater pulsates with the big, bold, vibrant musical energy of Joe Boucher and his band, vocalists and a seventeen-piece orchestra, treating a cheering audience to a playlist of rock and roll classics from the 1970s and 1980s. Boucher, who managed to sell out the house even during the 2021 pandemic-era performances, returns triumphantly with his talented instrumental ensemble and two charismatic lead vocalists who collaborate with Ben McNaboe and the MSMT Orchestra to create a rich and unforgettable aural tapestry.
---
A Catalyst for Change: A Conversation with the Stars of MSMT's JOSEPH

July 9, 2022

"JOSEPH's ability to be done in a thousand different ways is what keeps it fresh," declares Maine State Music Theatre's Artistic Director, Curt Dale Clark. "I have heard people say they almost didn't come to see it because they had already seen it many times, and then when they did see it, they were blown away by a new fresh production." Clark is joining the two stars of MSMT's current production, Jordan Alexander (Joseph) and Alyssa Anani (Narrator) at the second PEEK BEHIND THE CURTAIN panel discussion, hosted by Broadway World Maine editor, Carla Maria Verdino-Süllwold, on July 6 at Curtis Memorial Library to discuss with patrons the theatre's second main stage show.
---
Maine State Music Theatre's JOSEPH & THE AMAZING TECHNICOLOR DREAMCOAT Explodes with Color, Energy, and Joy

June 30, 2022

Maine State Music Theatre's second main stage production, perennial favorite, JOSEPH & THE AMAZING TECHNICOLOR DREAMCOAT, takes the Pickard stage by storm, exploding with color, energy, and sheer irrepressible joy. Andrew Lloyd Webber and Tim Rice's early collaboration based on the Book of Genesis has as its central metaphor the coat of many colors, and like that kaleidoscopic garment, the show itself is a rich, eclectic tapestry that weaves together musical and choreographic genres, ancient and modern sensibilities, and perhaps best of all in this production – a diverse and deeply talented cast that is beautiful to behold.
---
Fresh & Fun: Blake Hammond & Jeff Max Reprise Signature Roles in MSMT's JOSEPH

June 26, 2022

"This production is new, fun, fresh," says actor Blake Hammond who plays Jacob and Potiphar in Maine State Music Theatre's production of Andrew Lloyd Webber and Tim Rice's JOSEPH AND THE AMAZING TECHNICOLOR DREAMCOAT that runs from June 29-July 16. "The show is pure joy," concurs his castmate Jeff Max, who plays the role of Pharoah. "There is something in it for everyone." This praise, coming from Hammond and Max, has a special resonance. Both actors have a long history with this show and the parts they play, and both have worked together in memorable previous productions. Recounts Hammond, "I first played Jacob and Potiphar thirty-five years ago in summer stock and since then have also played Napthali and the Baker as well, so it is fun to come back to the original track of Jacob/Potiphar in this production. [Director/choreographer] Alex Sanchez doesn't have a lot of experience with this show, so he has fresh eyes for it; he's not repeating anything else he's done; it is as if we are learning for the first time."
---
An Exquisite Heidi Kettenring Opens MSMT's Concert Series

June 19, 2022

Chicago's Leading Lady and beloved superstar of MSMT, Heidi Kettenring returns to the Pickard Theatre for three splendid concerts featuring the music of Carole King, Karen Carpenter, Linda Ronstadt, and Joni Mitchell. An exquisite chanteuse, Kettenring combines vocal richness and power, interpretive flair, and sheer elegance and class in an evening of song and sentiment that goes straight to the heart.
---
Alive with Music: SOUND OF MUSIC Stars Open MSMT Library Series

June 18, 2022

For two weeks now Brunswick's Pickard Theater has been "alive with the sound of music,' but on June 15 Hanley Smith and Will Ray, the stars of MSMT's brilliant new production of Rodgers and Hammerstein's THE SOUND OF MUSIC, joined MSMT Artistic Director Curt Dale Clark and BWW Maine Regional Editor Carla Maria Verdino-Süllwold to celebrate the joy, inspiration, and continued resonance of this timeless musical at the first Peek Behind the Curtain program in three years. The popular panel discussion series held at Curtis Memorial Library returned to an enthusiastic, capacity audience for an hour of conversation about what Clark called "the quintessential American musical and the perfect show to launch post-pandemic MSMT's Revival Season."
---
BWW Review: A Boy with Big Dreams: MSMT's JACK & THE BEANSTALK

June 13, 2022

Maine State Music Theatre opened its Theatre for Young Audiences series with a delightful, energetic, and amusing production of Robin and Clark's JACK AND THE BEANSTALK that drew a crowd of enthusiastic youngsters, their teachers, parents, and grandparents for the four performances on June 13.
---