Carla Maria Verdino-Süllwold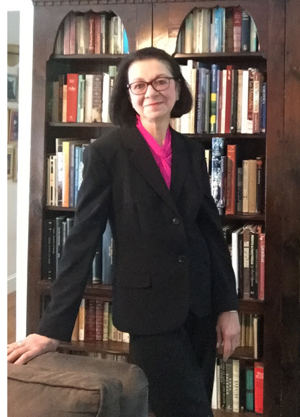 Born and raised in the metropolitan New York area, Carla Maria Verdino-Süllwold took her degrees at Sarah Lawrence College and Fairleigh Dickinson University. She began her career as a teacher and arts administrator before becoming a journalist, critic, and author. In addition to contributing to Broadway World, her theatre, film, music and visual arts reviews and features have appeared in Fanfare Magazine, Scene 4 Magazine, Talkin' Broadway, Opera News, Gramophone, Opéra International, Opera, Music Magazine, Beaux Arts, and The Crisis, and her byline has headed numerous program essays and record liner notes. Among her scholarly works, the best known is We Need A Hero! Heldentenors from Wagner's Time to the Present: A Critical History. She helped to create several television projects, serving as associate producer and content consultant/writer, among them I Hear America Singing for WNET/PBS and Voices of the Heart: Stephen Fosterfor German television. Her first novel, Raising Rufus: A Maine Love Story appeared in 2010. Her screenplay version of the book was the 2011 Grand Prize Winner at the Rhode Island International Film Festival. She is also the author of a second novel, The Whaler's bride, and three collections of short stories, BOOKENDS Stories of Love, Loss, and Renewal, CAROUSEL, and ROUND TRIP. Ms. Verdino-Süllwold now makes her home in Brunswick, Maine, with her Newfoundland dog, Mariah's Storrm.
MOST POPULAR ARTICLES
LAST 30 DAYS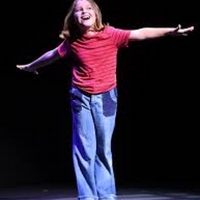 BWW Interview: Somewhere Over the Rainbow: Maine Pre-Teen Lily Philbrook Follows Her Theatre Dream
Posted: Oct. 1, 2021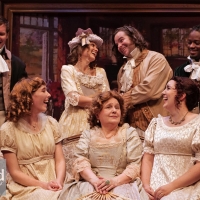 BWW Review: Good Theater Reopens with Scintillating World Premiere of Rob Urbinati's LADY SUSAN
Posted: Oct. 22, 2021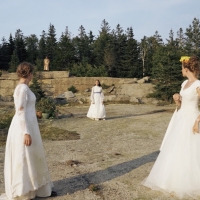 BWW Review: Suppliants in Stonington: Isle Theater Company Premiere New Work
Posted: Oct. 24, 2021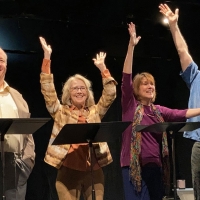 BWW Review: An Everyman's Journey: MIDDLETOWN at The Public
Posted: Oct. 21, 2021


LAST 365 DAYS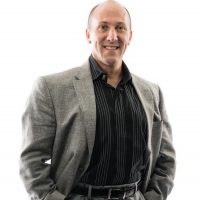 BWW Feature: Festival of New Plays Promotes Diversity
Posted: Dec. 10, 2020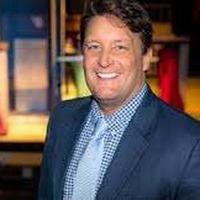 BWW Interview: In Mothballs and Treading Water: Good Theater and MSMT Share Survival Strategies
Posted: Nov. 23, 2020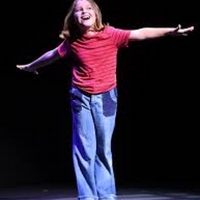 BWW Interview: Somewhere Over the Rainbow: Maine Pre-Teen Lily Philbrook Follows Her Theatre Dream
Posted: Oct. 1, 2021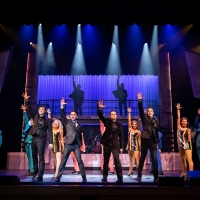 BWW Review: Chasing the Music: MSMT Mounts Spectacular JERSEY BOYS in Westbrook
Posted: Sep. 3, 2021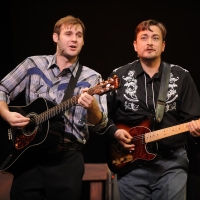 BWW Review: Dream, Dream, Dream! - MSMT and Portland Stage Present the Music of the Everly Brothers
Posted: Jul. 24, 2021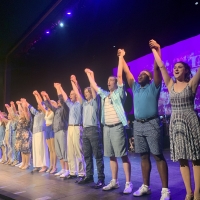 BWW Review: MSMT's WELCOME HOME Embraces a Rich Tapestry of Musical Theatre
Posted: Aug. 9, 2021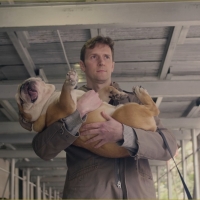 BWW Interview: Actor Matt Gibson Shifts Focus to Film During Pandemic
Posted: Nov. 27, 2020


BWW Review: Suppliants in Stonington: Isle Theater Company Premiere New Work

October 24, 2021

Born out of pandemic necessity, the recently formed Isle Theater Company premiered a video-on-demand version of their new play, DO NOT MOVE STONES, a modern retelling of Aeschylus' THE SUPPLIANTS. Beautifully filmed in the breathtaking outdoor setting of the rock quarry on Deer Isle, this modern version of an ancient classic demonstrates both the uncanny relevance of Aeschylus' original and the compelling issues its story and characters present for a 21st century. Written and directed by Marvin Merritt IV and Anna Fitzgerald, DO NOT MOVE STONES tells the story of fifty sisters – intended as unwilling brides for their cousins to fulfill a contract based on property issues – who flee from the altar and sail to the rocky coast of Maine where they seek asylum at the home of Piero and his family, only to be pursued by their grooms. There, three of the sisters negotiate for their future, as all the nine characters come to reassess their perspectives and values.
---
BWW Review: Good Theater Reopens with Scintillating World Premiere of Rob Urbinati's LADY SUSAN

October 22, 2021

The Good Theater reopened its doors last night with a breathtakingly stunning world premiere of Rob Urbinati's new play LADY SUSAN, directed by Brian P. Allen and James Noel Hoban. Taking its inspiration from Jane Austen, this 21st century work has all the eloquence of an early 19th century classic, as it explores the intricate, timeless mating games that seem as relevant today as they did more than two hundred years ago.
---
BWW Review: An Everyman's Journey: MIDDLETOWN at The Public

October 21, 2021

The Public Theatre's production of Dan Clancy's MIDDLETOWN proves a clever way to maneuver the company back into production after the pandemic pause. The four-character comedy-drama, designed to be performed without scenery or costumes by actors who read from scripts at podiums, requires a minimalist production and asks the audience to concentrate only on the characters' journey from kindergarten to old age. That story, as directed by Janet Mitchko, is sweetly funny and warmly heartfelt.
---
BWW Interview: Somewhere Over the Rainbow: Maine Pre-Teen Lily Philbrook Follows Her Theatre Dream

October 1, 2021

"It all began with Wizard of Oz at Maine State Music Theatre," confides ten-year-old Lily Philbrook. "That was the show where I found my real passion for theatre. It was a huge show and working with Marc [Robin] and everyone at MSMT was an amazing experience." In those performances, for Lily Philbrook, a dream was born- one that would carry her over her own rainbow – to performing on stages at leading regional theatres.
---
BWW Review: A Refreshing Romp: MSMT's ROCKY HORROR SHOW at Cadenza

September 21, 2021

BWW Review: A Refreshing Romp: MSMT's ROCKY HORROR SHOW at Cadenza MSMT returned to Freeport's Cadenza last night for a three-show run of the 1973 Richard O'Brien cult classic, The ROCKY HORROR SHOW. Presented to a sold-out house by the Fellowship Performers, the theatre's young artists, the colorful, outrageous, wild and wickedly funny send-up of science fiction, horror movies, and punk rock culture proved to be a refreshing romp for artists and audience.
---
BWW Review: MSMT Fellowship Performers' Showcase Deep in Talent

September 14, 2021

In this last week of Maine State Music Theatre's 2021 season, despite having to cancel several productions due to Covid-related issues, the 63-year-old company demonstrated its continued vitality and commitment to delivering the best in musical theatre. With two performances, held at Freeport's Cadenza, MSMT showcased fourteen young professionals who, together with Music Director Ben McNaboe, created one of the most vibrant cabaret evenings in recent memory. The generous more than 90-minute program featured ta varied repertoire ranging from Broadway classics to more recent shows, to pop covers in a series of ensembles, duets, and solos. The program was crafted by McNaboe, who did all the vocal coaching and led the evening from the grand piano, where he demonstrated his own versatility and impressive musicianship.
---
BWW Review: Chasing the Music: MSMT Mounts Spectacular JERSEY BOYS in Westbrook

September 3, 2021

In the final moments of the 2005 hit musical JERSEY BOYS, Frankie Valli muses, "We were all just chasing the music." For those fans of Frankie Valli and the Four Seasons and the Bob Gaudio/Bob Crewe/Marshall Brickman & Rick Elice show about the group's rise to fame and artistic and personal struggles, the "chase" need take them no farther than Westbrook Performing Arts Center where Maine State Music Theatre has mounted a spectacular production that is a must-see. In their only main stage show of the 2021 season, MSMT's JERSEY BOYS, directed by Mark Martino and choreographed by Kenny Ingram, is a joyous, boisterous, dazzling, powerful, incisive, edgy and ultimately uplifting story that rivets from start to finish.
---
BWW Review: Christine Mild Proves a Dynamo in Concert

August 23, 2021

Last seen in 2017 when she wowed audiences in ALWAYS, PATSY CLINE, and then again for a single knockout number in the MSMT Gala 60th Anniversary Concert in 2018, Christine Mild returned to the Pickard stage this week for three solo concerts in which she unleashed the power and splendor of her voice and the sheer dazzling dynamism of her stage presence. In a generous, two-hour evening, entitled CHRISTINE & PATSY TOGETHER AGAIN in honor of its core sets, Christine Mild, sang the music of Patsy Cline, Dolly Parton, Whitney Houston, Linda Ronstadt, and Patti LaBelle, paying tribute to these iconic legends at the same time she puts her own highly original stamp on each song.
---
BWW Review: MSMT's Joyous SHREK, JR. Celebrates Difference and Diversity

August 19, 2021

The David Lindsay-Abaire-Jeanine Tesori musical, SHREK, JR. with its joyous celebration of difference and diversity is a perfect theatrical experience for young audiences, and MSMT's latest production is filled with exuberance, fantasy and fun. Directed by Betsy Puelle and performed by a cast of young artists, this twisted fairytale filled with zany characters and storybook favorites takes the audience on a journey to find that "big, bright, beautiful world out there."
---
BWW Review: MSMT's PIANO MEN Offers a Thrilling Hit Parade of Billy Joel and Elton John Classics

August 15, 2021

In its first season after the pandemic, MSMT has offered many noteworthy moments of memory, but perhaps few as thrilling as this tribute concert to two of the greatest names in popular music of the late 20th century: Billy Joel and Elton John. In a spectacular musical evening that focuses largely on the seminal recordings made by these two legends in the 1970s, PIANO MEN celebrates two artists born on opposite sides of the Pond, whose albums from that period featured not only classic rock arrangements, but also lush, full-scale orchestrations. MSMT conjures up the ambiance with Joe Boucher's dazzling four- piece rock band partnered by the breathtakingly grand twenty-piece MSMT orchestra under the impressive baton of Ben McNaboe.
---
BWW Review: A Tale As Old As Time Framed in a New Retelling: MSMT Launches TYA Series with Robin & Clark's BEAUTY AND THE BEAST

August 12, 2021

The fact that the classic fairytale of BEAUTY AND THE BEAST is said to be "a tale as old as time" did not stop the musical writing team of Marc Robin and Curt Dale Clark from deciding to tell their version of the ancient story by framing it within a modern one. Their heartwarming, sweetly funny version, enlivened by song and dance, which launches MSMT Theatre for Young Audiences 2021 season, makes for a magical and engaging entertainment for the entire family.
---
BWW Review: MSMT's WELCOME HOME Embraces a Rich Tapestry of Musical Theatre

August 9, 2021

In many ways MSMT's concert, WELCOME HOME, is a valentine to the world of musical theatre and to those who create it and who love and support it. This original, complexly conceived, all-singing, all-dancing musical revue starring MSMT's Fellowship Performers is packed with so much talent, energy and emotion that it will – quite simply - blow you away! Directed by Curt Dale Clark, this collection of musical theatre standards and contemporary works is skillfully woven together to capture a kaleidoscope of shifting moods, styles, and ensemble as well as solo moments. Not only has Clark constructed a powerful and poignant narrative, but he has cast each number with a fresh eye that gives vitality to the whole. His ability to nurture, challenge, and stretch the talent with which he works transforms the performance from a routine revue to a dazzling master class.
---
BWW Review: Bringing the Legend to Life: MSMT/Portland Stage Present RING OF FIRE

August 7, 2021

In a career that spanned more than half a century and with songs and sound that remain as fresh and relevant as ever today, Johnny Cash is an icon of American music, whose life, with its roller coaster of highs and lows and its road to ruin and redemption, inspires almost as much fascination as his art. In a musically brilliant and dramatically compelling production of Richard Maltby's biographical musical, RING OF FIRE, Maine State Music Theatre and Portland Stage bring the legend of the Man in Black to life in his unforgettable melodies and moments of darkness and triumph.
---
BWW Review: More Stars Brighten MSMT Galaxy

August 4, 2021

As a sequel to the first gala concert last week featuring some of the company's most celebrated and beloved performers, MSMT presents two more special performances of its STARS #2 Concert on August 8-9. This second gala, directed once again by Curt Dale Clark with Ben McNaboe as Music Director, features four other nationally prominent artists who have been closely associated with the theatre - Felicia P. Fields, Heidi Kettenring, David Girolmo, and Gregg Goodbrod – in a program of story and song that dazzles and delights with its brilliance, humor, and warmth. One of Artistic Director Curt Dale Clark's many talents is his ability to discover, retain, and nurture talent – from young artists to seasoned performers – and to create performances that tap into each individual artist's best selves. This gala (as in the first) has been proof of that, as each artist is showcased in musical theatre numbers that have defined his/her careers. The evening is fast-paced, witty, and poignant by turns, allowing the audience to revel in the emotional ride that fine theatre provides.
---
BWW Review: A Constellation of Stars Lights Up MSMT's Stage

July 29, 2021

As part of a summer series of concerts to welcome the arts, artists and audiences back to Brunswick, MSMT mounted the first of two gala concerts featuring four of the company's most storied performers, Charis Leos, Lauren Blackman, Kingsley Leggs and Robert Creighton with a cameo appearance by Curt Dale Clark in a rousing, heart healing, and heartwarming evening that is playing for just two performances (July 28-29). Conceived and directed by MSMT's Artist Director, Curt Dale Clark, STARS 1 allows these incomparable artists with resumes filled with Broadway, national tour, and leading regional theatre credits, to reprise some of their biggest hits and favorite moments and to reminisce about their careers and their experiences here in Maine. The cast creates the perfect ensemble, spinning a musical and narrative thread that is by turns comic, poignant, stirring, and inspiring.
---
BWW Review: Dream, Dream, Dream! - MSMT and Portland Stage Present the Music of the Everly Brothers

July 24, 2021

After being shuttered for twenty-three months, the Pickard Theater is alive once again with musical theatre, as Maine State Music Theatre in a co-production with Portland Stage, opens its 2021 season with an energizing, nostalgic, and uplifting concert, DREAM, THE MUSIC OF THE EVERLY BROTHERS. The two-dozen-song retrospective and remembrance of the pioneering music of Don and Phil Everly is created, conceived, and performed by Ben Hope and Eric Scott Anthony, who star as the country rock duo which topped charts throughout the 1950s-1970s and returned to become a new creative force again in the 1980s onward.
---
BWW Feature: Hogfish Regenerative Arts Celebrates a Magical Launch

June 27, 2021

Throughout the long, dark days of the pandemic, artists everywhere have dreamed of the day when they can bring their creativity into the light once again and share with their audiences a celebration of the joy, uplift, and healing inherent in the creative process. In Maine, as summer blossoms, arts organizations return to their mission one by one, and, perhaps even more amazing, new ones are born. Hogfish Regenerative Arts is one such new venture, born of its creators, Edwin and Matt Cahill's, desire to create "an artist sanctuary and body of work dedicated to restoring creative and physical health to individuals, communities, and our earth."
---
BWW Interview: Just Whistle: Charles Shaughnessy Returns to Ogunquit in SPAMALOT

June 13, 2021

"Arthur [in CAMELOT] is a man with strong hopes and plans that blow up in his face. SPAMALOT has a much happier ending because Arthur learns that life is too important to be taken seriously. Just whistle -that's the thing. In CAMELOT Arthur doesn't quite get there." Award-winning actor Charles Shaughnessy is talking about his experience playing Arthur, King of the Britains, in two different musicals. Shaughnessy is poised to reprise his role as the monarch in the Ogunquit Playhouse's SPAMALOT, which opens at the theatre's new Leary Pavilion on June 16 and runs through July 10, 2021. He first appeared there in the Monty Python musical comedy in 2011 and also played Arthur in Lerner and Loewe's CAMELOT at North Shore Music Theatre in 2005.
---
BWW Interview: Rediscovering Our Joy - MSMT Stars Celebrate in Two Concerts

June 10, 2021

"This has been a tough year and a half for so many, and the arts can help us rediscover our joy," says actress Charis Leos, speaking enthusiastically about her upcoming appearance in one of Maine State Music Theatre Stars Concerts scheduled to celebrate the theatre's return to live performing this summer. "It is a special gift for me to be able to perform again at a theatre that holds such a special place in my heart. To me it signals a return to the joy of the shared experience of live performance," Leos adds. Leos is one of eight stars, chosen by Artistic Director Curt Dale Clark, to perform two gala concerts, each with different repertoire and cast at the Pickard Theater in Brunswick in July and August 2021. The first runs from July 28-August 1 and features Charis Leos, Lauren Blackman, Robert Creighton, and Kingsley Leggs. The second runs from August 4-8 with Felicia P. Fields, Heidi Kettenring, David Girolmo, and Gregg Goodbrod. Both programs are directed by Curt Dale Clark, who says the concerts will "offer audiences a chance to revel in the songs and stories that have kept audiences flocking to the Pickard for decades."
---
BWW Review: Annie Henk Gives Virtuosic Performance in Portland Stage's BAD DATES

May 12, 2021

Portland Stage scores a hit with Theresa Rebeck's one-character comedy, BAD DATES, featuring a vibrant, funny, and poignant virtuosic performance by Annie Henk. Directed by Jade King Carroll, this one hundred-minute play takes a sympathetic look at the life of a single mom, Hayley, and her all-too-real attempts to make a living for herself and her daughter Vera and a romantic life for herself.
---