Carla Maria Verdino-Süllwold - Page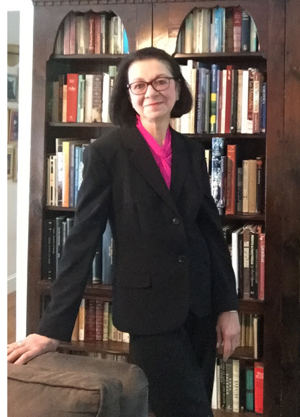 Born and raised in the metropolitan New York area, Carla Maria Verdino-Süllwold took her degrees at Sarah Lawrence College and Fairleigh Dickinson University. She began her career as a teacher and arts administrator before becoming a journalist, critic, and author. In addition to contributing to Broadway World, her theatre, film, music and visual arts reviews and features have appeared in Fanfare Magazine, Scene 4 Magazine, Talkin' Broadway, Opera News, Gramophone, Opéra International, Opera, Music Magazine, Beaux Arts, and The Crisis, and her byline has headed numerous program essays and record liner notes. Among her scholarly works, the best known is We Need A Hero! Heldentenors from Wagner's Time to the Present: A Critical History. She helped to create several television projects, serving as associate producer and content consultant/writer, among them I Hear America Singing for WNET/PBS and Voices of the Heart: Stephen Fosterfor German television. Her first novel, Raising Rufus: A Maine Love Story appeared in 2010. Her screenplay version of the book was the 2011 Grand Prize Winner at the Rhode Island International Film Festival. She is also the author of a second novel, The Whaler's bride, and three collections of short stories, BOOKENDS Stories of Love, Loss, and Renewal, CAROUSEL, and ROUND TRIP. Ms. Verdino-Süllwold now makes her home in Brunswick, Maine, with her Newfoundland dog, Mariah's Storrm.
MOST POPULAR ARTICLES
LAST 30 DAYS
BWW Review: A VERY BRADY MUSICAL Offers Antidote to Current Angst
Posted: Oct. 29, 2020


LAST 365 DAYS
BWW Review: BWW Critic's Choices: Best in Maine 2019
Posted: Nov. 26, 2019


BWW Review: Portland Stage's ALMOST, MAINE is Pure Perfection
Posted: Jan. 26, 2020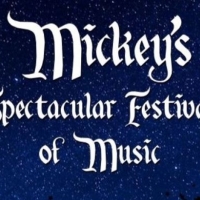 BWW Feature: MICKEY'S SPECTACULAR FESTIVAL OF MUSIC Presents Cabaret Benefit
Posted: Jul. 5, 2020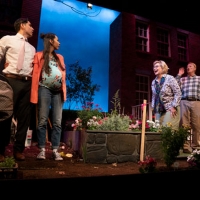 BWW Review: Brave New World - Portland Stage Streams NATIVE GARDENS
Posted: Mar. 27, 2020


BWW Review: The Insidious Spiral of Deceit: PACK OF LIES at the Good
Posted: Feb. 17, 2020


Next-Gen Artists Team Up for Virtual Benefit Concert HARMONIZE AGAINST HUNGER
Posted: Jun. 2, 2020


BWW Review: The Play's the Thing: POPCORN FALLS at the Good Theater
Posted: Jan. 20, 2020


BWW Review: A VERY BRADY MUSICAL Offers Antidote to Current Angst

October 29, 2020

Ogunquit Playhouse's virtual benefit reading of the new musical, A VERY BRADY MUSICAL, offered theatre-starved Mainers (and online audiences beyond) the opportunity to enjoy a fresh, charming, nostalgic piece featuring the beloved Brady Bunch characters in a delightful ninety minutes of family fun. The work with book by Lloyd J. Schwartz and Hope Juber and music and lyrics by Hope and Laurence Juber references the original 1970s television series, while adding a contemporary spin using an ethnically diverse cast and slightly comic edgier predicaments.
---
BWW Feature: MICKEY'S SPECTACULAR FESTIVAL OF MUSIC Presents Cabaret Benefit

July 5, 2020

On July 18, 2020, at 7:00 p.m. the Kingston Collection Parking lot in Kingston, Massachusetts, will be transformed into an outdoor concert venue to showcase a live cabaret performance by top-tier New York City based actors, who will perform a repertoire of magical songs from beloved fantasy and fairytale classics. The gala evening, which also includes music by live bands, projections and sound and light effects, as well as food trucks and wine-beer beverage carts, offers fun for the entire family. The proceeds from ticket sales will be donated to The Actors Fund, which assists unemployed actors, and Inclusion Media Group, which promotes diversity in the arts through social media.
---
VIDEO: Virtual Concert Benefits Project Broadway and Feeding America

June 27, 2020

Last night, June 26th, HARMONIZE AGAINST HUNGER launched on YouTube. Tax-deductible contributions were made to Feeding America and Project Broadway. Some highlights included Gaten Matarazzo's rendition of a?oeMichael In the Bathrooma?? from BE MORE CHILL, Michael William Nigro's adaption of a?oeSomeone You Loveda?? by Lewis Capaldi, and Meg Donnelly's performance of a?oeOn My Minda?? by Jorja Smith.
---
Next-Gen Artists Team Up for Virtual Benefit Concert HARMONIZE AGAINST HUNGER

June 2, 2020

Executive Producers Michael William Nigro and Zach Kessel, alongside Concierge Content, have announced their virtual benefit concert, a?oeHarmonize Against Hunger,a?? to benefit Feeding America and Project Broadway.The concert will air on YouTube on June 26, 2020 at 7:00 p.m. EST. The YouTube channel can be found at https://www.youtube.com/channel/UCGwJ-4UTlZ-wRPKXmyNxUPw/featured.
---
BWW Review: Brave New World - Portland Stage Streams NATIVE GARDENS

March 27, 2020

In the midst of a dark and anxious time for all theatres, Portland Stage has managed to navigate the rights issues to live stream its production of Karen Zacarias' NATIVE GARDENS, which had begun its run when the pandemic closed everything down. The resulting performance proves a welcome ray of light for Maine's theatre goers: a comedy that uses laser-sharp wit, colorfully contrasting characters, and a measured look at a number of topical issues which are provoked by a timeless conflict.
---
BWW Review: The Insidious Spiral of Deceit: PACK OF LIES at the Good

February 17, 2020

The tautly paced, compactly plotted 1983 psychological spy thriller, PACK OF LIES by Hugh Whitemore, proves to be a cliff hanger for audiences at the Good Theater, where its recent revival, expertly directed by Brian P. Allen with a finely tuned ensemble cast, demonstrates the relevance of its message in the chaotic political context in which we currently live.
---
BWW Review: Portland Stage's ALMOST, MAINE is Pure Perfection

January 26, 2020

Portland Stage's revival of John Cariani's ALMOST, MAINE, a play which premiered with the company in 2004, represents some of the very best work this theatre can produce. The exquisitely poetic series of vignettes about love and loss framed within the uniqueness of the Maine context, offers an evening of virtually pure perfection and unlimited delight.
---
BWW Review: The Play's the Thing: POPCORN FALLS at the Good Theater

January 20, 2020

In the Good Theater's delightful winter comedy, the play is the thing to rescue the moribund town of Popcorn Falls from the clutches of a greedy, self-serving villain who would turn its main street into a sewage plant. The citizens, led by their mayor, hatch the improbable solution of creating a theatre company and a play to win grant money needed to revitalize the town. James Hindman's multi-character drama, played by two actors, seizes on this premise and imbues the situation with breathless comedic wit and zany antics, punctuated by moments of touching poignancy.
---
BWW Review: IT'S A WONDERFUL LIFE Brings Sweet Nostalgia to Portland Stage

December 9, 2019

In remounting playwright Joe Landry's live radio play version of the beloved classic IT'S A WONDERFUL LIFE, Portland Stage serves up a family friendly show filled with all the sweetness and nostalgia that make the holidays memorable. The production, directed and designed by Anita Stewart, tells the tale of George Bailey with warmth and humor, underscoring effectively the messages of kindness, gratitude, and integrity without ever becoming saccharine.
---
BWW Review: Broadway at the Good Theater Pays Tribute to 1940s

December 6, 2019

Each year Portland's Good Theater presents a holiday musical revue, written and directed by Brian P. Allen, and dedicated to celebrating a decade in American musical theatre history. Allen's show this year is devoted to the 1940s when so many of the geniuses of the a?oelegitimatea?? musical theatre style reigned supreme. The revue he has created is ambitious and comprehensive featuring twenty-five performers, including several Broadway actors, and covering the likes of Rodgers and Hammerstein, Lerner and Lowe, Cole Porter, Kurt Weill, and the Gershwins, together with many lesser-known writers. Performed with the intimacy and informality of a cabaret setting, Broadway at the Good Theater offers a nostalgic and delightful musical evening.
---
BWW Review: BWW Critic's Choices: Best in Maine 2019

November 26, 2019

As evidenced by the breadth of nominations for Broadway World's Annual Audience Choice Awards, Maine's theatrical landscape seems to grow and flourish with each new season. For a state as remote as we are, we boast two prestigious regional theatres now in their second half centuries a?" Maine State Music Theatre and Ogunquit Playhouse a?" which are leaders on the national regional scene and which have become destinations for travellers from far flung places. Add to these an array of countless other companies of every size and philosophic bent, and you have a colorful, rich artistic arena that grows more interesting each year. I am privileged to get to sample these performances as Broadway World's Maine editor and to be able to compare many of them favorably with shows I see across the country, in New York and London. These are my personal choices of the best in Maine for 2019, grouped by theatre company and show.
---
BWW Review: Clauder Prize Winner Premieres at Portland Stage

November 10, 2019

Portland Stage presented the world premiere of a work they brought though their prestigious Clauder New Work Competition, READ TO ME. The play, selected among 170 scripts, is written by Brendon Pelsue and directed by his brother Rory - both Yale Drama School Graduates. The result9ng work is ambitious and fully in keeping with Portland Stage a?oemagical realism a?oe them for the season. The subject of READ TRO ME is potentially well chosen a?' filled with deeply searing drama- a child dying in a children's hospital with adults trying to make sense 0f this absurdity. The subject matter is dense with possibility, which, regrettably in tis production is never fully realized.
---
BWW Review: Containers of the Mind- East Coast Premiere of BOXES

November 9, 2019

The Good Theater's production of Jule Selbo's BOXES offers a taut psychological study of manipulation and longing, misconceptions about self and love, all carefully crafted into a thriller with rapid twists and turns that compels the audience's attention for its brisk ninety-minutes. The boxes of the title are literal props used in a clinical psychological research study, but they are really metaphors for the constraints that shape our views of selfhood and for the inscrutable containers of dark secrets.
---
BWW Review: Good Theater's ADMISSIONS Explores race, Privilege, and Parental Dilemmas

October 7, 2019

The Good Theater opens its season with Joshua Harmon's powerful and persuasive drama about class and race, aspiration in America, and the complexities of navigating a world where nothing is black and white, no matter how much one wishes it so. ADMISSIONS is a stunningly astute choice for 2019, though it was written long before recent headlines and made its Lincoln Center debut in 2018. As Executive/Artistic Director Brian P. Allen expands the Good's season to five main stage plays and four second stage shows, this Maine premiere of Harmon's play represents Allen's keen sense of the moment and what is excellent drama.
---
BWW Review: Portland Stage Opens Season with THE CLEAN HOUSE

September 30, 2019

The cast of characters in Sarah Ruhl's THE CLEAN HOUSE, which opens the 2019-2020 Portland Stage season, leads anything but tidy lives. The 2004 play, which received its world premiere at the Yale Repertory Theatre, is a metaphorically absurdist exploration of neuroses, obsessions, and the quest for laughter and love. The drama which employs a kind of a?oemagical realisma?? brings together five quirky characters who only find their humanity as their neat little lives unravel and they allow chaos, passion, empathy, laughter, and tears to fill their souls.
---
BWW Review: Happy Ending: THE LITTLE MERMAID at MSMT

August 19, 2019

a?oeA very, very merry, merry, happy, happy endinga??.a?? sings the colorful cast of human beings and sea creatures as they celebrate the wedding of Prince Alexander and Melody in Marc Robin and Curt Dale Clark's musical version of THE LITTLE MERMAID. And, indeed, this final 2019 Maine State Music Theatre production in the Pickard Theater proves to be just that! The third Theatre for Young Audiences show which closes another season of spectacular theatre for the Brunswick-based theatre is one of the most ambitious, completely realized productions created by MSMT's intern company.
---
BWW Interview: Enchanting the Young at Heart: MSMT Panel Examines the Enduring Appeal of THE WIZARD OF OZ

August 15, 2019

a?oeFor nearly forty years this story has given faithful service to the Young in Heart; and Time has been powerless to put its kindly philosophy out of fashiona??..a?? These words from L. Frank Baum dance across the screen during the overture of MSMT's stunning new production of THE WIZARD OF OZ, reminding the audience of the perennial appeal of this beloved story. And as the curtain goes up, the audience is treated to arguably the largest, most lavish production in MSMT history with a cast of fifty (that includes twenty children and a dog), dazzling technical elements, staging and choreography to blow one away, and performances to melt the heart. a?oea??When I saw Marc Robin's production at the Fulton in 2016, I said, a?oeWe have to do this at MSMT. THE WIZARD OF OZ had not been on this stage since 1961, and it was time to give it a new life,a?? says Artistic Director Curt Dale Clark. Clark is one of the large panel, which also includes Marc Robin, Travis M. Grant, Carolyn Anne Miller, Susan Cella, Ian Knauer, and David Girolmo, who have come together in conversation with BWW's Maine Editor Carla Maria Verdino-Süllwold in MSMT and BWW's final season collaboration of PEEK BEHIND THE CURTAIN at the Curtis Memorial Library on August 14th.
---
BWW Review: Fats Waller and the Music of the Harlem Renaissance Rock in MSMT/Portland Stage's AIN'T MISBEHAVIN'

August 10, 2019

For the next month Portland Stage will be transformed into the Fats Waller Harlem Club where five performers and four musicians rock the stage each night recreating the sounds and sensations of the Harlem Renaissance era in music. The spectacular, soul-gripping show is AIN'T MISBEHAVIN', the musical dedicated to the work of the legendary Fats Waller, presented in a powerful co-production by Maine State Music Theatre and Portland Stage at the Portland venue. Directed by E. Faye Butler and choreographed by Kenny Ingram, this fourth collaboration between these two leading Maine theatres is an entertaining, moving, and enlightening theatrical experience.
---
BWW Review: The Magic of OZ; The Miracle of MSMT

August 9, 2019

To stage the beloved cultural icon that is THE WIZARD OF OZ offers any theatre company a herculean challenge: one which requires stretching the imagination to the limits to create a universe where reality is redefined and fantasy is fulfilled. In short, it demands stunning stagecraft and brilliant artistic vision. And it is just that kind of theatrical magic which Maine State Music Theatre's new production co- directed by Marc Robin and Curt Dale Clark boldly and beautifully realizes.
---
BWW Interview: The Courage Within: David Girolmo in OZ

August 5, 2019

a?oeIn the musical they all learn that the thing they believe is missing is already inside of them. We all have within us everything we think we are deficient in a?" everything we need to become the person we are supposed to be.a?? Actor David Girolmo is speaking of the lesson his character, the Cowardly Lion, learns in the stage version of L. Frank Baum's iconic classic THE WIZARD OF OZ, which runs from August 7-24 in a spectacularly fantastical production co-directed by narc Robin and Curt Dale Clark at Maine State Music Theatre.
---