BWW Review: DREAMGIRLS Sparkles and Shines at TUTS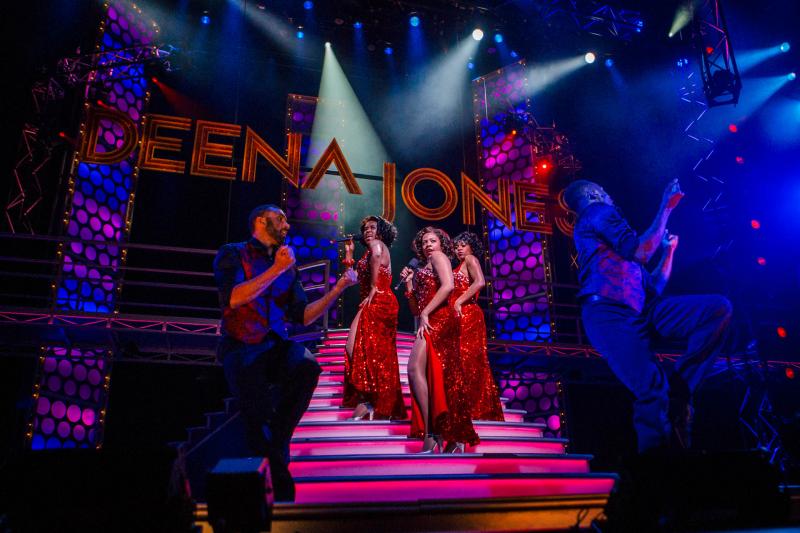 On December 20, 1981, the landscape of American musical theatre was redesigned. Known as Project #9 and soon to have one of the largest budgets in Broadway history, DREAMGIRLS took the stage to show that black was beautiful and commercial. Theatre Under the Stars decided to tackle this gargantuan piece of musical theatre and hit pay dirt with their fresh take on a classic.
The story of DREAMGIRLS follows three young black girls who have a passion for singing and a hunger to make it big in showbiz. After they're let down at a talent contest, that dream seems deferred until the opportunistic Curtis Taylor Jr. rigs the contest and swindles his way into the minds and hearts of the young Dreamettes. As the story moves, the characters' lust for fame leads them down a dark road where friendships are broken and family ties are cut.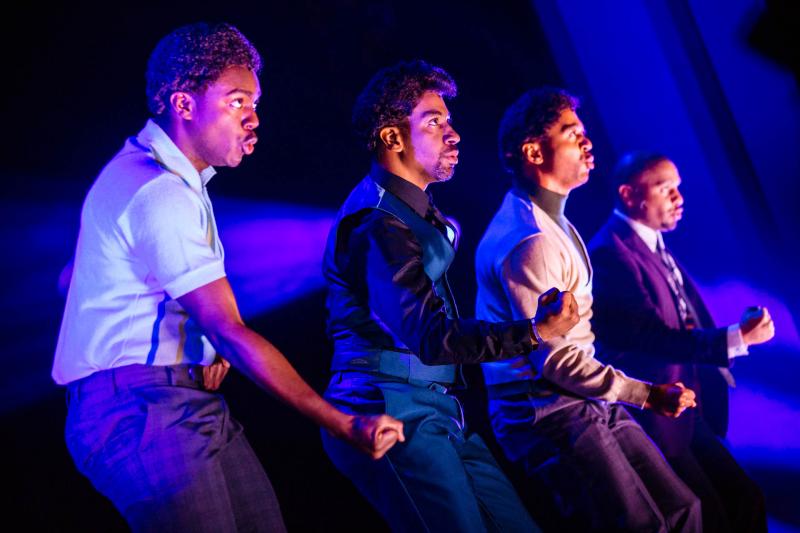 The creatives of this production are well-versed in all things DREAMGIRLS. From the Theoni V. Aldredge-inspired costume design to the original choreography/staging of Michael Bennett, this musical has everything. The original production set design by Robin Wagner danced from start to finish with large moving light towers. Kevin Depinet's set design stays true to Wagner's industrial structure and minimalist aesthetic, but the revolving set is a new take on keeping the mobility of the setting. The color pallet, from the lights to the vibrant fuchsia and sapphire blues used throughout this production, is eye candy. TUTS didn't skimp on any details.
Act I begins at the Apollo, where up-and-coming groups are trying to win the coveted prize and bragging rights. "I'm Looking for Something Baby" started the show off with sass and class. Moving through the talent competition, "Move," performed by the Dreamettes, was executed wonderfully by Zonya Love (Effie), Phoenix Best (Deena) and Ta'Nika Gibson (Lorrell). As the show moved on, E. Clayton Cornelious slid right into our hearts as he skillfully portrayed Jimmy "Thunder" Early.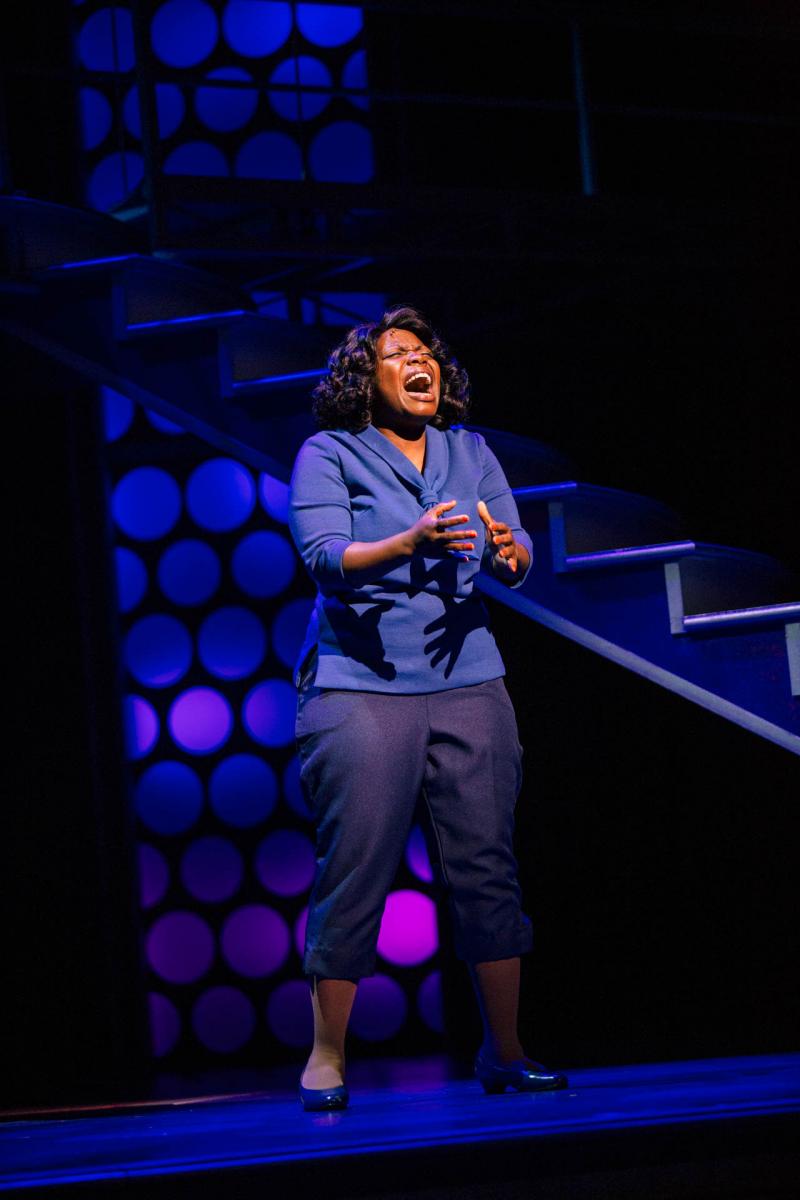 During the media meet and greet we weren't exposed to this cast's full potential, and I was a bit let down at first, but this cast delivers a power punch under the direction of Sheldon Epps. Love has taken the powerhouse role of Effie White and made it all her own. Listening to this young lady sing at times felt as if LiLlias White was reliving her moment as Effie but no, it was this beautifully talented young lady whose vocal ability was spot on. Her riffs packed a punch and were delicately put in all the right places. Another epic moment in this production was "Steppin to the Bad Side" with E. Clayton Cornelious (Jimmy), Thomas Hobson (Curtis) and Wonza Johnson (CC). It's theatrical moments such as this that transcend time. Michael Bennett's choreography, staged by Jeffrey Polk, was intricate and packed with emotion. This was one of my favorite moments in this production. It's numbers like this where we can see Bennett and Michael Peters's choreographic influence on Michael Jackson.
Act I concluded with the ever-so-popular torch song "And I Am Telling You I'm Not Going," performer by Love. I knew from the texture and tone of Love's voice that she was going to do well with this difficult piece. I love how she approached this song, as an actress first and the singer thereafter. It was effortless. During the song, she was staged to fall on the floor and this took some of the grit and power from her character in the moment. Once she stood up, she delivered on the ending of the song. This was by far one of the best deliveries I've seen on the American stage. As the curtain descended, we were reminded that in showbiz, you're easily replaced; here today and gone tomorrow.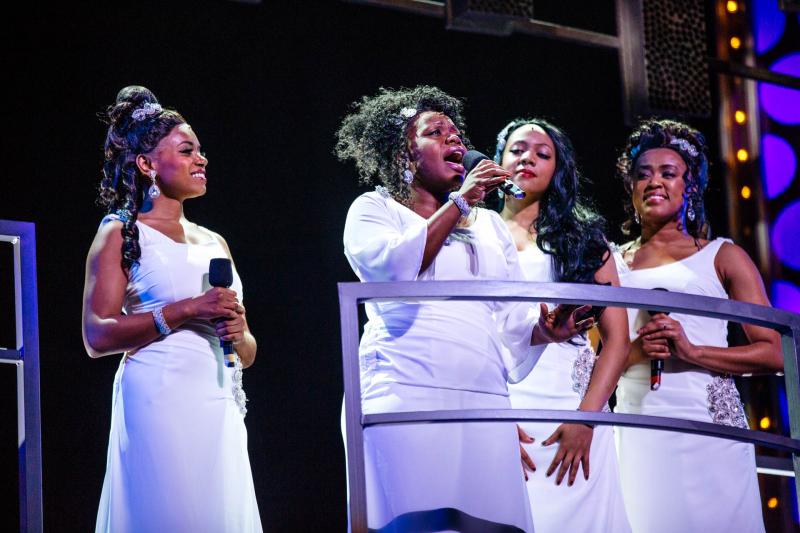 Act II truly paid homage to the original Broadway production as the three Dreams made their grand entrance, beautifully adorned in red-beaded floor-length gowns with their trademark split to the hip. The highlight of Act II was "I Am Changing" and the transition from audition room to night club with a split-second costume change. This was theatre magic at its finest.
DREAMGIRLS is a backstage musical like GYPSY and A CHORUS LINE that gives the non-performer a bird's eye view of the ins and outs/ ups and downs of the entertainment industry. This production had its technical issues but this definitely isn't a deterrent. This cast is fabulously talented and the creatives put a fresh spin on a classic piece of American musical theatre. Watching this production reaffirmed my love for an art-form that I fell in love with at the age of five. As corny as it may sound, the lyric "all you have to do is dream" echoes within my heart now as an adult as much as it did when I was a four year old watching Jennifer Holliday perform.
---
DREAMGIRLS run now until April 16th at The Hobby Center. Please visit www.tuts.com for ticket information.
Related Articles View More Houston

Stories

Shows
Dubbed the Literary Prince, Bryan-Keyth Wilson is a noted playwright, screenwriter, director, teaching artist and choreographer. He is a published author of two books and (read more...)