Review: Salty Brine Connects Weezer and Puccini In His New LIVING RECORD COLLECTION Installment, I'M A LOT LIKE YOU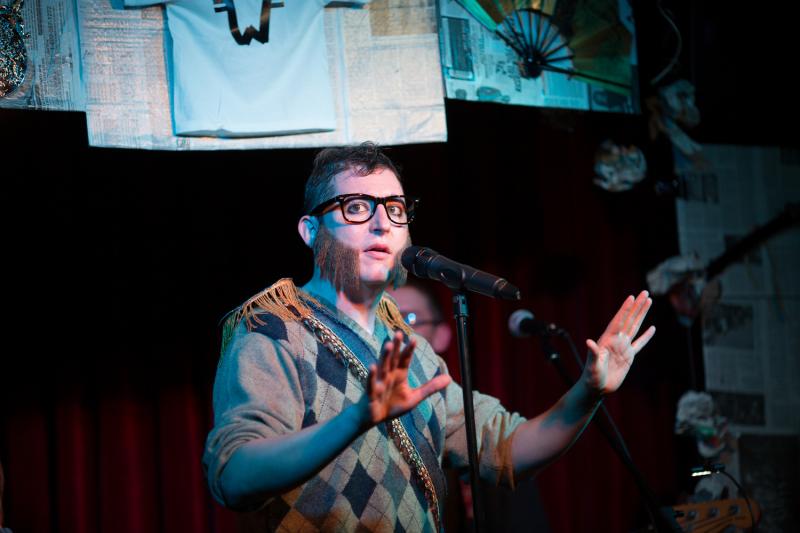 Salty Brine has made what is becoming a familiar move: reckon with your beloved art works which time has "revealed" to be problematic (by which I mean, you have become aware enough to realize this; it was problematic from the beginning). I'M A LOT LIKE YOU, playing at Pangea on Wednesdays through June 27, is a part of his LIVING RECORD COLLECTION, the 16th installment in a series of cabaret shows dissecting Brine's favorite albums. The roster of albums he's chosen is diverse, running from Fleetwood Mac's RUMOURS to Cyndi Lauper's SHE'S SO UNUSUAL to Neutral Milk Hotel's IN THE AEROPLANE OVER THE SEA (I'm sad I missed that one). Together, it makes a very cool project, a sort of periodic, memoir-driven, less thesis-centered 24-DECADE HISTORY OF POPULAR MUSIC.
This time around it is PINKERTON, Weezer's sophomore album that was panned and ignored, then beloved and praised. As Brine lays out, Rivers Cuomo was inspired by the Puccini opera, MADAMA BUTTERFLY, about an American Lieutenant (B.F. Pinkerton) marrying a Japanese teenager while abroad in Nagasaki. Puccini's opera premiered in 1904, and a brief perusal of its lyrics read like a primer for Western imperialism: "I must have her, even though I injure her butterfly wings," and so on. Brine does a good job laying out how bad it is, but he doesn't really add more insight or reflection about said horribleness than the Wikipedia page.
The amount of time Brine spends dissecting MADAMA BUTTERFLY's racism-probably the first 10-15 minutes-is disappointing because it's pretty low-hanging fruit. Not only is it over a hundred years old, it is also a story that was itself inspired not by true events but by another series of stories. First it was a novel, then a short story, then a one-act play, the last of which Puccini saw live. The lineage of this whole delicate Asian woman/orientalizing White man trope is depressingly long, and its history shows the stereotype's unfortunate durability.
Brine spends so much time laying out the opera's racism, and yet he doesn't really comment on the eliding he himself is doing by slipping between MISS SAIGON (another MADAMA BUTTERFLY adaptation he draws music from--- presumably it's more fitting to the cabaret atmosphere than the Puccini), MADAMA BUTTERFLY, and PINKERTON without much signposting, aside from the occasional, "This is Track Six." There's a little bit of a "Japanese, Vietnamese, what's the difference?" left hanging in the air.
Which is unfortunately apt, given Rivers Cuomo's own Asian fetishization, which Brine unfortunately does not much unpack. (Nor, I should add, does he address the same issues in MISS SAIGON, but that does get a bit far afield of the matter at hand.) PINKERTON was released almost a century after Puccini's opera, in 1996. Not only that, but as Brine repeatedly reminds us, Rivers Cuomo went to Harvard. Homi K. Bhabha, one of the most influential figures in post-colonial theory, published The Location of Culture in 1994, around the time Cuomo was in college, and Bhabha has been at Harvard since 2001(overlapping with Cuomo's eventual return to Harvard to graduate in 2008). Cuomo's Orientalism is inexcusable, and yet Brine does not criticize lyrics of his that, for example, imitate the broken English of a Japanese young woman who loves his music ("Across the Sea"), or point out that lines like "Goddamn you half-Japanese girls / Do it to me every time" ("El Scorcho") might traffic in some troubling stereotypes.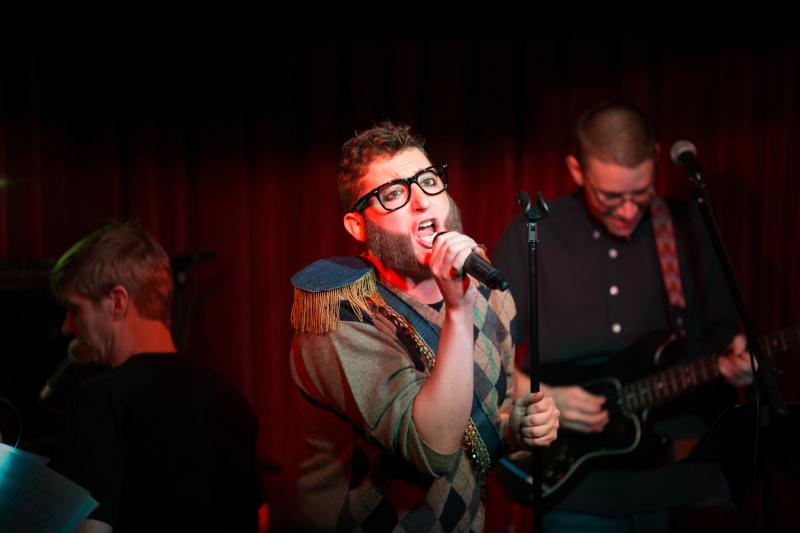 But Salty Brine throws a damn good show: his singing is dynamo, and his presence is so at-ease the audience roots for him on the rare occasion he makes a mistake or drops a line, because he lets them into his struggle and isn't fazed by it. He takes a complicated story with many threads and weaves them together in a way that not only has interesting style and accumulative structure but also really takes pains to ensure his audience is with him. He repeats the names and origin stories of Puccini/MADAMA BUTTERFLY and Cuomo/PINKERTON often, in what, over time, emerges as a source of humor and a mechanic to help us figure out where we are in this web at any given point.
Listening to Weezer's original album PINKERTON after the fact, I realize just how lovely it was to hear the obvious improvements in vocal performance, and (to my relatively uninformed mind, anyway) in instrumentation, with Michael Hunter on violin, Matthew Marsh on piano, Hiroyuki Matsuura on drums, Alex Thrailkill on guitar, and Debbie Christine Tjong on bass. (Most, if not all, contributed vocals, as well). Thrailkill, along with Alex Brun, is also responsible for the show's utterly seamless arrangements, which not only weaves Puccini and Weezer and Schönberg, but also throws in occasional one-offs by Blondie and others. Brine also nails the razor-sharp transitions between moments, characters, and storylines.
What's perhaps most conceptually interesting about I'M A LOT LIKE YOU (and his LIVING RECORD COLLECTION as a whole) is the layering Brine does, obviously intentionally. The accumulation tactic he uses reminds us that, more often than not, stories partially come from experience, but they also come from other stories (which come from other stories, and so on). And perhaps this is part of why racism and racial biases endure? To suggest that this was an intentional provocation on Brine's part is probably giving him too much credit, but maybe not.
Brine makes this layering transgressive by adding his personal history to the chain. I'M A LOT LIKE YOU makes the same move as PINKERTON (making a work inspired by another) at the same time as it uses PINKERTON for said inspiration. He, at times, compares himself to the American Lieutenant who loved Cio-Cio-san and then left her---Brine has a history of dating pianists and then breaking up with them---and at other times compares himself to the abject Rivers Cuomo: awkward, sad, and thinking "perhaps he's better off alone."
While the whitewashing of I'M A LOT LIKE YOU is a shame, the introduction of gay desire and a Weezer album awakening a young gay man is fresh, and, in the way Brine tells his story, quite touching.
---
Salty Brine continues I'M A LOT LIKE YOU, his current installment of his LIVING RECORD COLLECTION, at Pangea on Wednesday, June 13, 20, and 27, at 7:00 PM. For tickets and information, visit www.pangeanyc.com.
Audrey Moyce likes to write and perform and write about performance. You can find more of her work at audreymoyce.com.