Click Here for More Articles on NEW YORK CITY
BWW Review: The Bright Side of Sad with Miguel Gutierrez and Madonna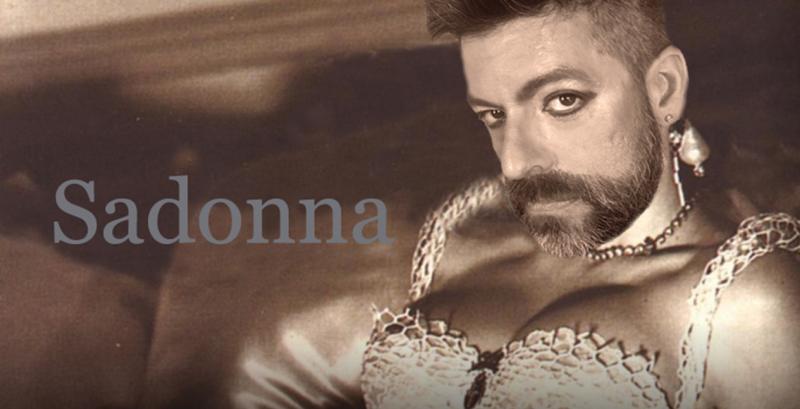 SADONNA: THE SAD SONGS OF MADONNA. Such a title for Miguel Gutierrez's first full evening at Joe's Pub begs the question: why sad songs, and why Madonna? Gutierrez admitted early on that he came up with the name before he came up with anything else, but also that hatching this plan for a show had given him the realization that Madonna had, in fact, been a part of his life for a long time.
And it would appear that Madonna's many evolutions and revolutions as a popstar/musical artist, combined with his affinity for her, are part of what provided the scope for Gutierrez to make his show. "I think she's a searcher," he said knowingly at one point, and this seemed to be part of her appeal for him. Exploring themes of sadness within a popstar's prolific output also requires some searching, both within the music and oneself, and it lent itself to the creation of an evening that was equal parts funny and full of heart, both witty and sweet.
Whenever I see men in drag with conventionally masculine signifiers like dark facial hair, I find something especially pleasing about it. "Yes," I think. "This is how I want to see gender complicated and played with." So, when Gutierrez walked onstage with a face bedecked with glitter, one long earring, and an intricately patterned sequined shirt, I was quite pleased. His harem pants made of fishnet stocking material completed the look. In addition, each the Sad (Mostly) Latino Boys Backup Singers, a.k.a. the Slutinos (Tomas Cruz, Santiago Venegas, and Alvaro Gonzalez), each came on with heels, skirt and/or necklace, and sultry lipstick. Gutierrez and at least one Slutino were lightly bearded, which contrasted nicely.
On the whole, Gutierrez's set was noticeably spare: aside from a single song with electric guitar, all songs were sung with the accompaniment of simple piano or keyboard chords from his M-Audio Code 61, drum kit beat from his laptop, and/or backup vocals in harmony, often a cappella. This did at times veer into repetitiousness, as arrangements for the most part resembled each other. But their difference from the original Madonna songs were so striking and original that on the whole I didn't mind. In addition, this generally exposed the tinge of sadness in even the most upbeat songs in his set.
Gutierrez began on the traditional piano in the back with "Amazing" from MUSIC (2000). "You took a poison arrow / And you aimed it at my heart..." Not a lyric I would expect from a song called "Amazing." Another standout lyric: "It's amazing what a boy can do," which I heard two ways. It's amazing how poorly men (all people, really) can treat their lovers; it's also amazing what a boy (Gutierrez) can do in making this show. A bit tongue in cheek, juxtaposed to a bit of footage Gutierrez played of Madonna giving an interview in which she said that the thing that annoyed her most is musicians covering other musicians' songs.
Amid his singing and in-between chatter, Gutierrez talked about how he thinks Madonna is a "spiritually restless creature." He was sincere despite titters from the audience and continued with the evidence that the next song, "Material Girl" (from 1985's LIKE A VIRGIN), was supposedly one Madonna refused to perform anymore. While it might not immediately strike one as "sad," per se, it is a cynical: while she likes boys who give her romance, "The boy with the cold hard cash / Is always Mister Right" and will always be the one to win her heart (or at least her attention). This message joined up with the wry and weary good-naturedness that Gutierrez gave the evening- put simply, we may be wallowing in the realm of sad pop songs, but we can still have a good time doing it.
About three quarters of the way through, Gutierrez invited up guest artist Tess Scara on electric guitar for one of Madonna's most iconic songs maybe ever: "Like a Prayer" (LIKE A PRAYER, 1989). Slowing this song way down and adding yet another voice to the chorus of harmonies make this song especially haunting. Of all the songs on the set, this one felt the most ambiguous.
And this is where I reveal my relative unfamiliarity with the work of Madonna. This is a song I know, but I can't say I've ever thought about it too deeply. LIKE A PRAYER came out the year after I was born. As Madonna was making a significant shift from "mere pop star" to musical artist, I was years away from understanding what that even meant. But after hearing Gutierrez sing it, I was fascinated by the tension it evokes between religious and romantic/erotic devotion. In such a light this song is easily sad about many things: the horrors done in the name of god(s), the single-mindedness and sexual repression/shame encouraged by religious institutions, and the millions of psyches it has inevitably damaged. Moreover, the song invited the notion of prayer, of asking for deliverance from events or circumstances we wish we could change. "This whole fucking night is like a prayer for our time," Gutierrez said at the song's close.
Watching Gutierrez use the keyboard to loop his own voice on "Get Together" and "Holiday," anytime he and the Slutinos sang a cappella in three or four-part harmony- all these moments made me especially glad I was there to witness this small but powerful show. And, lest it go without saying, Gutierrez's onstage persona shone throughout. Though suffused with a bit of first-show jitters, he was extremely articulate and so evidently happy to be sharing the evening with us. As mentioned, over the course of Gutierrez's set, much of the performance was homogeneous. Spare piano, spare keyboard, maybe a drum kit beat from his laptop or keyboard. His vocals were a bit uneven-flat here, sung a little too close to the mic there-but I don't think this show was meant to be about virtuosity.
At the top of the evening Gutierrez gave the show a simple dedication: "For all my dead friends." He then added, "And to everyone living with heartbreak." Bringing these ideas together under the umbrella of Madonna's oeuvre allowed us a peek into his personal journey with death and heartbreak, and gave us room to reflect upon these themes in our own life.
---
Audrey Moyce likes to write and perform and write about performance. You can find more of her work at audreymoyce.com.
Related Articles
Audrey likes to write and perform and write about performance. She recently moved to Brooklyn from the Bay Area; she misses her family but not (read more...)